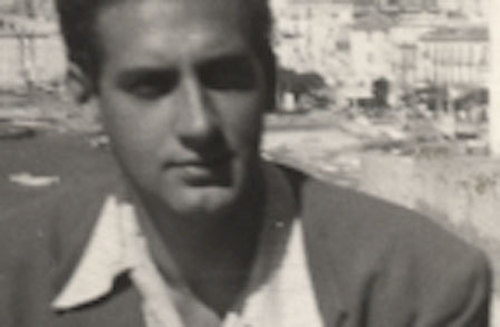 Ninety-year-old poet and editor Stanley Moss spoke with The Forward's Jake Marmer about Sheep Meadow Press and the tensions between the roles of poet and publisher; Pasolini's dislike of vegetables; Moss's new book, It's About Time (Carcanet, 2016); and impatience (word to the wise--"I think I wasted time with ecstatic, unhappy love affairs").
A brief glimpse:
...What was the impetus of starting Sheep Meadow Press"? What were some of the tensions of being both a poet and a publisher?

On December 7, 1941, there was a famous announcement on the radio, at 3 p.m. New York time: "We interrupt this program to announce that the Japanese have bombed Pearl Harbor." The program they interrupted was the Philharmonic Orchestra, and I heard that announcement. I was listening to the music on WABC while I worked over the dummy of my high school literary magazine. I also had a full page in the Newtown High School X-Ray and I wrote a column called "Humoresque": funny poems and not-so-funny poems.

Something you might look into: In his recent review of the Yehuda Amichai collected, just published by Farrar, Straus and Giroux, Stephen Greenblatt talks about the various translations. He singles out as the best Ruth Nevo's translation of "Travels of the Last Benjamin of Tudela." Now if you want to see Ruth Nevo's translation, get the original version, published in the U.K., and compare it to the version I published under the title of "Travels," and you will see there are vast differences. The vast differences represent my contribution, and I assure you there was no tension between Yehuda and me.

Yehuda highly disapproved of something I said when we went swimming together in the Dead Sea. In Israel there's no sandy beach, just pebbles. I could hardly walk on the beach it hurt my feet so much, but Yehuda had no trouble at all. His feet were tough and hard. I said, "Did you ever consider the bottoms of your feet aren't Jewish?" He very much disapproved of that statement. I recently told that story to his wife, and today his daughter phoned and I told her the story, and they both laughed their heads off. Other things we disagreed about: I am not a believer, and from time to time I would come out with some "no God" statement, and he, who loved bacon, etc., said with a wise smile, "Design, design, design…"
Read more of this great conversation at The Forward.