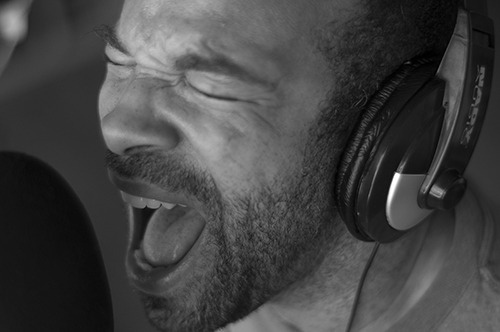 It may be eighteen months later, but we're still thinking about "Freedom of Shadow: A Tribute to Terry Adkins," an oratorio for solo voice and electronics that was performed by Douglas Kearney and Val Jeanty back in September 2014. Did you miss the event? Well you're in luck! We now have the audio files of the performance to share with you.
Be sure to check out the related portfolio of Douglas Kearney's notes and poems toward this performance in our September 2014 issue.
Looking for more? If you'll be in Los Angeles for AWP, join us for our "Prufrock Party" on Thursday, March 31 at the Regent Theater! Douglas Kearney will be reading and performing a collaboration with the band Bouquet. We'll also have fantastic readings by recent contributors Melissa Broder, Eileen Myles, and Safiya Sinclair. See you there!
---
Douglas Kearney
Poet/performer/librettist Douglas Kearney's second, full-length collection of poetry, The Black Automaton (Fence Books, 2009), was Catherine Wagner's selection for the National Poetry Series. Red Hen Press published Kearney's third collection, Patter, in March 2014. He has received fellowships at Cave Canem, Idyllwild, and others. His work has appeared in a number of journals, including Poetry, nocturnes, Pleiades, Callaloo, Fence, LA Review of Books, The Iowa Review, and The Ninth Letter. His produced operas include Sucktion, Mordake, and Crescent City. Raised in Altadena, CA, he lives with his family in California's Santa Clarita Valley. He teaches at CalArts, where he received his MFA in Writing.
Val Jeanty
Val Jeanty is a Haitian electronic music composer, percussionist, and turntablist who evokes the musical esoteric realms of the creative subconscious. She incorporates her African, Hatian musical traditions into the present and beyond, combining acoustics with electronics and the archaic with the postmodern. Her Afroelectronica installations have been showcased at the Whitney Museum, the Museum of Modern Art, the Brooklyn Academy of Music, and the Village Vanguard and internationally at SaalFelden Music Festival in Austria, Stanser Musiktage in Switzerland, Jazz à la Villette in France, and the Biennale Di Venezia Museum in Italy.
Terry Adkins
Born in 1953, Terry Adkins approached art making as a composer, demarcating moments for silence, sound, and rhythm. Known for his instruments including a variety of immense horns, Adkins frequently performed with his long-time band The Lone Wolf Recital Corps. Applying the improvisational and recycling nature of jazz to his exhibitions and sculptural series, he riffed on biographies as a creative framework. His work has recovered and honored such figures as Jimi Hendrix, Zora Neale Hurston, Ralph Ellison, Ludwig van Beethoven, Jean Toomer, John Coltrane, John Brown, Sojourner Truth, and most recently George Washington Carver and Yves Klein. Terry Adkins presented solo museum exhibitions at The Whitney Museum of American Art (1995), Sculpture Center, New York (1997), Institute of Contemporary Art, Philadelphia (1999), the Bronx-River Art Center (2005), and most recently at the Tang Museum, New York (2012). Adkins died in February 2014.