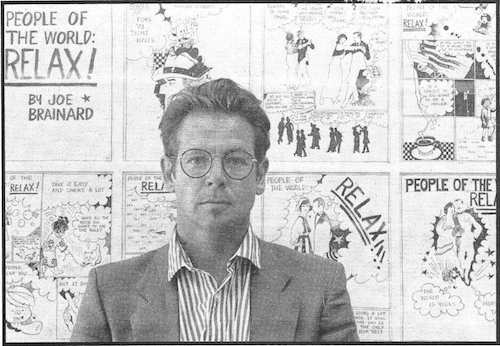 Jennifer Moxley remembers Stephen Rodefer in the current issue of the Chicago Review. "How I will miss him," Moxley writes in "Heartbreak Hotel: In Memoriam Stephen Rodefer (1940–2015)." A reflection of the sort only friends can write, this is well worth picking up the print issue for. (And anyway, there's also a tribute to Ed Roberson, plenty reviews and poems, and another remembrance, of C.D. Wright by Rosmarie Waldrop, John Wilkinson, and Fanny Howe, so what ya waitin' fer.)
Back to Moxley, who writes:
...He was constantly on the move before coming to rest in Paris. Though that was the end, from the beginning there was Frenchness, inspired by Frank O'Hara's mid-century francophilia, by Jean Cocteau, and by the Nouvelle Vague. During one of his periodic visits to Providence in the 90s, he insisted that my husband Steve Evans and I watch Louis Malle's The Lovers: "This came out in 1958, when I was 18," he told us, sipping from his customary glass of red. The lesson he took from the film: "don't be the husband or the ridiculous lover, be the mysterious stranger."

However much he espoused this credo, or tried to live it, it didn't fit him. Unlike many of his literary heroes—Villon, Baudelaire, O'Hara—Rodefer was domestic. Unaffected and loving descriptions of home life and family are at the heart of the most vivid and moving moments in his work, and longing for the lost hearth makes up the most wrenching. "I prefer to be at home more when a child is sleeping on the couch. / That's the meaning of contentment," he wrote in "The Heavenly Bodies That Go By" (Emergency Measures [1987]). And nothing better captures the swoony heaven of postcoital married bliss than the opening poem of One or Two Love Poems from the White World (1976): "Smell the sweet narcotic of human flesh upon the bed. / We are rotting apples, sinking deeper in the ground. / Nestled in the pillows where the hair is spread / the warmer, browner flesh drowses into its slow collapse." This, believe it or not, is a single-family dwelling poem: it has a garage.

It was Rodefer who told me, in my twenties, to buy a house as soon as possible. "Invest in property," he said. "It is a source of income, and you'll always have somewhere to go back to." Some bohemian. For years he owned a tiny gingerbread house in Berkeley on Raymond Street (for all I know, he never sold it), and even after being thrown out on his heel by another wife in San Diego, he managed to avoid apartment living, somehow locating a small home to rent and fill. I remember it well: the walls hung with vintage dresses (a lifelong custom) and oil paintings in a room containing books, papers, wine, warmth, and a beautiful three-paneled, hand-painted dressing screen that I covet to this day. This man with a reputation for burning bridges was always also settling down. Fanny Howe wrote that she "associated him with fathering," but unlike many father-poets who never write about their kids, all of Rodefer's boys—Jesse, Felix, Benjamin, and Dewey—are vital presences in his books.

I bridle at Wikipedia's description of him as "one of the original Language poets." He was nothing of the kind. Only dumb luck could allow such a misnomer to seem credible: Four Lectures (the title a nod to Stein's 1935 Narration lectures in Chicago) inhabited the prose-y reference-filled antilyric zeitgeist of the 1980s—and then won an award. In that climate of Russian formalist–nostalgia meets poststructuralist linguistics, reams of paratactic prose were produced; lines like, "The magazine language / of the magazine L=A=N=G=U=A=G=E" became, for a moment, pure pleasure. Four Lectures has now been annotated, which makes sense. How else could readers born after Madonna was popular decipher so many in-jokes? I, for one, will never forget this line: "Sky rains plane debris." I saw that PSA Flight burst into flames and nose dive into San Diego's residential North Park from the window of my junior-high art class. A grisly historical event returns out of context in Four Lectures, followed by a flippant retort: "If I am to be killed by a piece / of falling wing, or drenched in jettison, I'm game." It's great fun, but the humor here lacks the heart that in earlier books had been its strength.
Read it all at CR.