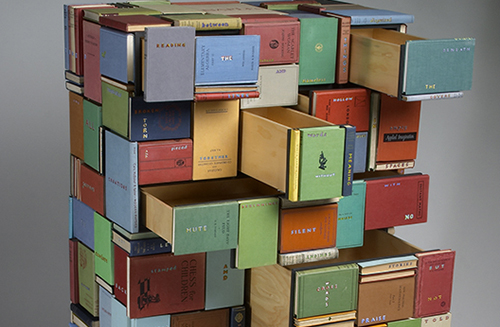 The Reading List is a feature of Poetry magazine's Editors' Blog. This month contributors to the May 2016 issue share some books that held their interest.
Robert Adamson
I have just received my copy of Peter O'Leary's new book The Sampo. O'Leary's poetry transports me to a place where the act of reading is like rocket fuel for the brain, heart, and soul. This is a complex imaginative world built with brilliantly crafted lines loaded with mysterious ideas. I've been reading O'Leary's previous volume Phosphorescence of Thought for three years now and each time it's more rewarding. O'Leary is a visionary from a line of poets I couldn't do without: Robert Duncan, Michael Palmer (Notes for Echo Lake), Robert Creeley (Life and Death), Denise Levertov, and Charles Olson. I discovered most of these poets and their fellow contributors in Donald Allen's The New American Poetry during the 1960s—the wake of this anthology steered me towards the poetry of several poets who were too young at the time for its pages: Nathaniel Mackey (Blue Fasa), Jennifer Moxley (The Open Secret), and Devin Johnston (Far-Fetched). Another poet I have been reading in depth is C.D. Wright—her book The Poet, the Lion, Talking Pictures, El Farolito, a Wedding in St Roch, the Big Box Store, the Warp in the Mirror, Spring, Midnights, Fire & All is astonishingly good, rich in its mix of language, imagination, and hard lives in reality. Another volume I return to often is Letters, Poems 1953-1956 by Robert Duncan (in the beautiful edition with Duncan's drawings by Flood Editions), it's a turning point in Duncan's writing—between styles, like the period in Kandinsky's paintings where he crosses from expressionism into abstraction and meanings vibrate. And I read Duncan's Collected Later Poems and Plays; this wonderful volume contains Duncan's finest poems, and especially "In Blood's Domaine" (from Passages). Lately another book I read more than any other is Michael Palmer's Thread, an elegant volume of visions and dark music, it glows indelibly in the mind, poetry that ignites the reader's imagination. These poems are drenched in the troubled world that surrounds us and yet are still able to move in praise with language and the human spirit. The following books explain in lively prose why the poets I have mentioned above remain so alive today: Intricate Thicket by Mark Scroggins, Stubborn Poetries by Peter Quartermain, and Active Boundaries by Michael Palmer. I read these books like novels, essays full to the brim with new ideas about reading poetry. Palmer's defense of Shelley against T.S. Eliot's critical attack on the great lyric poet is exhilarating to read if you love P.B. Shelley. I've also been reading a lot of Australian poetry, all the recent books by poets I have chosen for this issue of Poetry, too many books to list, though it was exciting to discover the broad scope and depth in the work of my fellow poets. There are two Australian poets I read all the time, Francis Webb and Gwen Harwood; they both have collected poems in print.
Bonny Cassidy
Elizabeth Bowen's The Death of the Heart (1938) is chilly with nocturnal atmosphere, as a child disappointed by adults. A sort of drawing-room thriller, it's equal parts George Eliot and Graham Greene. Bowen's prose is supple and commanding. Her characters, who may at first appear a little larger than life, assume the humility of treacherous and confused decisions. It is nothing like the latest novel by David Ireland, The World Repair Video Game, which has just been serialized by Island magazine. Everyone has their Nobel would-be; well, Ireland is mine. This novel is not his finest, but it may be a final extension of the surreal and speculative Australia in which all of his fiction has dwelt.
Fair glimpses of Australia feature in the April issue of Yellowfield zine. Produced out of Buffalo, New York, by Edric Mesmer and Patrick Riedy, it is floppy yet sound in the hand. As usual, contributors include a good slew of contemporary Australian and North American poets. Yellowfield goes for minimal style fuss and nice big pages on which individual font and white space speak loudly. On the other end of the spectrum is Infinite Difference: Other Poetries by UK Women Poets, edited by Carrie Etter. Whilst I find the title and cover art twee, I admire the ethos of this collection to approach the proliferation of feminisms through a less narrowly defined space of political poetics.
This is an approach also taken up by poet and critic Michael Farrell, in Writing Australian Unsettlement. Decolonizing the way we read historical artifacts, Farrell constructs deeply felt and uber-close readings of journals, letters, codes, and notes to reveal their poetic effects. This brings me to Toby Fitch's new collection of poems, The Bloomin' Notions of Other & Beau (forthcoming, 2016). Snotty as its muse, Rimbaud, in the back row of the Australian multiplex.
Elizabeth Campbell
I always have a pile of poetry books going at once. Currently they are: Ashbery's Illuminations of Rimbaud, Sarah Howe's Loop of Jade, C.D. Wright's One Big Self, and Frances Leviston's Disinformation. I'm also reading my friend Philip Salom's strange and wonderful novel Waiting, which brings to life my home city, Melbourne.
Much of my reading is second-hand, that is, my partner reads aloud to me, in bed, in gardens, and while I am cooking. I love reading this way—my passivity sparks dreams and connections. My talkative partner stops to comment quite often, whilst I'm able to drift freely and privately—it's very selfish really. At the moment we are reading Darwin's The Voyage of the Beagle.
Before that, we finished Peter Green's translation of The Iliad. I had never read the whole poem before—only extracts and versions. What can I say about The Iliad that isn't cliché? Hekabe and Andromache moved me; Achilles was a monstrous superman. It shocked me how very unmoving the scene of Priam's supplication was; Achilles still bullying and posturing the whole way. My impression, finally, was of mystery; I won't forget the seductive epithets and repetitions, and Green's translation was compelling and convincing. But of what?
Iliad took a couple of months; alongside it I made a pile of Homer-related poems to reread together: Auden, Longley, Alice Oswald, Peter Reading, Christopher Logue. These, all far more interpretable than their source. On my own, I read David Malouf's beautiful novel of Priam, Ransom, and Adam Nicholson's naive and tendentious The Mighty Dead—Why Homer Matters.
A recent, unrelated highlight of last month was Adam Phillips's On Kissing, Tickling, and Being Bored—exciting and welcoming for anyone with an interest in psychoanalysis.
Robbie Coburn
I'm revisiting Dante's Divine Comedy. It's been an obsession of mine since I first became aware of it and that obsession seems to only grow with every reading, new aspects and perspectives constantly revealing themselves. It is as if each time I tackle it I am reading an entirely new text. I am working my way through the different translations.
And I'm reading plenty of Rimbaud, Plath, and Larkin, as per usual.
There are so many great books of poetry being published right now, books from last year and this year. I am loving Ocean Vuong's first full-length collection, Night Sky with Exit Wounds, Robert Adamson's Net Needle is extraordinary, and Michele Seminara's Engraft is a standout for me.
Luke Davies
A while back I was roaming online and had an urge to see if I could find a copy of Richard Hugo's The Lady in Kicking Horse Reservoir. No real reason: I already owned the Hugo collected, Making Certain It Goes On, which contained all the poems in Lady; I just thought it would be nice to see if I could find the 1973 first edition. Plus, sometimes it's just a fundamentally different experience, reading poems in a book in its original form. To my delight I found someone selling (for around $80) seven or eight Hugo first editions—including the 1973 Norton Lady and the beautiful 1976 Copperhead chapbook Duwamish Head. A find!
When Jim Harrison died recently I went looking in my shelves for his Letters to Yesenin (a "suicide note to a suicide"), also from '73. (That's how I came across my little Hugo trove, and how I've come to be re-reading Hugo these last few weeks.) As for the Harrison: it's a dense, sad, intense book, rich enough (as Hugo is) to reward multiple, regular revisitations. One always stumbles upon something as if for the first time. "Today I couldn't / understand words so I scythed ragweed and goldenrod before it could / go to seed and multiply. I played with god imagining how to hold His / obvious scythe that caught you, so unlike the others, aware and / cooperative."
Meanwhile, I had the honor of being one of the judges of the Peter Porter Poetry Prize earlier in the year. I wasn't at the award ceremony (the winner was Amanda Joy, who is also in the May issue of Poetry) but I had to choose a Porter poem to be read on the night. This brought me back to his The Lady and the Unicorn (poems by Porter, illustrations by Arthur Boyd) which I've been swimming through again. (Porter: a vast ocean.) A wonderful book. For the ceremony reading, I chose "The Unicorn in Love," with its arresting opening: "Bring me the forest salad, the topmost leaves which wait upon the sun / Then I will eat my own will and be nothing but light for you to preen by …"
I remember "discovering" Geoffrey Hill when—a serious latecomer—I read Mercian Hymns in 2003. I remember the shock and delight: the slim book seemed so fiendishly simple, and yet it felt it had the specific gravity of osmium or basalt. I was reminded of that density recently, in reading Jen Hadfield's striking volume High-No-Place, which won the 2008 T.S. Eliot Prize. It's a fierce, wild poetry. And funny, too! 
And briefly, some prose. Scattergun habits, perhaps too scattergun; but still, it can be so pleasurable to jump about. In no particular order: Anne Enright's The Gathering; Gaston Bachelard's The Poetics of Reverie (slightly odder but no less lovely than The Poetics of Space); Under the Glacier by Haldór Laxness (I was in Iceland last September, so why not?); Theo-Poetics: Hans Urs von Balthasar and the Risk of Art and Being by Anne M. Carpenter; Being Mortal by Atul Gawande (a Christmas present, a marvelous book); Biopoetics: Evolutionary Explorations in the Arts (eds. Cooke & Turner).
And finally, a tiny gem (85pp)—Charles Dickens on London, a scattering of 8 newspaper essays he wrote between 1835 and 1863.
Susan Fealy
I am a demanding reader. I want strangeness, intimacy, and surprise all at the same time. I found these aplenty in Christian Bök's Crystallography. Reading it is like trickling fingers through gems in a jewelry box, watching an acrobat do tricks on a high wire. Its precision, multiplicity, and originality are dazzling and yet familiar because the poetry is grounded by the thing itself: crystal, glass, mirror. Strangeness, intimacy, and surprise were also found in Paris: A Collection of the Poetry of Place. Edited by Hetty Meyric Hughes, this pocket-sized anthology is intricately and imaginatively designed: each chapter assembles poetry and journal extracts alongside history of the city and its people. For example, a fragment from the journal of Sylvia Plath sits close to Samuel Beckett's translation of an extract from "Zone" by Guillaume Apollinaire. The chapter "The Leaves of Paris" contains "The Merry-Go-Round" by Rainer Marie Rilke (translated by Stephen Cohn) and reveals that Jean Cocteau watched light shine from Rilke's window. They remained strangers to each other while renting rooms in what would become Musée Rodin.
Juno Gemes
I believe that portraiture reveals the inner shape of any life, creating an enduring visual archaeology of the self.
"We cannot say that the modern world has completely eliminated mythical behaviour: but only that its field of action is changed." Mircea Eliade, Myths, Dreams and Mysteries.
Publishing photographic works in literary journals is a tradition in which I have been an honored participant for many years, never more so than while working on Poetry's May 2016 issue. Years ago Robert Adamson quoted to me Stevens's "Adagia": "Poetry is a kind of money. Money is a kind of poetry," to which I replied, "Photography is a kind of poetry. Poetry is a kind of photography." It's a proposition that bears further investigation.
"That crazy feeling in America when the sun is hot on the streets and music comes out of the jukeboxes." These are the opening line of my favorite text on photography: Jack Kerouac's introduction to The Americans by Robert Frank. Another classic for me is Nothing Personal, with text by James Baldwin and photographs by Richard Avedon in their brilliant collaboration published by Penguin 1964. That same year my dear mother Lucy brought a precious copy from MoMA home to Sydney, not knowing what a profound effect this publication would have on me. Baldwin and Avedon were high school pals who later took a long forensic look at decoding American culture, asking serious questions of it, through powerfully juxtaposed photographic narratives and texts published in Nothing Personal.
These three seminal publications have informed my work in similar arenas for the last 40 years. Both through images and texts and the interplay between them.
I began by quoting my favorite foreword on photography. Now I have written the foreword for Lumin Seed by poet/photographer Judith Crispin to be published by Daylight Press in January 2017. Lumin Seed is a compelling work about the author's relationships with Aboriginal people, the Walpiri at Lajamanu in the Tanami desert, Australia's unacknowledged history, and its consequences.
Lisa Gorton
This month I am reading Christina Stead while I write the introduction to a reprint of her novel The Little Hotel. What a stubborn and invigorating writer Stead is! In The Little Hotel her abundant feeling for reality works not over many years and places, as is usual with her, but in the dramatic setting of a postwar off-season hotel. For Stead, lifelong traveler, the hotel is a place at once familiar and existential—in Stead, these make no contradiction. Madame Bonnard, hotel owner, tells the story of feuding servants and guests. Easy to see how another writer might make an elegant comedy of manners out of this. Stead makes a brutal, magnificent satire of postwar expatriates, collaborators, and profiteers.
It might be my year for dark and fantastical satires. I am also reading John Donne's outrageous, bitter, and disorderly poem "Metempsychosis: The Progresse of the Soule." De Quincey praises it: "Massy diamonds compose the very substance of his poem … thoughts and descriptions which have the fervent and gloomy sublimity of Ezekiel or Aeschylus." Such brilliance takes its place in a poem that is also occasionally grotesque. Writing about this poem has sent me down strange reading byways: bestiaries; seventeenth-century books of heraldry; and, this week, Erwin Panofsky's elegant work Perspective as Symbolic Form.
Alongside all this, for its lucidity and joyousness I have been reading Martin Harrison's collection Happiness, published last year shortly after his death; also, Robert Adamson's Net Needle which has the poem "Via Negativa, The Divine Dark" at its heart: "A charcoal sketch of this scene unfurls before me / on a sheet of mist, I push aside tough vines of / morning glory, and then walk on, into the drawing…."
Fiona Hile
I've been drawing on various encounters with the work of Sydney poet and academic Kate Lilley to imagine her fourth collection, Tilt, forthcoming from Vagabond in late 2016. Lilley teaches early modern literature at the University of Sydney and strands of this and other literary and theoretical influences disrupt short algebraic poems that list the contents of Greta Garbo's estate—a kind of "zealous pursuit of paltrie trash" ("Lovesong")—and unstop long-form works that interweave biography, geography, documentary, and, one of my favorite moments, a nature poem requested by an old school acquaintance, as if the poet were a jukebox or a pinball machine that only needed a firm nudge of the hip to get cranking.
The Active Aesthetics conference hosted by the indefatigable Lyn Hejinian in April 2016 featured readings by Natalie Harkin and Ali Cobby Eckermann. Harkin is a Narungga woman who lectures at Flinders University, South Australia. I was already a fan of her vehement and accomplished first collection, Dirty Words, published by Cordite in 2015 and it was inspiring to hear her talk about her "poetic interrogation" of State Aboriginal archives and descriptions of art installations influenced by her PhD research, including a basket woven from the archived letters of her grandmother and great-grandmother.
The publication of little bit long time in 2009 precipitated a flood management scheme for Ali Cobby Eckermann who has since released waves of verse novels, memoirs, and poetry collections. Ruby Moonlight (winner of the 2013 NSW Premier's poetry prize and book of the year) and Too Afraid to Cry, along with poetry collections such as Inside My Mother and Love Dreaming and Other Poems, consecrate so many new kinds of genres in their unsentimental accounts of massacres and systematic abuse of first peoples that we are sure to be thinking and writing about these works for generations.
Devin Johnston
Given the focus of Poetry's May issue, the following recommendations come to mind, Australian books and poems that have been on my desk recently.
David Campbell's sequences are marvelous, particularly "Ku-ring-gai Rock Carvings" (from The Branch of Dodona and Other Poems, 1969–70) and "Devil's Rock and Other Carvings" (from Devil's Rock and Other Poems, 1970–72). They include concise meditations, almost epigrams, but works of wonder more than wit. Take, for instance, "fish," which responds to an early Aboriginal carving (I believe this one can be found along the Great North Road above the Hawkesbury River, just outside of Berowra Waters): "Trapped on a blue hill above blue bays / The stone shoals move one way: / From rockledge through the blue heads, / It is light-years to the open sea."
I was introduced to Campbell's work by my friend Martin Harrison, who died two years ago at the age of sixty-five. Martin wrote poems of associative energy, full of intellectual range and Australian landscape. I have not yet seen his posthumous book, Happiness. But I'm familiar with some of the poems therein, such as "The Frog," which parodies and extends Les Murray's riddling "Presence: Translations from the Natural World": "I'm a member of the kingdom of happiness / and I live under a dream-stone. Yes, you're right: / I'm a frog, it's obvious."
I was moved by Ali Cobby Eckermann's delicate lyrics from her first chapbook, the songs from the heart of Australia in little bit long time. Flood Editions published her verse sequence Ruby Moonlight last year. It tells the story of a young Aboriginal woman in the nineteenth century who survives a massacre and falls in with an Irish trapper. It's a violent and dramatic story told in flickers, full of desert species and "country." I believe it's the first book by an Aboriginal Australian poet published in the U.S.
In fiction, Helen Garner's The Spare Room is a fierce account of female friendship under the pressures of illness and aging. "Her head hung forward, as if a tiny fascinating scene were being enacted on her lap." It almost reads as a sequel to her brilliant novella The Children's Bach, some twenty-five years later. Sentence by sentence, Garner's writing is always alert and alive.
Finally, I discuss Bob Adamson in "A Note on the Editor" (from the May issue). His recent work has the clarity, ease, and adventurousness that come from long mastery. Net Needle, published in the U.S. by Flood Editions, is full of affectionate and precise renderings of the lost world of his childhood, as in "Net Makers": "They stitched their lives into my days, / Blues Point fishermen, with a smoke / stuck to their bottom lips, bodies bent // forward, inspecting a haul-net's wing / draped from a clothes line."
Bronwyn Lea
As part of my research for a book I'm writing on poetry and power, I'm reading Young Stalin by Simon Sebag Montefore. Before Stalin was feared as a dictator he was revered in Georgia as a poet—which helps explain his deadly interest in literature (as Osip Mandelstam said, "in Russia, poetry is really valued, here they kill for it"). At the age of seventeen, Stalin published five poems under the pseudonym Soselo, which went on to become minor Georgian classics frequently reprinted in anthologies and memorized by schoolchildren until the 1970s. Stalin explained to a friend why he swapped poetry for politics: "I lost interest in writing poetry because it requires one's entire attention—a hell of a lot of patience. And in those days I was like quicksilver."
Closer to me in time and space, I'm also reading Les Murray's latest collection, Waiting for the Past, which continues his linguistic and anthropological study of Australian life. This year I've enjoyed Sarah Holland-Batt's new collection of poems, The Hazards, in which she continues her project to ransack the OED, Peter Rose's smart and happily gin-soaked Subject of Feeling, and Robert Adamson's Net Needle, which casts a numinous light on his childhood growing up on the Hawkesbury River in Australia. And I'm about to commence Craig Munro's publishing memoir, Under Cover: Adventures in the Art of Editing, and Jonathan Galassi's novel, Muse, a take on the two loves I share: publishing and poetry.
Jaya Savige
I recently needed to discover how to forge a genuine MMC (mind-muscle connection) with my right buttock, on account of a back injury followed by sciatica (resulting in said diminished glute)—though didn't realize this until I read Bret Contreras's lucid exposition of "How to Fix Glute Imbalances." I was riveted. I've since been engaging my right glute every day on the London Underground and can glimpse some kind of mind-glute connection nirvana in the distance.
Not that symmetry is all. South Australian poet Aidan Coleman's second collection, Asymmetry, charts a grueling rehabilitation following a severe stroke; I'd read it when it appeared a few years ago, but reached an even deeper empathic connection with these poems' far more serious predicament on around my ninetieth day hobbling from futon to fridge.     
Following the British Parliament's debate and subsequent decision to commence bombing in Syria, I found my pace quickening through the busier Tube stations. Thankfully, I discovered the clear broth of Rowan Williams's 2015 Orwell Lecture, "War, Words and Reason: Orwell and Thomas Merton on the Crises of Language," which restored my confidence in English self-awareness. Liam Ferney's forthcoming Content, which I had the pleasure of reading in manuscript form, transported me home to Queensland, while posing another twist: "the challenge is simple: / put the Warhead on your tongue, / last one still sucking / inherits the kingdom."
And I was thrilled to find my own deracinated condition exposed, along with the neophilic culture of our plastic age, by Aussie writer Rebecca Giggs's nailing of the "rootless splendor" of AstroTurf, "fixed in gaudy youth," in last week's New York Times "Letter of Recommendation."
Petra White
I've just finished reading Seamus Heaney's posthumous Aeneid: Book VI. It's wonderful; I savored every line for the exactness of phrase and image. It's the most luminous version of the Aeneid I've read, and there are some good ones out there, like C.H. Sisson's. I wish Heaney had lived to do the whole thing. I'm also re-reading Heaney's poem "Route 110" in Human Chain, which is based on Book VI. And I'm reading The Crossing by Michael Connelly because I love Harry Bosch, the single-minded, detail-haunted ex-detective who always manages to end up in a shoot-out with the bad guys. I'm always reading a detective novel. I think a lot of poets have enjoyed them, Auden for one. It's the methodical nature of unpacking a mystery, the inevitability or chance of one thing leading to another. It has affinities with the way a poem has to be "solved" in order to be written. I'm also reading C.D. Wright's The Poet and the Lion, Talking Pictures, El Farolito, a Wedding in St Roch, the Big Box Store, the Warp in the Mirror, Spring, Midnights, Fire & All. I thoroughly recommend "Concerning why poetry offers a better deal than the world's biggest retailer," which compares poetry to Walmart and establishes why poetry has more to offer than a consumer experience.