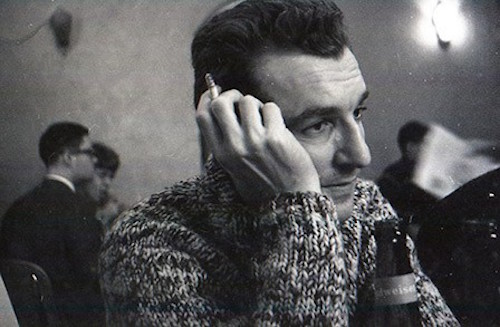 In this weekend's "Reader's Diary," Barry Schwabsky reads a new selection of John Wieners' poetry edited by Robert Dewhurst, Joshua Beckman, and CAConrad published by Wave.
What happens when you cross the perfervid emotionalism of Edna St. Vincent Millay, she of the candle burning at both ends, with Charles Olson's idea, distilled out of William Carlos Williams, of a projective verse imbued with "the breathing of the man who writes" (and I suppose it is very emphatically a man who writes the poetry that Olson had in mind)? You get John Wieners, one of the youngest exemplars of "The New American Poetry" as canonized by Donald Allen in 1960. Already at twenty-four, he was depicting himself on the verge of burnout, having "come to the last defense" — though in fact he'd keep writing beautifully for decades. Almost from the beginning, Wieners knew this: "The poem / does not lie to us." Notice how different this statement would have been as "The poem / does not lie"; it might lie, but not "to us." He writes, "We lie under its / law, alive in the glamour of this hour." Yes, we lie, "dark people, who carry secrets / glassed in their eyes and hide words / under the roofs of their mouth."
Read more at Hyperallergic.