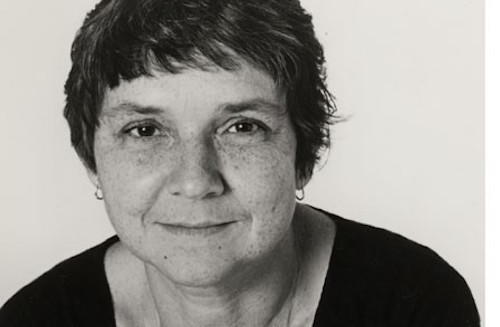 [Editor's note: This month the Collected Poems of Adrienne Rich will be published by W.W. Norton & Company. To celebrate the occasion we're re-running Cathy Park Hong's "Memories and Thoughts on Adrienne Rich," written in April 2012 shortly after Rich's death.]
Had Adrienne Rich asked me "what are young feminists invested in now" today, I would have answered differently, mentioning everything from ending rape culture, to trans rights, to redefining feminism so that it intersects race, class, sexuality, and disabled identities, and still I wouldn't come close to capturing all our values. Ten years ago, when she asked me this question, I was young and flummoxed and as I mentioned in the essay, daunted, so my stammering answers must have sounded rather disappointing, causing her to say—with her characteristic bluntness—"but that's so frivolous!"
Rich's poetry and vision hold more power than ever today and I wish she were alive to lend us her fiery words. I wonder, for instance, what her thoughts would be about Hillary Clinton. While some might assume Rich would support Clinton since she may likely be our first woman president, I suspect that Rich would have been critical, citing Clinton's hawkish interventions that have killed women from Iraq to Honduras. Even in the early days of second wave feminism, Rich was never just a white feminist nor even an American one. Her commitment for women's liberation was resolutely global.
Lastly, I wish Rich were alive to lend us her words after the Orlando massacre, words that would help heal us and surge us forward. Thankfully, she has left a trove of poetry and essays that she presciently wrote for despairing occasions like this time. She will always give us courage.
What would it mean to live
in a city whose people were changing
each other's despair into hope?—
You yourself must change it.—
what would it feel like to know
your country was changing?—
You yourself must change it.—
Though your life felt arduous
new and unmapped and strange
what would it mean to stand on the first
page of the end of despair?

(from "Dreams Before Waking," 1983)
—Cathy Park Hong, June 2016
***
I was nervous about our lunch. I might have even dreaded it since I was afraid that I would somehow disappoint her (she chose my book for the Barnard Women Poets Prize and said she'd like to meet me). The Warwick Hotel possessed a vintage charm amid all the midtown chain hotels. It was where she always stayed when she came to New York, where she felt most comfortable. I walked in to the hotel restaurant and spotted her immediately. She was small, tiny in fact, with a walker beside her, and her hands, gnarled by arthritis, trembled. But as I approached her, I noticed that she had the warmest dancing brown eyes and her short hair, if I recall correctly, was gelled up into a mischievous spike. She was a radical, still.
I was lucky enough to meet her a few times, always over lunch or drinks at the Warwick, where she had her special corner couch in the restaurant, which the hostess saved for Adrienne. I was struck by how down-to-earth she was. Despite her legendary status, Adrienne was not a diva. She was not someone who became cocooned in her dotage. She was genuine, warm. When I met her for the first time, she held both my hands with her hands. She asked questions. She listened. She was relentlessly curious. She talked about everything: the challenges of being a young mother, how the poetry establishment spurned her when she chose to write openly about her sexuality. We talked about politics. She talked about her admiration for contemporary poets like Suzanne Gardinier and Ed Pavlic. She remarked that she had a conversation with a foreigner who said, "Americans are so obsessed with the young." She was curious about the younger generation, my generation. What are young feminist doing? What are they invested in?
I had a period when I reacted against her in college. This was when multicultural relativism was having its swan song in the late 90's. I was taking a feminist lit theory course and the pronoun we was poison. Don't include me in your we. It was a reaction against white bourgeois feminism who assumed their plight was universal. What about working-class women? Marxist? Queer? Chicano? The disabled? We cannot speak for each other with all our differences. Don't assume your common language is mine.
I misread her of course. It wasn't until after college that I read "Diving into the Wreck" and I realized that her poetry was so breathtaking and so powerful because of her commitment to the collective. The whole poem is a slow build-up of the diver's exploration and then it ends with the "I" metamorphosing into "you" and finally "we" : "a book of myths in which our names do not appear." The poem feels like a prelude to an epic where Rich envisions alternative narratives in which "our names" do appear. Of course, the poem is only three pages but the ending invites a space where generations of women can rewrite and fill in the body of that epic.
In person, Adrienne Rich radiated warmth but she was also honest, almost bluntly so. What about the younger generation of feminist poets? I don't exactly remember what I said though I felt distinctly stumped by it. I tried to find a way to capture our generation's conflicted desires. I might have rattled off something about trans-gender politics, the influence of rrriot-girl punk, maybe something about the body politic in camp. But that's so frivolous, said Adrienne.
Why all this self-absorbed irony, asked Adrienne, with everything that's going on in the world? She wasn't being dismissive. She was more curious. I thought about the word commitment. This is a word that rarely comes up in workshop. Instead, there is this word: play ("the play of words in this line…"). In workshop, we have been raised on a diet of negative capability. Lines should quiver with equivocation.
I have bouts where I hate poetry, especially when poetry becomes petty or eager to please, obsessed with itself, and its contests, and its camps. I get tired of this question: is poetry political? Or how can poetry be political? I was in a panel where a poet declared that poetry was useless. I felt tired by this declaration that was meant to be provocative, by the fact that we were in a museum, in a university, behind mikes and bottles of water. Poetry. What a flimsy anemic tool to engage with the upheaval of war, class, sexism, racism, terror. We should just shut it down. Call an estate sale for our crumbling mansion: sell off our Whitman, our Oppen, our Rukeyser, our Brooks.
Then I turn to Adrienne Rich and her essays, her poems, become a call-to-arms, a reawakening of my fatigued consciousness: "We may feel bitterly how little our poems can do in the face of seemingly out of control technological power and seemingly limitless corporate greed, yet it has always been true that poetry can break isolation, show us to ourselves when we are outlawed or made invisible, remind us of beauty where no beauty seems possible, remind us kinship where all is represented as separation."
Her poetry sears with a diamond-cut certainty: "Did you think I was talking about my life?/I was trying to drive a tradition up against the wall" or "A woman in the shape of a monster/a monster in the shape of a woman/the skies are full of them." She does not hesitate even when she reaches the unknowable. Intention burns in every line of her poems. But it doesn't mean that her words are reducible or inflexible in her anger. There is certainty in her uncertainty, resolve in her ambivalence. Her rhetoric was also constantly evolving: from asserting the woman's personal narrative during the '70's to her later Marxist critiques of how profit-driven corporate systems have effected women's lives. The common language is a lingua franca that is changeable, charted and recharted, and the revolution must be open to restless revision: "any movement has to recognize its successes, but it also has to retain a kind of vibrant dissatisfaction."
Since her death, I've been thinking about commitment and courage in poetry. What does courage mean for poets now anyway? When was the last time a contemporary American poet has committed an act of courage? In my despair, it was meant to be a rhetorical question but reading this, Suzanne Gardinier (a friend and brilliant poet who shared some of her beautiful correspondences with Adrienne) had an instant rejoinder: "Bob Hass and Brenda Hillman getting beaten by police as they tried to keep Berkeley students from getting beaten."
Yes. And so many other poets who helped fuel the protests within the last months. And maybe my definition of courage is too stubbornly public. I am mistaken that what's at stake is the size of the audience who witnesses your courage. There are acts of courage that are private and public. Adrienne Rich inspired legions of poets to commit acts of courage, to write against the grain and towards their will. Her courage was her integrity, to live as she said she would.
What Adrienne has been most consistent about: that there is no separation between poet and participant in the political life, that we are part of the world. One evening in Philadelphia, I was having dinner with Brian Teare and Jena Osman. The conversation quickly turned to ethical responsibility and poetry and whether or not you have to be a participant of a historically charged moment to write it. The discussion was passionate and I felt that nothing else mattered but poetry. This is what most buoys me. Despite the moans that poetry is useless, we must have faith in its world urgency. This is what fuels the blood. That night, I felt wakeful. I wanted to write.
Cathy Park Hong is the author of Translating Mo'um, (Hanging Loose Press, 2002); Dance Dance Revolution (W.W. Norton, 2007), winner of the Barnard New Women Poets Prize; and Engine Empire (W.W. Norton, 2012). She is the recipient of fellowships from the Fulbright Foundation, the NEA, and the New York Foundation for the...