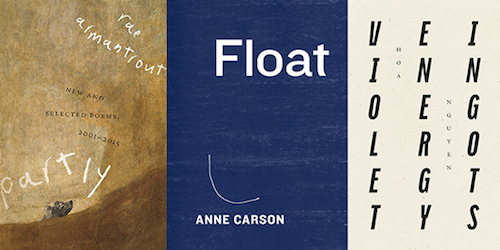 Publishers Weekly announces our autumn reading list, with plenty of poetry titles to look forward to. Among them are new books from Anne Carson, Lisa Robertson, Monica Youn, Peter Gizzi, Safiyah Sinclair, Susan Gevirtz, and more. Here's a brief run-down from our e'er-present pal, the letter C:
City Lights

And Then We Became by Devorah Major (Nov. 15, trade paper, $14.95, ISBN 978-0-87286-726-0). Reaching from the kitchen table to the stars, Major ruminates on humanness. Questions of culture, ethnicity, and gender—and the denial of their borders—infuse these poems, rich with social and political commentary, and filled with compassion, love, anger, and hope.

Save Twilight: Selected Poems: Pocket Poets No. 53 by Julio Cortázar, edited and trans. by Stephen Kessler (Aug. 9, trade paper, $16.95, ISBN 978-0-87286-709-3). A master of modern fiction, Cortázar was also a prolific poet who in his final months assembled his life's work in verse. This new, expanded edition includes nearly 100 new pages of poems, prose, and illustrations.

Coach House

3 Summers by Lisa Robertson (Oct. 11, trade paper, $17.95, ISBN 978-1-55245-330-8) takes up her earlier concerns with form and literary precedent, and turns toward the timeliness of embodiment. What is form's time? Here the form of life called a poem speaks with the body's mortality, its thickness, its play.

Coffee House

Blindsight by Greg Hewett (Nov. 1, trade paper, $16, ISBN 978-1-56689-448-7). In poems that are witty, touching, and introspective as well as formally inventive, readers find the poet losing his sight, becoming a parent, easing toward middle age with a sense of calm and inevitability.

So What So That by Marjorie Welish (Dec. 6, trade paper, $16, ISBN 978-1-56689-456-2) uses the page not as a surface upon which to buoy language, but as a core construction of the poem, in visual and kinetic relationship with text. One of our most challenging and rewarding poets, the pleasure is to simply marvel.

The Tortoise of History by Anselm Hollo (Aug. 2, trade paper, $16, ISBN 978-1-56689-444-9). In this posthumous collection from Finland-born poet and translator Hollo (1934–2013), the prolific avant-garde great's spare, sly, lyrical acumen is on display a final time.

Copper Canyon

Banana Palace by Dana Levin (Oct. 11, trade paper, $17, ISBN 978-1-55659-505-9) uses humor, jump-cut imagery, and pop culture references in preparation for the approaching apocalypse. Against a backdrop of Facebook, cat memes, and students searching their smartphones for a definition of the soul, Levin draws upon a culture of limited attention spans as it searches for greater spiritual meaning.

Imaginary Vessels by Paisley Rekdal, photos by Andrea Modica (Nov. 15, trade paper, $17, ISBN 978-1-55659-497-7), questions how identity and being inhabit metaphorical and personified "vessels," whether blown glass and soap bubbles or skulls unearthed at a mental institution. Rekdal's intellectually inquisitive and carefully researched poems delight in sound, meter, and head-on engagement.

One Man's Dark by Maurice Manning (Oct. 11, hardcover, $23, ISBN 978-1-55659-474-8) searches through layers of dreams, imagination, and memory to reconnect with oneself and one's place in the cosmos. Drawing deep from his Kentucky roots, Manning peoples his poems with ordinary and extraordinary rural characters, as he gives voice to a region well-loved and full of tradition.

Run the Red Lights by Ed Skoog (Nov. 15, trade paper, $16, ISBN 978-1-55659-503-5). These plainspoken poems rediscover the relationship between talking and thinking as they weave among enthusiastic jags about sex and love, theater, music, New Orleans, numbness, ghosts, wolves, history, violence, rescue, art, marriage, mothers, fathers, and children.
Read it all at PW.