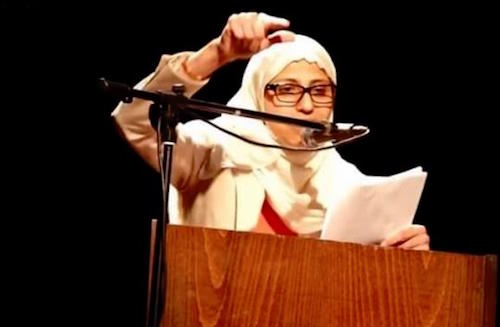 In a press release last week, PEN America condemned Israel's detention of poet Dareen Tatour, writing that her detention is "further evidence of the increasingly aggressive measures undertaken by the government to restrict speech critical of the state." A poet active on social media, Israel is prosecuting Tatour for her social media activity and for her poetry, which is critical of the state. More:
[...] Tatour was arrested on October 11, 2015, when police entered her house in a town outside of Nazareth around 4 am without a search or arrest warrant. After almost a month in prison, she was indicted on November 2 under two laws: Incitement to Violence and Support for a Terrorist Organization. After spending three months being shuffled between Israeli prisons, in mid-January Tatour was placed under house arrest in a rented home without internet access in Kiryat Ono, a city just outside Tel Aviv and more than 40 miles away from her hometown. She will remain under house arrest for the duration of her trial, which is scheduled to resume on July 17 and September 6.

The prosecution cited Tatour's poetry and social media activity as grounds for her arrest and indictment. On October 3 and 4, 2015 a video was posted on her Facebook and YouTube accounts depicting a reading of her poem "Resist, My People, Resist Them," set against images of Palestinians clashing with Israeli security forces. On October 4, a Facebook status posted on her page noted that the Islamic Jihad movement had called for a "continuation of the intifada" in the West Bank. And on October 9, a photograph of Isra'a Abed, an Arab-Israeli woman carrying a knife who was shot by security officers in the Afula train station, was posted on her Facebook page, captioned with the phrase "I will be the next martyr." Shahid, an Arabic word for martyr, is narrowly interpreted by many Israelis as those willing to commit acts of terrorism like suicide bombings; many Palestinians use the word to refer to victims of Israeli state violence. The bulk of the evidence cited against Tatour rests on the video and how her poem should be interpreted. The court relied on a translation of the poem, composed in Arabic, by an Israeli police officer with no professional experience as a literary translator. During the hearing, the prosecution also cited Tatour's participation in a Kafr Qasim massacre memorial event and her poetry reading at a "Woman's Day" event in Nazareth.
Learn more at PEN America.