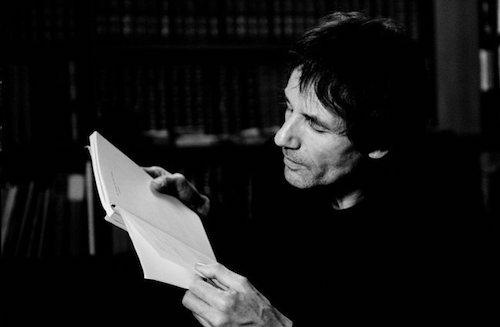 VICE Magazine profiles "one of England's greatest poets," Aidan Dun. Dun, whose work was praised by Allen Ginsberg and Peter Ackroyd in the nineties, enjoys "mysticism, spirituality, and salvation." Joe Banks talked to Dun about his poems, their flickers of Rimbaud, Arthurian myth, Druidic lore, and more...
These days, England doesn't much care for its poets, tending to prefer them safely dead and serviceable as colorful subjects for the heritage industry. The one I'm meeting lives more or less in typical obscurity, beyond a small band of loyal believers. But he's the real deal. And they never invite him on Radio 4.

Aidan Dun has more going against him than most: an idiosyncratic exponent of what Aldous Huxley called "the perennial philosophy," the mystical traditions he feels most at home with are the Celtic Church and Rastafarianism. Not the kind of figure the liberal, secular gatekeepers of the arts are very comfortable with.

When we meet in a cafe in north London, the first warm sun of the year is shining over Pentonville Road. It's Friday, and the evening rush is starting around the Angel subway station. Dun enters with an unhurried stride. He's a presence. Tall, intense eyes, chiseled good looks still intact. Palpably tuned to a different frequency. These days, he's eligible for a "Freedom Pass" on London transport, free travel to London residents over the age of 60, but it's impossible to guess his age.

The night before we meet, he'd performed at an event organized in opposition to the proposed $1.1 billion mega-complex of luxury tower blocks at London's Bishopsgate Goodsyard. If it's approved, this slick package of high-end residential, office, and retail space will cover 11 acres on a site bordered by Shoreditch High Street, Bethnal Green Road, and Brick Lane. Its biggest tower will be as tall as the Gherkin, throwing the residential streets to the north into shadow. Only 10 percent of the housing was designated as "affordable" [after publication of this article, a spokesperson for the developers contacted VICE to say this has since been upped to 15.8 percent]. For Dun, it epitomizes the nihilism and arrogance of today's London elite: "Their coldness has become a mode of existence," he says. "You sign up for it, and in a biblical sense, it's transgressive. It's satanic. Let's not mince words: It's satanic."
Continue at VICE.