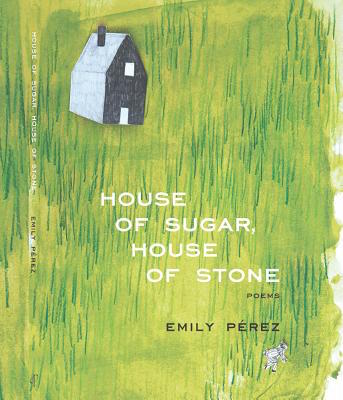 Posted yesterday at Letras Latinas blog, a fantastic conversation between Emily Pérez and Sasha West. On the table is a discussion of Pérez's new collection House of Sugar, House of Stone, which uses the dark edge of fairytales to plump the lives of the modern family. We'll lead in with a brief except:
Your chapbook, Backyard Migration Route, examines liminalities in many ways: what it is to be both Latina and white, what it is to live on a border, what it is to belong to shifting spaces. How do you see your full-length collection, House of Sugar, House of Stone, engaging in the same territory?

The primary borders I'm exploring in this collection are the ones in families. I think you said it so well in your blurb; I want to know about the line between the self and the partner, the self and the collective. In families we make ourselves vulnerable to unknowable others—sometimes by choice and sometimes by the accident of when, where, and to whom we were born.

I am especially curious about the border between parents and children: the way their fears and secrets mingle, even if unspoken; the way their inner lives manifest in their outer worlds. In that way, this is also a conversation between the past and the present—how previous generations in a family influence the present day generation. I started the book before I was a parent, and at the time I identified closely with the children in my poems. Now that I'm a parent, my sympathies waver. My hope is that this shifting perspective gives readers multiple entry points.

Your poems work against type in a beautiful way, allowing motherhood and domesticity to be complicated, vertiginous spaces. Did you have particular models in mind as you wrote these? What were you writing towards? And against?

At this point in literary history and feminism, plenty of people have written about darkness within the domestic. My early models were Sylvia Plath, Louise Glück, Sharon Olds, and Lucille Clifton. It was a relief to read women saying the things I felt were unsayable. Later I discovered Anne Carson, Carmen Giménez Smith, Rachel Zucker, Beth Ann Fennelly, and many others. There are several excellent writers exploring the boundaries of motherhood and marriage in radical ways.

There is so much about cycles within families that I wanted to explore. I was writing towards an understanding of inheritance—what we inherit through biology, through community, and even through literature. At first I wondered what I had inherited from my family and from the stories I'd read, and now that I'm a parent and a writer, I wonder what I am passing on.

What was I writing against? I was writing against silence. I was writing against every woman's magazine article, every mommy blog, and every princess story that packaged motherhood and marriage as pure, sweet smelling, and serene. I was writing against the erasure of darkness.
Continue on at Letras Latinas.