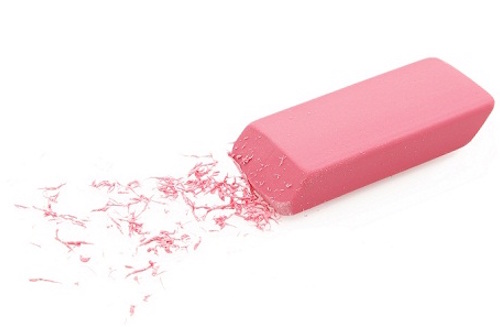 Colorado State University's Center for Literary Publishing's blog hosts a conversation between Kristina Marie Darling and Sam Taylor: practitioners of "self-erasure."
Recent years have seen an increasing interest in erasure poetry, in which a poet creates a new text by selectively erasing from another author's pre-existing text. Poets Kristina Marie Darling and Sam Taylor are both practitioners of "self-erasure," in which they first write their own text and then erase part of it. Taylor and Darling both developed self-erasure independently around the same time and then happened to be given studios next to each other at Yaddo, where they discovered the coincidence. They've been having a conversation about it ever since, and they've shared some of it here. For all the surging interest in erasures, there has been little discussion of the unique poetics and possibilities of erasure poetry. This conversation—between poets who explore erasure within their own texts—strives to expand the discourse on the poetics and ethics of erasure, as well as to illuminate the unique possibilities of self-erasure. [...]

* * *

ST: You and I have this remarkable history. We met at Yaddo in 2011, where we had studios right next to each other, and we were both working on self-erasure poems next door to each other without realizing it. At the time, I thought I was the only person doing self-erasure and was reticent about talking about it, both because I considered it an infringeable concept and because it seemed like most people viewed it as a freakish project. Somehow you and I eventually got talking about what we were working on, though, and it was so marvelously strange to discover the universe had brought us into such proximity. So, I'm curious: How did you first come to the concept of self-erasure? What motivated that decision or invention? And, while we're at it, let's establish once and for all who first thought of this thing! I say this tongue-in-cheek since it seems clear such conceptual developments emerge from a synchronous collective mind, but when did you first arrive at the concept?

KMD: The story of how I discovered self-erasure begins like many of my stories. I met a guy who turned out to be truly awful, and by "awful," I mean just terrible. It all started when he sent me a random email, saying that he liked my "poetry reading voice." We started emailing back and forth, and eventually, we met. So I started to like him a little too much. Then, in what I interpreted as a gesture of complete love and trust, he asked me to erase one of his poems. So I erased it into a love lyric and sent it to him. This made things very awkward between us, I think, because he never spoke to me again. After that, I came to understand that I'm not very good at reading signs from men. But what had happened also sparked my interest in erasure.
Continue at Colorado State University's Center for Literary Publishing site.