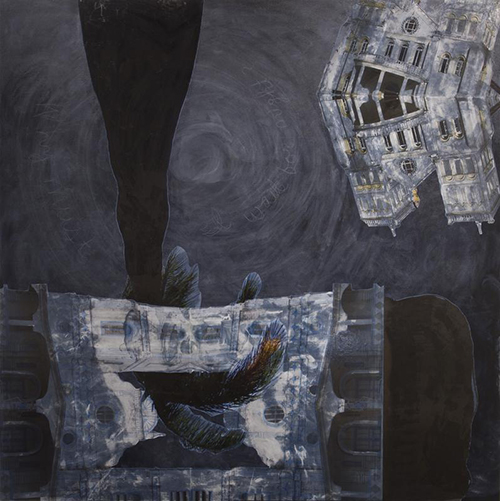 Each month we feature a guest post from a contributor to Poetry's current issue. Dan Taulapapa McMullin's poems and artwork appear in the July/August 2016 issue. Previous posts in this series can be found on the Editors' Blog.
Saaaaahhhh-MOH-ahhh…
Sa is drawn out in a long breath ahhhh.
Sa is sacred, is family, moa is center, moana is the ocean, Samoana….
My queer Samoan body, born in Japan, a toddler in Germany, a golden childhood back in American Samoa, a complicated life back in the United States, and back and forth throughout my life, like a seabird in the north, like a seabird in the south…
Identity is not something we claim, it is something that claims us.
In Gertrude Stein's second Picasso poem portrait she compares him to Napoleon, and there is a recording of her beautiful voice, "one I land, two I land, three the land, three the land," which I use in "100 Tikis," my appropriation video whose setting is at the intersection of tiki kitsch and indigenous sovereignty, with images of Gauguin's naked Polynesian women and Picasso's naked early Cubism women.
In a way, we've been disappearing for a looooong time. We Polynesians. We Pacific Islanders.
First came Moses (Paradise, Eve), then came Rousseau (Paradise, Eve), then came Gauguin (Paradise, Eve), then came Picasso (Paradise, Eve), then came Hollywood (Paradise, Eve). One island, two island, three…
John Oliver, CNN Opinion, The New York Times, all have done recent pieces about the US territory of American Samoa, regarding a case before the US Supreme Court, on how it would be racist not to give Samoans automatic United States citizenship. When John Oliver delivered his funny and scathing commentary on the subject it went viral, six million views on YouTube—that's more views than there are Samoans in the world. And when CNN and then The New York Times delivered similar responses online, I thought, if only they and John Oliver had a telephone in the building, they could have called Governor Lolo Letalu Matalasi Moliga in Pago Pago and asked, "Lolo! You can't be against automatic U.S. citizenship?" Well he was and we are, but it's a long story, requiring research. We have the voice of a moth. The "mainland" is a virtual hurricane.
Stein called it "patriarchal poetry," the kind of poetry that is repeated again and again until it becomes the only kind of poetry recognized as poetry, louder and louder it's not an echo it's a rhythm, a Cartesian storm, space itself.
In another life I used to work in media in Los Angeles, freelance field producing news and sports packages. I never knew or cared which way the ball was going and putting microphones on naked athletes coming out of the shower in the locker rooms left me breathless, exhausted. I met reporters who gave me their acting resumes, with story packages from their editors made of copy and footage sent by public relations firms. The actor-reporters worked out their delivery, leaving research to unpaid production assistants.
When John Oliver performed his citizenship for Samoans piece on YouTube, my non-Samoan friends started posting it to me in shock, What?! You're denied automatic citizenship? Well, actually, it's a bit more complicated, I mean it's not really so difficult and most of us have it but we don't want it automatically because…
And other Samoans from Australia, Aotearoa-New Zealand, and independent Samoa, and Samoans in the US were posting the citizenship stories. But I don't remember any Samoans in American Samoa posting them, after all we don't want to become a reservation, and....
And the American Samoa bashing began, from Samoans in the diaspora, mostly. It reminded me of the way Samoans used to bash Hawaiians. Well, you gave up, you sold out your country, you were weak, and you don't know your culture.
Breathe. Saaaaaahhhhhh…
Identity is not something we claim, it is something that claims us. Pigeons on the grass alas. And magpies in the sky…
Somehow we won the case, we're denied automatic US citizenship, hopefully for good, and everyone else thinks we're Uncles and Aunties to be content with that, but we still have our communal lands, it's not paradise but it never was.
Back to my body, my queer Samoan body, my aging but still beautiful, to someone somewhere, queer Samoan naked or clothed in colonialism body. Speechless as it is. Without the words...
As in the old Samoan poem of Tagaloa, the creator of all islands: a wind from the sea is strong, but a breeze falling from the green ridge is soft, from Samoa inland, where Tagaloa sleeps.
Dan Taulapapa McMullin is an artist whose first collection of poems, Coconut Milk (University of Arizona Press, 2013), was one of the American Library Association's Top 10 LGBT Books of the year.