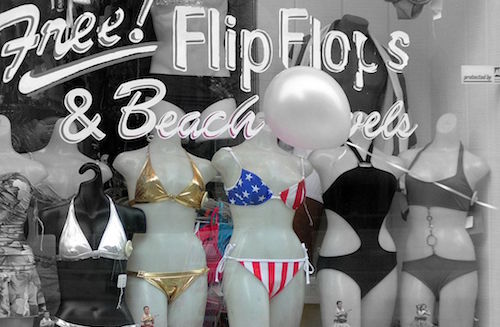 At PBS NewsHour, Mary Jo Brooks learns about poet Caitlin Doyle's creative process. Doyle's poem, "A Brief History of the Bikini," written "to explore cultural attitudes surrounding sexuality and violence, especially as girls grow into young women" is featured.
Poet Caitlin Doyle says she can trace her love of language and wordplay back to her childhood. She grew up in an Irish immigrant household where poetry and song were ever-present. Her father, who moved to New York from Dublin, was a bartender and often came home with tales of eccentric patrons—many of them writers. Those stories "stirred my curiosity and planted in me an early fascination with the literary life," says Doyle.

While so many young poets today are writing free verse or performing spoken word, Doyle often prefers a more formal style.

"What thrills me most about rhyme and meter is the role they have played in the centuries-long relationship between poetry and memory. Using rhyme and meter can help a poet sear his or her words into the reader's brain, an effect that reaches back to poetry's beginnings as an oral art form," says Doyle.

One of her goals is to use language in a way that prompts readers to let down their guard and enter a poem for the visceral pleasure of the sounds. Often, she says, she likes to combine dark subject matter with an almost nursery-rhyme quality so the dissonance between sound and subject will heighten the meaning.

"I hope to reconnect readers with the primal ear-delight of their early years, bringing them back to their first pleasure in hearing nursery rhymes, lullabies, commercial jingles and playground songs, while also feeding their grown-up appetites for intellectual depth, sonic complexity and emotional resonance."
Hear Caitlin Doyle read "A Brief History of the Bikini" at PBS NewsHour.