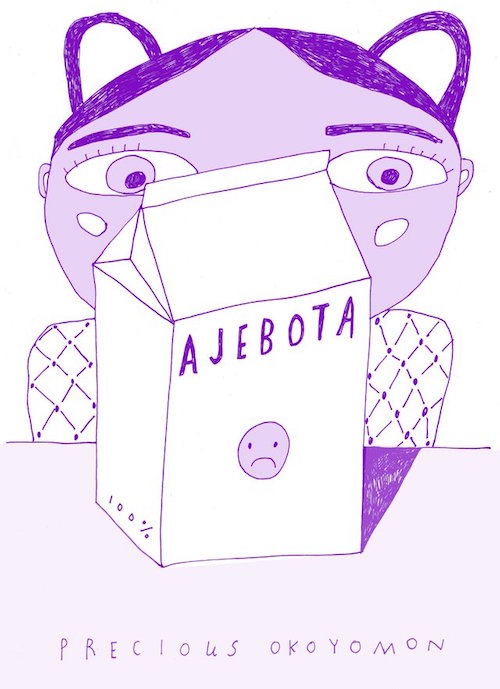 After reading Precious Okoyomon's new book of poems published by Bottlecap Press, Ajebota, author and Wonder co-founder Ben Fama spoke with Okoyomon about the meaning behind the word "Ajebota," life between Lagos and London, and mutual friend, the writer Dana Ward.
Precious Okoyomon's writing is like local honey I see being sold at the rest stops in upstate NY: raw and sweet, with positive health benefits if you consume regularly. I'd seen her writing online, and of course followed her on social media(!) After wanting to meet her for a while, I reached out formally to conduct the interview that follows. Here we focused on her new book Ajebota.

Ben Fama: Precious, Hi! We've never actually met, so this is what I know about you: You live in Cincinnati, you know Dana Ward, and you wrote a great book called Ajebota. Could you tell me about all of that?

Precious Okoyomon: Cincinnati is an interesting place.

At the moment I'm transition to Chicago, moving is kinda insane / all the things you somehow have and weighing your attachment to objects / it's like how did I get any of this shit. I really love Dana, his work really influenced me. He's a really wonderful person. We get coffee and he tells me what I should be reading and like he vapes the whole time and I just like really soft beautiful moments I get to have with him .. it means a lot. And Cincinnati has this amazing poetry scene with so many amazing people who really encourage and foster this sense of growth it's endless kindness but then it's this feeling of a never ending episode of Gilmore Girls but like that's problematic cuz i'm like where are all the people of colour ?!? Ajebota is my first book of poetry it's more like a purge of my feelings. I really didn't censor anything.

BF: I think a lot of first books are a purge for their authors. Actually Trisha Low explained to me when we were discussing our own second books—how the first book has so much of life in it that the second book takes some negotiation to figure out how to proceed (I am definitely misquoting her). What are you working on now? Do you like Gilmore Girls/cute towns?
Continue at Queen Mob's Tea House.