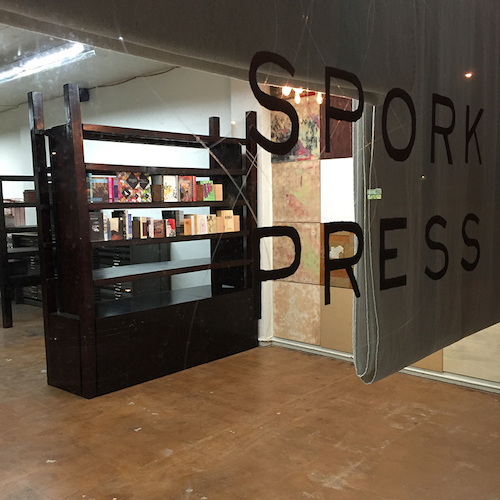 Spork Press, a Tucson-based publisher (which started as a magazine) known for its unique bookbinding and focus on experimental poetry and prose, is undergoing a transformation. "As the brainchild of bookmaker-cum-writer Drew Burk and poet Richard Siken, Spork was run out of Drew's home studio for the majority of its 16 year existence....Now Spork has picked up a few new editors and moved to their first storefront space," writes Nichole Riggs Goff for the University of Arizona Poetry Center blog. More on this new era:
Bookbinding at Spork Press might be what one would deem a "labor of love." The process is all volunteer-based – completed by editors and occasional student interns plucked from the throes of the U of A's Creative Writing or Graphic Design programs. Those who are familiar with Spork's books might recognize what has, up until recently, been their signature book design: hand-sewn books with letterpress designs on raw book board. Rather than having neatly trimmed pages, the edges of their chapbooks were sanded down (with a now defunct belt-sander named Sander Monson). Spork's redesign has them eschewing their old process for another that will drastically change how the bookmaking branch of the press functions. According to Burk, part of this redesign rests in how Spork's old chapbooks were often received: "People always treat them as cute, artsy objects, rather than books. We want to make things that people recognize immediately as books, not just an art object."

The new design is still under wraps, but includes a dyad of letterpressed, cloth-bound hardcovers and paperback books made by hand with an in-house paperback machine. This gives Spork the ability to publish higher volumes of books and lengthier books without shipping anything away to off-site printing companies. It also allows them a wider distribution – a move they hope will garner more income for their authors. Spork will continue Sporklet, too: their semi-monthly installment of online poetry and prose. Most importantly, Drew stresses that with these new processes they will "still be able to put [their] hands on the books."

In addition to producing ephemera, book-designer, DJ, and man-about-town Andrew Shuta makes and mixes cassette tapes for Spork which are currently sold online. Andrew is heavily involved in Tucson's music and night-life scene, and Spork Press sometimes hosts book and cassette releases at downtown locations such as Club Congress or R-Bar. The Spork storefront will be a space that bridges some of these creative aspects. It will encompass a small press bookstore, a bookbindery, an art supply store (with selectively curated stock), and will carry a small array of records and cassette tapes. They plan to share their shelf space with the likes of Black Ocean, Action Books, Smoking Glue Gun, Birds of Lace, and other small presses who they're interested in or who might be willing to throw in a book or two. In addition to the sales aspect of their storefront, Spork will act as a venue for literary arts events, a small sci-fi/prose/poetry lending library, a reading and writing space for customers, and will eventually offer bookbinding classes to the general public in their studio space.
Nothing but good news here. Read more.