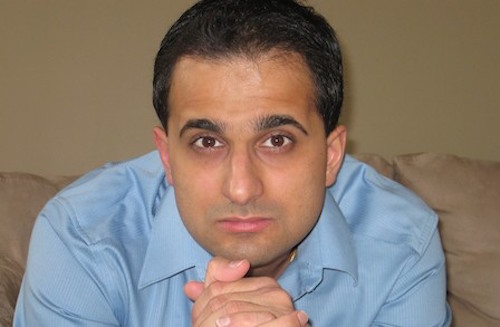 "His breadth of subject matter spans sex, popular culture, art, capitalism, history, the natural world, and more," LARB reviewer Caitlin Doyle writes. Amit Majmudar's freshly Knopf-published collection contains, in Doyle's assessment, "words with such precision and imagination that their glimmer exceeds the world they represent." More:
THE EPIGRAPH of Amit Majmudar's new poetry collection Dothead comes from Dr. Seuss: "It is fun to have fun / But you have to know how." Majmudar, whose parents emigrated from India, frequently writes about American identity, ethnic otherness, and the cost of conflict on the global scale. Though Seuss's lines may seem like an unusual touchstone for a book that explores such weighty subjects, they capture a central element of Majmudar's writing. In Dothead and his previous collections, 0˚, 0˚ and Heaven and Earth, Majmudar reveals himself as a poet for whom nothing is more serious than play, a quality that keeps even his most politically oriented work rooted in poetry rather than polemics. He teases language out of hiding in order to uncover fresh meaning from the startling relationships between words.

"To the Hyphenated Poets," one of the most memorable poems in the collection, demonstrates how Majmudar's wordplay magnifies the gravity of his material. Addressing poets with whom he shares multiple cultural identities, he urges them to become:

a many-minded mongrel,
the line's renewal,
self-made and twofold,
soul and dual.

Through Majmudar's punning reference to the "line's renewal," in which we discern both an evocation of the poetic "line" and the ancestral "line," he suggests a link between artistic progress and a creator's connection to his or her origins. "Soul" contains hints of "sole," an effect that subtly pulls against the word "dual." Even as the poem encourages "hyphenated poets" to embrace their dual selves, Majmudar implies that the intactness of one's soul depends on preventing those selves from losing their distinction. Of course, we also hear "duel" in "dual," further heightening our sense of the poets' struggle.
We'll see you at the book store. Continue at Los Angeles Review of Books.