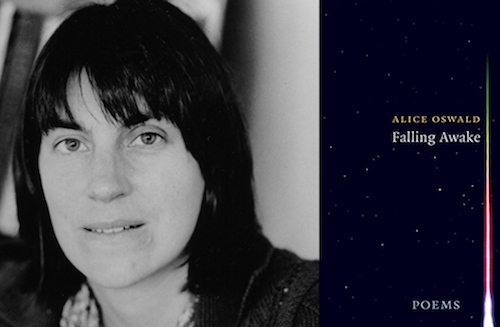 Sumita Chakraborty explores the work of Alice Oswald in a five-part essay for Los Angeles Review of Books. Oswald's most recent book is Falling Awake (Norton, 2016), and much of it renders Tithonus's "miserable affair with the dawn."
...[R]ather than waking with Eos (as Oswald did to write this piece, rising every morning at dawn), Tithonus instead waits for her through the night, patient, mad, and in darkness, until her transient light fills his habitat. And then she leaves. And Oswald doesn't tell us what Tithonus does in the day, but the last "sound" associated with him in the piece — the phrase "may I stop please" — and the fact that a short lyric follows that utterance, rather than a restful or a defeated silence, leaves us with a deep unease for him, and about him. The first stanza and a half of that short lyric reads:

And so he goes on dwindling away
maybe through too much prayer
is now too rarefied to tough
or settle anywhere
and falls to whispering here
as lost as dust

We're also left feeling that unease for ourselves, and for what making poetry must, in Oswald's vision, entail. I used the word "patient" to describe Tithonus, and Oswald herself has often spoken of the concept as one that is important to her; relatedly, in Falling Awake's first poem, "A Short Story of Falling," her speaker hopes that she "might know like water how to balance / the weight of hope against the light of patience." But the aftermath of "Tithonus" throws an appropriately disconcerting air onto such a wish, much like one of the volume's other poems, "You Must Never Sleep Under a Magnolia," worries about the possibility that "Patience" may at one point "run out of // Patience." Similarly, Oswald's poems often are — and, we'll later see, are sometimes explicitly titled as — prayers of a kind, although Oswald's emphasis (as here in Falling Awake) tends to be the moment when such prayers grow risky. What becomes of Tithonus as he "falls to whispering here / as lost as dust"? How did he get there?
Chakraborty goes on to look at Oswald's prose work, such as the nature column she writes for the New Statesman, and on (or back) to her very first book, The Thing in the Gap-Stone Stile (1996). Read it all at LARB.