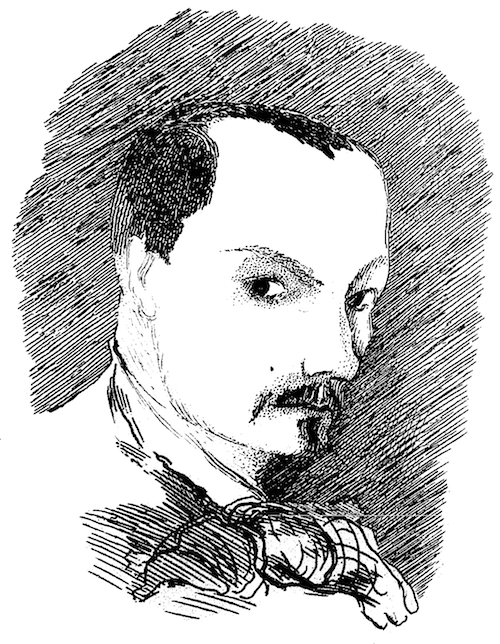 L'oeil de Baudelaire, "Baudelaire's Eye," a new exhibition at Musée de la Vie Romantique in Paris, bolsters Charles Baudelaire's reputation as a sophisticated polymath. Nonchalance aside, the French poet who is now a household name, was also a "discerning and witty art critic," aligned with Romanticism and other significant cultural movements of his time. According to Joseph Nechvatal, who reviews this exhibition for Hyperallergic, "Many of Baudelaire's art and philosophical proclamations were considered provocative, such as when he opined that everything beautiful is beautiful by calculation." More:
The exhibition supports that claim by resuming the dialogue between Baudelaire's critical texts and the works of art they described. Included are some strikingly beautiful paintings, including Eugène Delacroix's tender "La Madelaine dans le désert" (Mary Madelaine in the desert, 1845), Octave Tassaert's erotic "Nymphe couchée (Nymph in Bed, 1845), Jean-Auguste-Dominique Ingres's gallant "Tête de la Grande Odalisque" (Head of the Grande Odalisque, 1814), and Alphonse Legros's somber "Ex-Voto" (1860). There are two painted portraits of Baudelaire, one by Émile Deroy (from 1844) and the other by Gustave Courbet (1848), which hints at the writer's rapture with words and a sense of doom. There are also some tantalizing and salacious anonymous prints from 1830 that situate us within the brothels that Baudelaire frequented. Finally, there are the many majestic photographs of the poet, including Étienne Carjat's "Baudelaire avec estampe" (Baudelaire with prints, 1836).

Early on, Baudelaire theorized that the painting and poetry of his day should continue in the tradition of the classical sublime but be judged according to individual, subjective reactions. His first published work was a bold and prophetic 1845 art review championing Delacroix, whom he saw as the perfect artistic representation of the age. The year after, he wrote his second art review where he established himself as a high-minded advocate of romantic critical theory by claiming that painting should emphasize emotions, while also stressing 18th-century ideas of sublimity. He also maintained that sincerity is an essential requisite of both the creator and creation, defending Delacroix against what he deemed the malice and ignorance of other critics.
Continue reading at Hyperallergic.