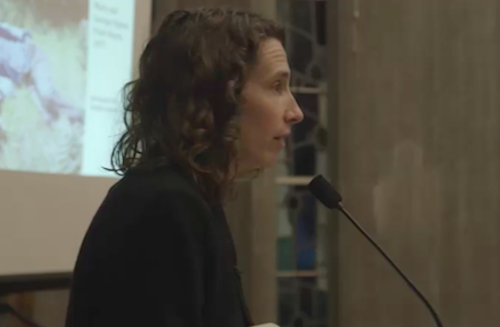 Lucky us: The Poetry Center Digital Archive at San Francisco State has posted video and audio of Frances Richard's 32nd-annual George Oppen Memorial Lecture, entitled "The Mind's own Place and Feminine Technologies: George Oppen and Possibilities of the Political." From the event description:
Steve Dickison welcomes the audience and introduces Frances Richard. Richard presents a preamble then three "mini-essays" in response to Oppen's essay on poetic theory "The Mind's Own Place," written for The Nation, rejected by poet-editor Denise Levertov, and ultimately published in the journal Kulchur (1963). Richard's "Essay One: Milton Version," "Essay Two: The Feminine Technologies," and "Essay Three: The Mind's Own Place, Oppen Version," explore at length Oppen's essay and poetics in relation to Milton's Paradise Lost, the quarrel and surviving correspondence between Oppen and Levertov, the ways in which Oppen genders the ethical tension between art and politics, Oppen's family history, and his question over whether there are "situations which cannot honorably be met by art."

Frances Richard responds to comments and questions, following her talk, from members of the audience, including Linda Ray, an unidentified speaker, poets Susan Thackrey, Steven Seidenberg, Kevin Killian, and painter Grace Chen.
Near the end, Richard questions the idea of artistic response to current political horrors ("We can't stop now, we haven't figured it out!"), and discusses the Oppens' shift to political work in the 1930s: "What's gonna feed his kids? Poems, no. So feed his kids." Watch, and listen, here.