Over the past six years, I've devoted a lot of time to mentorship programs, participating in one as a mentor (Queer Art Mentorship), and creating and sustaining one as an Executive Director (Emerge-Surface-Be ). I love being a mentor. Especially a queer one. Whenever I see the three people I've worked with through QAM, and I have seen them all somewhat recently, Jess Barbagallo, Ricardo Maldonado, and Grey Vild, I feel like we beam at each other with knowing warmth and communal feeling. A year is a long time to embark upon this kind of experience together, one that comes with the encouragement to build it uniquely as we go, according to our needs and personalities. Each experience did have something in common—each involved much more than giving career advice and feedback on work. We hung out together. We talked about the challenges in our lives. We had fun. QAM emphasizes the inter-generational aspect. Very near the beginning of my life as a mentor I noticed that, while ostensibly the elder, I could project my psyche into the true fluid nature of time, allowing me to quantum leap into the space of being a queer poet, the younger, who had a queer mentor who I acquired valuable knowledge from, and had fun with. This has been a "healing fiction" for me.
Based on my experiences working with QAM, I wanted to create the infrastructure for something like it at The Poetry Project. In 2013, we not only built it, we received funding from the Jerome Foundation to make Emerge-Surface-Be Fellowships a reality (a reality where mentors are paid for their work and fellows receive a cash award). So many people had told me over the years that they received their education at The Poetry Project, by attending the workshops and/or through years of listening at readings. Why not formalize the distinct yet unspoken pedagogical aspect of The Poetry Project's programs? It's a multi-directional program that honors lineage while being nimble enough to respond to present concerns (and an ever-present concern of the Project is what new crew of up-and-coming poets will care for it?) Our mentors have all been poets who have and do. Our current mentor/fellow pairs are Marcella Durand and Sasha Smith, r. erica doyle and Nicole Shante White, and John Godfrey and Jayson P. Smith. Here's a shout out to the past pairs too:
Anselm Berrigan and Krystal Languell
Edwin Torres and Rangi McNeil
Patricia Spears Jones and Guillermo Felice Castro
David Henderson and Miriam Atkin
Mónica de la Torre and Maxe Crandall
Brenda Coultas and Morgan Vo
Lee Ann Brown and Nicole Sealey
Tracie Morris and Edgar J. Ulloa
Tan Lin and t'ai freedom ford
Both QAM and ESB strive to create social contexts, that wouldn't exist otherwise, for emerging artists to make their work. As our country falls deeper into the insane visions of corporate demagogues and Christofascists, I've been thinking about how these mentorships, in that they elude formal structures of control, can be a useful sociopolitical strategy for bringing the full force of our creativity to our resistance.
I wrote a bit about my coming of age as a poet at Woodland Pattern in my second blog post. It was a place where I made numerous discoveries. One day in late 2001, post 9/11, I saw the name Etel Adnan on the side of a book called The Spring Flowers Own & The Manifestations of the Voyage. I opened it and read the first six lines,
The morning after
my death
we will sit in cafes
but I will not
be there
I will not be
and I've been reading her ever since. These lines are always reverberating through my mind as if I had learned them as a child, albeit a child with a premature awareness of their own mortality. I thought of these lines last week when I read that scientists moved the doomsday clock two and a half minutes closer to midnight (worldwide catastrophe) after considering the impact of Trump's policies. I'm writing this in the days after the swift enforcement of Trump's unconstitutional ban on refugees and immigrants from Iraq, Syria, Iran, Sudan, Libya, Somalia, and Yemen, and once again I am paging through books by Etel—all of them. In the constant and confusing folding and unfolding of corrupt power, she sees into the shadows with searing clarity. She's apocalyptic, in the original Greek meaning of the word—a poet who uncovers, a disclosure of knowledge—and one of the things she seems to know better than anyone is the American soul.
On December 18, 2001, I wrote Etel a letter that I didn't keep a copy of on Woodland Pattern stationery. I told that her work was important to me and that if she was ever so inclined to visit Milwaukee, we'd love to host her for a reading. I was elated when I received a serious letter written with a black fountain pen, dated January 10, 2002::
…it's good to hear that some of my work earned your appreciation, your response. (Nobody writes for his/her files!) Your particular interest in the linkage of literature to social responsibility is also mine…it's an idea that never leaves me. And, as you saw it, poetry, writing, makes it probably more possible to bring questioning to the large simplifications that make too often our   thinking to be "totalitarian," sectarian, merciless.
This was the beginning of a correspondence that is ongoing to this day. She told me that she had been to Milwaukee briefly during the Vietnam war protests and stayed with the writer Morgan Gibson. This is something she referred to several times over the years as a very meaningful experience. Her involvement with the protests made her, in her words, an "American poet." Gibson was a writer I also happened to be interested in, particularly for his writing on Kenneth Rexroth. It seemed like everything I shared with her furthered our connection.
Back then, I set out to read everything I could by her, about her, and certainly about the Lebanese civil war, which better prepared me for her classic novel Sitt Marie Rose. I even ordered back issues of Al Jadid that contained articles she wrote. I read her piece in Shuffle Boil about the effect of Oum Kalsoum's music on her and started listening to Oum Kalsoum, and then Fairuz. In a letter she told me she listened to Oum Kalsoum as "my last resort when I feel the world is soon to explode."  I think it was Genet who said that writing returned him to the world. My sense of invalidity was so intense, I didn't even feel like I had ever been in the world. Sad, but this also kept me lodged in a fantasy that was no longer viable in the wake of 9/11. In 2002, Etel wrote a piece called "Letter to Tripwire" which appeared in issue 6. It's actually a remarkable short essay on Moby Dick, a novel that I had recently read for the first time. What she writes is worth a long excerpt: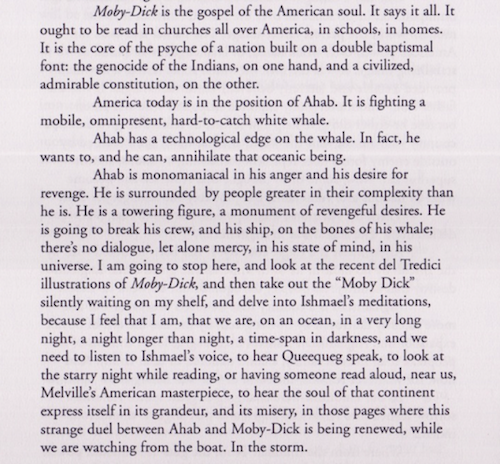 It sounds familiar because monomaniacs reject complexity. They fail as artists. They are all Ahab.
When she read my Pasolini Poems she excitedly wrote to me that she and Simone Fattal met him at a "lunch party" in Beirut in 1974, but were too terrified to talk to him! She also instructed me to send my book to Toni Maraini in Rome who was running the Moravia Foundation. Toni would give the book to the Pasolini Foundation. I was stunned. Moby Dick and Pasolini are still in the lexicon of things we correspond about.
Etel and I didn't meet each other face to face till 2005 when she read at The Poetry Project with Robin Blaser. I had only been living in NYC for a few months and still had the faux hawk I had given myself the day after I arrived. I remember feeling embarrassed about my hair! I remember hugging her by the book table. I remember one of the best readings I've ever heard in my life, both poets. She read from In the Heart of the Heart of Another Country. I don't know if she read this line, but I have it starred in my copy of the book.
The body is not supposed to know itself, being an instrument for the apprehension of the world, not unlike our eyes which are not meant to see themselves. But the body knows itself in apocalyptic moments: in ecstasy, and in pain.
I remember Etel, Simone and I starting what would become a tradition, while she was still able to travel to NYC, of eating sushi together. Of course, "I'll have what she's having," so henceforth, when at a Japanese restaurant I get the eel.
I never thought of Etel as my mentor, perhaps because I was overly attached to a different and earlier narrative where I am young and alone and searching. She is my guide, and for the past fifteen years, whenever I have had something on my mind and have reached out to her, she has responded fully and with love, always. After years of asking me to visit her in Paris, I made the trip last March. I just asked her if I could interview her for The Poetry Project Newsletter and she said, "Only if you come back to Paris."
Born in Milwaukee, Wisconsin, Stacy Szymaszek is the author of five books: Emptied of All Ships (2005), Hyperglossia (2009), hart island (2015), Journal of Ugly Sites and Other Journals (2016), which was the winner of the Ottoline Prize from Fence Books, and A Year From Today (2018). She has also...