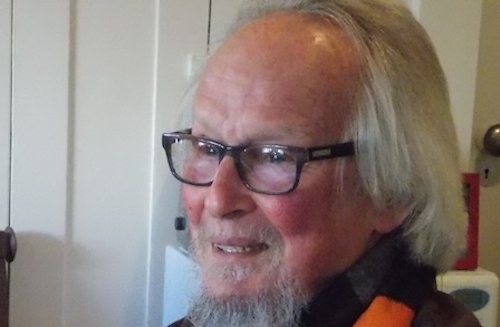 Over the weekend as the New Year was being rung in, the multi-talented poet, musician, jazz critic, teacher, and scholar David Meltzer died at the age of 79. Meltzer was a long-time fixture in the San Francisco poetry scene, whose writing is most often associated with the Beat generation and San Francisco Renaissance of the 1950s and 1960s. He was the youngest contributor to Don Allen's landmark 1960 anthology, The New American Poetry, 1945-1960. John McMurtrie at the San Francisco Chronicle reports on Meltzer's passing:
David Meltzer, the prolific poet and musician who merged his two passions, creating work that goes back to the Beat generation and San Francisco Renaissance of the 1950s and '60s, has died. He was 79.

Mr. Meltzer died peacefully Saturday at his home in Oakland after suffering a stroke, said his daughters. He was surrounded by loved ones.

Fellow Bay Area Beat poet Diane di Prima called Mr. Meltzer "one of the secret treasures on our planet. Great poet, musician, comic; mystic unsurpassed, performer with few peers."

His friends Greg and Keiko Levasseur wrote on the poet's website that "We have lost a great poet, scholar, musician, and jazz historian. He was a loving husband and father, and a great soul. He was a wonderful friend whose gentle spirit, sense of humor, and astonishing capacity for sake made him a joy to be with."

Mr. Meltzer wrote more than 40 volumes of poetry, among them "Arrows: Selected Poetry 1957-1992," "Name: Selected Poetry, 1973-1983" and "Beat Thing" (2004). His nonfiction work includes "Reading Jazz" (1993), "Writing Jazz" (1999), "When I Was a Poet" (2011) and "Two-Way Mirror: A Poetry Notebook," a collection of anecdotes and quotations published by Oyez Press in 1977 and rereleased by City Lights Publishers in 2015.

In praising his poetry collection "David's Copy" (2005), Lawrence Ferlinghetti, co-founder of City Lights, wrote that Mr. Meltzer was "one of the greats of post-World War II San Francisco poets and musicians. He brought music to poetry and poetry to music!"
In April 2013, Meltzer contributed a series of posts for Harriet's National Poetry Month Celebration titled "Impossible Music," which illustrated his deep understanding of music and the rich relationship it had with his writing. While you read and remember Meltzer's writing, you'll want to tune into Meltzer's 1967 psychedelic masterpiece, "The Serpent Power."