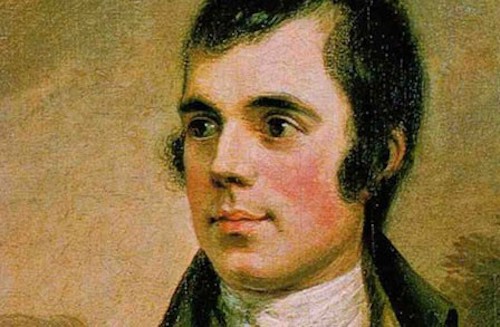 The Guardian reports on the U.K.'s Burns Night supper tradition, an event with verse, food, wine, kilts—all to celebrate the birth of Scotland's literary celeb, Robert Burns. Although the annual fete is well-established, other Scottish writers have called Burns's bluff, like Hugh MacDiarmid, who "in 1926, in his most celebrated poem, 'A Drunk Man Looks at the Thistle', wrote of the Ayrshire bard: 'Mair nonsense has been uttered in his name/ Than in ony's barrin liberty and Christ.' MacDiarmid attacked the Burns cult for its reactionary kitsch and 'kailyard' sentimentality: 'You canna gang to a Burns supper even/ Wi-oot some wizened scrunt o a knock-knee/ Chinee turns roon to say, 'Him Haggis – velly goot!' /And ten to wan the piper is a Cockney." More:
Burns had his "shortcomings" – MacDiarmid, perversely, singled out "a tendency to jeer at foreign things and express a sort of xenophobia". But it was the "church of Burns", not the poet himself, who earned MacDiarmid's true ire: "Croose London Scotties wi their braw shirt fronts/ And aa their fancy freens rejoicin/ That similah gatherings in Timbuctoo/ Bagdad – and Hell, nae doot – are voicin/ Burns' sentiments o universal love,/ In pidgin English or in wild-fowl Scots". The devotees didn't even understand his language, argued MacDiarmid: "No wan in fifty kens a wurd Burns wrote."

The same could, of course, be said about MacDiarmid's own Scots verse, but for this fierce contrarian, who never claimed the easy charm of his predecessor, accessibility or popularity was not the aim. If the English were baffled by his Scots poetry, so much the better. This was an unsurprising stance from someone who, in his Who's Who entry, described his hobby as "Anglophobia". MacDiarmid took pride in contradiction – "Caledonian antisyzygy" he called it – and had the unique distinction of being expelled from the National Party of Scotland, forerunner of the SNP, for being a communist and from the Communist party for being a nationalist. In 1956, after the Soviet invasion of Hungary, when thousands of British communists left the CP in protest, MacDiarmid rushed to rejoin the party.
Read on at The Guardian.