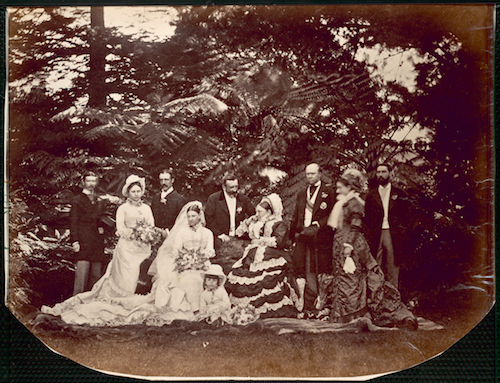 Your attention, please. The New York Times's Wedding section is pulling from the archives to tell the stories of fabulously decadent and horrifically ill-fated romantic partnerships of the past 165 years. Recently, Times staffer Rick Rojas re-lived a controversial 1859 wedding, Miss Frances Amelia Bartlett, 18, to Señor Don Esteban Santa Cruz de Oviedo, 55 ("an epoch in our social history") which was evidently tarnished by a "rascal" poet. How did it turn out? Let's take a trip to the gray lady's archives to find out:
Mr. Oviedo, a Cuban planter, was worth, in today's dollars, more than $135 million. He was said to have showered Ms. Bartlett during their courtship with jewels, 75 robes and other gifts.

The bride, who met Mr. Oviedo during one of his visits to the United States, was described as a "belle at Washington, Saratoga and other lands and localities."

The wedding drew a great crowd, and most eyes were on the bride. The Times's reporter suggested, "This lovely cynosure of all eyes evidently did not fear the public gaze, nor needed to fear it."

The reporter continued: "About her neck, itself a pearl, she wore four rows of shapely Orient pearls, looped into a festoon by one slight rib of gleaming diamonds, gathered into the likeness of a knot of love. From this knot depended a single pear-shaped pearl, dipped in diamonds of surpassing lustre and beauty."

Not everyone was so complimentary.

A rascal named Edmund Clarence Stedman wrote a lengthy poem, titled "The Diamond Wedding," that appeared in The New York Tribune and suggested a mercenary motive behind the union. Among the cutting lines:

I do not wish to disparage;

But every kiss

Has a price for its bliss,

In the modern code of marriage;

And the compact sweet

Is not complete

Till the high contracting parties meet

Before the altar of Mammon.

The bride's father, Washington A. Bartlett, a former Navy lieutenant who also served as chief magistrate of Yerba Buena, a village that was a forerunner to San Francisco, was incensed with the poem, and demanded a retraction, according to "A Genteel Endeavor: American Culture and Politics in the Gilded Age" by John Tomsich.
How many poems inspire duels? Read on and you'll discover that this is one of them. Continue reading at The New York Times.