"The taste for the archive is rooted in these encounters
with the silhouettes of the past, be they faltering or sublime."
–Arlette Farge, The Allure of the Archives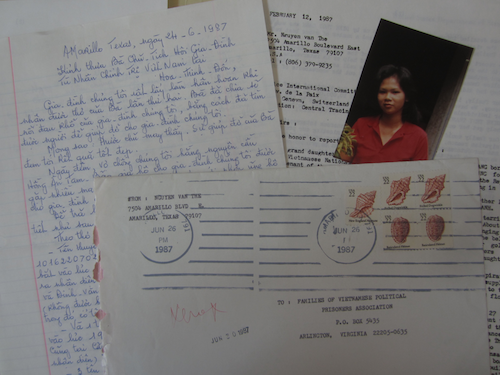 Letter from Lubbock (21 July 2014)
It turns out I have a taste for the archives. When I learned that Texas Tech was the unlikely home to the Vietnam Archive, the most complete collection outside the U.S. National Archive of materials related to the war, which included documents and materials dubbed the "equivalent of the Ellis Island papers" for Vietnamese Americans, I knew I had to go to Lubbock. I arrived in the sweltering heat of Texas in late July, with no clear research plan, no real methods. I was just going to look around….
First, I looked for pictures of Pulao Bidong, the refugee camp in Malaysia where my family first arrived after escaping from Vietnam. I was too young to remember anything of camp life. Somehow these photos would offer visual proof: this is what it looked like. The photos I looked at were taken by an anonymous photographer for the UNHCR. Vietnamese children walking in bright morning sunlight as if to school, each of them carrying the same tote bag. A classroom crowded with adults and children, all wearing headsets. A young woman sitting on the floor surrounded by boxes and luggage neatly stenciled with an address in California. But I couldn't picture myself within those same frames. They stirred nothing distinct in my memory, though the scenes seemed vaguely familiar like afterimages from elsewhere. Then I looked through the Douglas Pike Photograph Collection and the Mobile Riverine Force Collection for images and information on swift boats because I wanted to learn more about what it might have been like for my father when he was an officer in charge of a team of patrol boats. While fascinating, they offered no revelations.
In truth, I want my madeleine moment. I have been hoping to stumble across a lost memory or at least hit upon a trove of secondhand ones. When these aimless searches turned up nothing, today I decided to click on the Finding Aid for the collection containing the applications for immigration to the U.S. and entered a boundless city of paper whose vast population clamored in silence.
Finding Aid
The Families of Vietnamese Political Prisoners Association Collection contains 157 linear feet of immigration applications, correspondence, speeches, meeting notes, financial and legal records, printed materials, and other administrative records that document the activities of the Families of Vietnamese Political Prisoners Association (FVPPA), a non-profit organization active from 1977-1999, in campaigning for the release of re-education camp prisoners in Vietnam. The records document not only the activities of the FVPPA, but also the individual stories of 12,000 applicants for the United Nations High Commissioner for Refugees' (UNHCR) Orderly Departure Program (ODP). The collection is arranged in six series: ODP Applications, Office Files, Resettlement Files, Master Lists of Applicants, Restricted/Reserved Files, and Oversized Documents.
Literature Review
In May 1979, the United Nations High Commissioner for Refugees (UNHCR) and the Socialist Republic of Vietnam signed a Memorandum of Understanding establishing a Program for Orderly Departure from Vietnam (ODP). It proved to be both a quintessential Cold War program, developed and implemented chiefly because it was in the United States' interest, and an exceptionally forward-looking and innovative approach to resolving a refugee crisis and to addressing the asylum-migration nexus which so preoccupies States nearly 30 years later.
The ODP was designed to make it possible for persons wishing to leave Vietnam to do so in a safe and organized way, rather than having to join the ranks of the Vietnamese boat people. It is the only time UNHCR has extended its assistance on a large scale to help people to leave their country of origin. In all other programs implemented by UNHCR, resettlement assistance has been given to individuals who had already left or been displaced from their homes, and could not return.
–Judith Kumin, from "Orderly Departure from Vietnam: Cold War Anomaly or Humanitarian Innovation?" in Refugee Survey Quarterly (2008)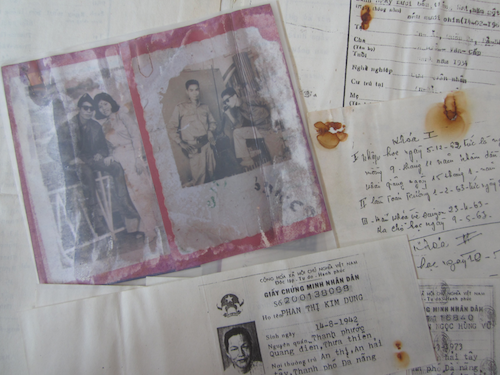 Some Noteworthy Pictures, People, and Stories
—Colonel Pham The Vinh received Distinguished Flying Cross U.S. Department of Army for rescuing stranded and wounded from downed helicopter.
—Nguyen Kim Tuan author that uses the pen name Duy La for his books.
—Tran Thi Sau (unknown) Runs adoption agency for 33 Vietnamese children of American soldiers. Wants not only the kids but self to emigrate.
—Ngo Suu President of the IndoChinese Refugee Rescue Association. Not only applied but sent documents on camp conditions.
—Huynh An Ninh asks for help writing President Nixon who gave him an autographed photo.
—Nguyen Van The-Office: Correspondence-Incoming. Seeks help locating granddaughter who was captured by Thai pirates while fleeing Vietnam.
—Ho Cong Anh (Red)-Box 18 Folder 9, Suffer nose hemorage from agent orange
—Chau Nguyen Hong (Cam) (1-16-1938)-Box 5 Folder 5 housewife charged with relating with organization against the Revolution
—Nguyen Van Hoa-Box 76 Folder 111 Honorary Citizen of Georgia
—Nguyen Van Hai & Pham Thi Loan-Box 76 Folder 41 Both husband and wife in camps and are police captains.
—Nguyen Thi Kim Chi & Phan Van Na-Box 68 Folder 25 Killed by pirate in 1981
—Nguyen Thi Bich Loan Maria-Box 67 Folder 4-Amerasian and Catholic. Married to Vincente Dao Quoc Hung. Father is John A Mirro. Mother is Anna Nguyen Thi Ngoc Lan.
—Box 67 is almost all widows
—Box 70 Folder 45 Nguyen Thi Thin Wife of Robert E. Robinson. 2 kids. He begged her to come with him to U.S. She wouldn't due to ill father. Now looking for him.
—Box 89 Folder 124 Pham Quang Kim Voice of Freedom, Technician, 2 yrs in camp
Interview with the Vietnamese American Heritage Archivist
Q: What were your impressions when presented with dozens of boxes of Families of Vietnamese Political Prisoners Association (FVPPA) documents? What state were they in?
A:  I was very excited to begin exploring and learning from the records of the FVPPA and was impressed with the size of the collection, though a little apprehensive about processing such a large collection in one year. Since the records of the organization were transferred several times before their arrival at the Vietnam Archive, the application files were not in alphabetical order and a portion of the collection was loose (not in folders) in the boxes. As with the application files, several moves had left the original order of the office files a mystery. The collection had extensive mold and insect damage.
Tracing Dinh Thuy Trang
All the letters came from the same address in Amarillo, Texas. A grandfather was looking for his granddaughter. She, along with her brother and uncle, had fled Vietnam by boat. The boat was attacked by Thai pirates who captured eight of the women on the boat, including the granddaughter. The boat eventually made it to Pulao Bidong, Malaysia, the same island, I was quick to note, where my family first landed. The correspondence was shuffled out of order, so I rearranged the letters chronologically on the table, stacking the duplicates, sliding the paper around like puzzle pieces.
1985
23 October Boat carrying around 70 Vietnamese refugees leaves Vietnam from Can Tho. On board are Dinh Thuy Trang, her brother Dinh Tuong Linh, and her uncle Dinh Thoi Canh.
26 October Somewhere in the South China Sea around 9 a.m., three Thai fishing vessels surround the boat. Thai pirates rob the people on board and abduct eight young women and girls. Dinh Thuy Trang is among the abductees. Her uncle receives a serious head injury.
27 October After four days at sea, the boat reaches Pulao Bidong, Malaysia around 4:45 p.m. The attack by Thai pirates is reported to The Office of UNHCR on the island.
2 December Nguyen Van The writes first letter to UNHCR in Geneva and Malaysian Red Crescent Society in Kuala Lumpur. Appeals to the "humanitarian reason" to check with Thai authorities and "liberate Dinh Thuy Trang." Includes brief biographical information and description of situation. Feels rushed and urgent.
1986
29 January Letter from Joerg Stoecklin, Head of Desk International Committee of the Red Cross Central Tracing in Geneva to Nguyen Van The. "Re: Tracing of Dinh Thuy Trang." No relevant information, but request registered. Tone is formal. In French it's "Agence Centrale de Recherches." Think Proust.
16 February Letter from Nguyen Van The to UNHCR Office in Thailand. Same requests and appeals, though better timeline and chronology established. Letter is a polished, with little grammatical or spelling errors, thicker descriptions. Also says family will fast for a period of time to save $2000 to go toward the reward for "who will rescue Mrs. Trang or report her whereabouts."
10 March Letter from J. Mouchet, Senior Protection Officer at UNCHR South and South East Asia Section. Responding to Nguyen Van The's letter of 2 December 1985, not included in files. No new information to report. Offices are continuing their tracing efforts.
12 July Nguyen Van The writes to Harold G. Lierly. Who is this? Asks Lierly to convey letters to the Office of the Representative of UNHCR in Thailand, the National Police Command in Thailand, and the Anti-Piracy Commission in Thailand. Note of urgency creeping into the sign off: "We are anxiously looking forward to hear from you."
26 November Newspaper clipping from The Malay Mail with headline "Hefty jail terms for Thai fisherman"
1987
30 January Letter from U.S. Department of State, Office of Asian Refugee Assistance. Confirms receipt of 30 November letter. Confirms forwarding Nguyen Van The's letter of request to U.S. embassies in Thailand and Malaysia. Recommends writing to International Committee of the Red Cross in Switzerland, which has a program of tracing missing refugees.
12 February Nguyen Van The writes to International Committee of the Red Cross in Switzerland. Appeal includes a reward of $10,000 U.S. for "clues and indications leading to the release of Dinh Thuy Trang for reunion with our family." Requests that her picture be printed in Thai newspapers. Timeline filled out. Boat number even noted. As if establishing a chronology might help save her, just as time is running out. Strangely includes a description of one of the pirates: "Among the arrested pirates, there was a strongly built and tall man who kidnapped Trang. This pirate was still under arrest by the Thailand Police authorities." Says their family has "tightened their belt to save money" in the sum of $10,000 to the person who can obtain the release of Dinh Thuy Trang. This is the last typed letter in English on file, and it begins: "I have a grand daughter."
12 June Letter from Martin J. Loftus, Head of UNHCR Sub-Office Kuala Trengganu Malayasia. Regrets to inform Nguyen Van The that his relatives have not arrived at Bidong as yet. Update on the case against piracy in which Mr. Dinh Thoi Canh appeared as witness. Each of the three Thai suspects were sentenced to a total of 24 years of imprisonment.
24 June Last letter on record from Nguyen Van The, handwritten in Vietnamese, no translation
Letter from Lubbock (23 July 2014)
Being at the Archive is starting to kick up the dust of some family memories, not of camp life, but life in America. Texas was the destination of our first family vacation. Because my mother's uncle Tiên and his family ended up there, our first stop was Ardmore, on the Oklahoma side of the border with Texas. We had left on the same boat and were in camp together on Pulao Bidong. I remember the road maps arriving in the mail. I remember my father studying them at the kitchen table like an eager student after getting home from work. I remember sitting in the back of our red station wagon watching the road spool out from under a river of cars and signs. I remember the turquoise of the pool at a Howard Johnson. I remember my father driving into a strange town somewhere in Oklahoma past midnight, sleepy, down the wrong side of the road, my mother laughing it off because the town was empty anyway. I remember staying up, that same night, the latest I had ever been allowed and eating live crabs. That's when we found out my cousin was allergic to shellfish. I remember jellyfish blooming on a beach in Galveston, a mobile of seagulls. I remember driving across a bridge without end. Hadn't I come to the archive in search of lost time?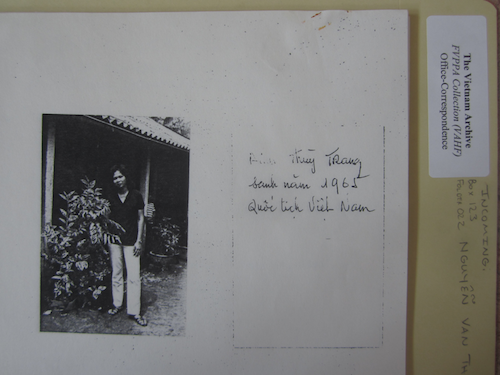 A Photo from the 1980s
Thuy stands in front of what looks like a house typical to the Mekong Delta, next to what appears to be a lime tree. Her right arm disappears behind a screen of leaves, as her left arm shoots out slenderly from the short sleeve of a rose red polo, tapering to a wrist braceleted by a gold watch. Her hand holds nothing and is a kind of flower. The photo seems to say: This is what I look like now—this is my new shirt, these are my favorite sandals, this is me with a perm, wearing lipstick, eye shadow and the same smile that curls up in one corner.
Only one of the photographs of Thuy from the folder is the color original, and it is kept in a Mylar sleeve for protection. The others are all photocopies like this one, noting her name, date of birth, and country of origin. Every correspondence includes a picture of her. I place the photo back in its protective sleeve, organize the letters, slide the letters in the folder, set the folder in the box, leave the box on the cart, and gather my thoughts. Unseen microbes of dust, fiber, and ink rub off on my skin. I raise my head and look right and left, as if checking for traffic. It is late afternoon already, almost closing time, and except for the dozing student attendant, I am the only one left in the Reading Room.
7504A Amarillo Blvd East
You type the address and falling through a door in the sky are dropped in the middle of a road.
You stand under hammered light, looking up at a sky that is a dazed and wasted powder blue. The road is cracked beyond help. You scroll down the road toward the trailer park. Near the entrance someone walks a dog, a scrawny white mutt. There is an abandoned dirt bike that reminds you of the one you lost once to a tornado. Each car looks like a shipwreck. Clicking in the direction of the stranger, you want to ask them if they once had a neighbor who wrote and received many letters by post. You try to step off the road but can't move beyond the boundary. So you just stand there, casting no shadow under routed clouds.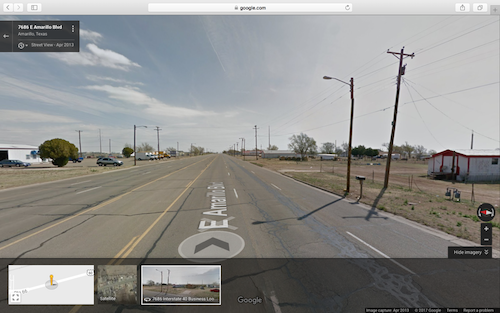 My process
Accumulation and attrition. Research falls on the accumulation side.
Research Statement
Research blazes desire paths. I research for some of the same reasons I write. To find out something about myself. To surprise myself, to be surprised, to feel wonder. To begin at the beginning, in the dark. To look for that spark of mystery, the unknown. For the fusion of passion and intellection. For distraction. To blur the line between self and other. To dig around, to dig up, to uproot, to uncover. To hear what the past sounds like echoing in a chamber of the present. To draw circles and lines of convergence. To name a new constellation. To wade out into the substance of time and materials. For human voices. To write what I don't yet know.
***
Grateful acknowledgment is made to Ann Mallett, Vietnamese American Heritage Archivist, and Sheon Montgomery, Reference Archivist for their invaluable work and generous hospitality.
Hai-Dang Phan was born in Vietnam and grew up in Wisconsin. He is an assistant professor of English at Grinnell College.