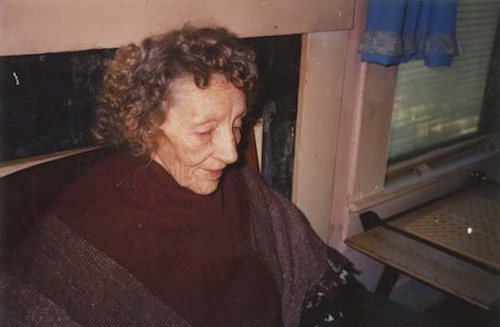 At Jacket2, Jerome Rothenberg has posted a piece by Tucson-based Robert Yerachmiel Snyderman that moves through a "politics of fermentation" and a consideration of the lyric subject and incantation, to, eventually, the work of the poet Besmilr Brigham, whose archive was a focus of study for C. D. Wright. Sitting among Brigham's things at her daughter Heloise's home in Las Cruces, New Mexico, Snyderman finds the poem "The Origin." An excerpt from the essay follows (read it all here).
...Heloise had just returned from the hospital diagnosed with bladder cancer. Besmilr's boxed papers surrounded the bed I slept in and once I woke to see three little people sitting on top of them, looking at me. Heloise limped her tall, thick body outside, and read loud the scrawl, at the edge of her voice, while I typed.


I am an old woman writing.

 

it began

in a gully of fright, bare red earth—

a yard of graves, hill-land and

delta; a child rocking in a chair

learning to read; it began, a recurring

in silence, with fingers on letters

 feeling out the words. a young

woman's songs, singing in the night

"The Origin" was evidence that she was still writing then. The late work is all in notebooks, handwritten; most of it dated precisely, with the time. She was hard in Alzheimer's by the early 90's when CD found her in backwoods Arkansas, having dropped out of a brief period of belated literary recognition some fifteen years before. At this time, Besmilr could not always identify with her own work, questioning, for instance, in a video Forrest Gander recorded, from where "in the world" the poem she was reading out of the binder in her hands had come. When I saw (or should I say read, or witnessed?) "The Origin" I felt I was being addressed as an instrument of the archive, that it was employing me, making me it. A pulse emanated through all the papers and the house where her husband died before her in her lostness, and Heloise's cancer. The word "writing" in the poem's first line is subject and verb. "I am an old woman writing" is a stilled state of active being, continuing to perform in a combustion. It is old writing that irrupts the archive, adamantly and always resettling, unsettling, giving writing to I am not. She instrumentalizes her life's work in its total precarity with a base statement of self-witness that cannot really be eradicated by any other. In this simple gesture, Jacques Derrida's Archive Fever, which deconstructs the "codetermination" of "archivable meaning," is undermined by a diffident speech-act of self- witnessing and -protection. To re-appropriate Roland Barthes' term, Brigham's poem-object is the punctum to her papers; stripped of and stripping ready association, piercing for an other axis of perceiving and meaning-making. What if the specific poverty of a specific lyric's tendency to ferment, foments past the archival superstructure into its own ante-archival persistence? What if this persistence is what saves it?