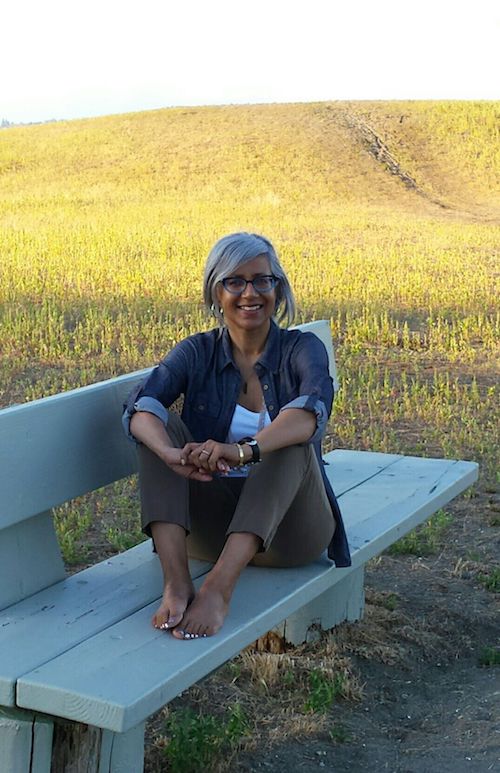 From: Paolo Javier
To: Renee Saklikar
Sent: Thursday, February 2, 2017 1:18:55 PM
Subject: hello
Hello Renee
David Buuck passed along your contact info. I'd initially attempted to reach you via your website (canadaproject), but wanna make sure I write you directly. Hope all is well!
I'm a Canadian poet based in NYC, formerly of Surrey, B.C. (and other parts of the world). My parents and sister (& her family) still live in Cloverdale, where we stay during our visits to the province. Am blogging for Harriet in March, and after reading Tripwire 12: AKA VANCOUVER: WRITING FROM THE UNCEDED COAST SALISH TERRITORIES, was hoping to focus on B.C., including your poetry & work as laureate of Surrey. Would this be of interest to you?
Take care, Renee, and I hope to hear from you sooner!
my best
Paolo
***
PJ: I'm a huge fan of the long poem, so it was a thrill to encounter Thot-J-Bap, your "speculative fiction journey poem" in Tripwire's issue devoted to contemporary writing from the un-ceded Coast Salish territories, also known as Vancouver, B.C.  What's even more impressive is seeing the city of Surrey make up one of the centers of your poem. I grew up in Surrey! My parents and sister still live in one of its town-centres, Cloverdale, which is farm-country. While it definitely seems less rural today, Surrey still strikes me as a sprawling suburb-in-the-making. When my family lived on the border of North Delta (right by the Guru Nanak Temple on Scott Road) and Surrey in the 90s, the city had these terrible reputations: redneck country; industrial wasteland; den of prostitution. Your inclusion of Surrey into a speculative narrative is somewhat revolutionary for representations about the city. What is your relationship to Surrey, and how does it figure in the landscape/trajectory of your poem?
RSS: Hi again Paolo, I'm listening to this while I mull over your questions...
PJ: I love Lynne's work! But this interview's about your poetry, so let's not get sidetracked here, which will happen if we discuss Lynne's ouevre, lol.
RSS: Thank you for engaging with the long poem and with my work. Ah. Surrey: "edge city" as the place is sometimes called.  Surrey, now, for me, as the first ever poet laureate, shape-shifts its terrain into and away and around me, all the time. One essence of place, perhaps paradoxically, given the "headline reps" of the city, is that Surrey is a Yes Place. Everywhere I go, as poet laureate, what I encounter is open/ness, a willing/ness to try things out, to make things happen. (I'm curious if you, also, encountered this vibe when you were poet laureate for Queens, N.Y. That contra/counter relationship to the Big Smoke: edges).
Another essence is "the X-ing," as in crossing the Fraser River. I grew up in New Westminster, across the river from Surrey, and I live in East Vancouver, teach creative writing in Surrey, so journey back and forth alongside the edge of the river, on transit, mostly the SkyTrain, occasionally buses, and quite often, treating myself to cab rides around the "boroughs" of Surrey, where, inside, with almost exclusively Punjabi-speaking cab drivers, language, poetry: Urdu/the ghazal; Bollywood, city politics, land zone use, immigration: discussed. And, traffic, yeah. The way traffic moves, dissects the city, going from A to B.
So, these geographies, languages, inflections, moments all rise up onto my long poem, THOT-J-BAP, for it is a journey poem.
And I find, perhaps all of us do, that place resonates its own emanations. For instance, when I grew up in New Westminster, that place I knew as Whalley, is still Whalley and I'm guessing you, too, will have in your mind, a set of vibe-essences that say "Whalley" and now that place, in one part of its own corner, is, "downtown Surrey," is "The new City Hall,", is Surrey City Centre: Simon Fraser University's new campus, the City Centre Mall, the transit hub of buses, those long lines of people, waiting; the Skytrain platform, where we wait…trains to and fro; the old little shops, the new glass and concrete tower.
I spend a fair amount of time, not nearly enough, just soaking in the ambience; sometimes, too rare these busy days, I'll sit inside the Surrey City Centre library, it's my "H.Q." as poet laureate, and I will gaze out to the huge plaza that is surrounded by the library, the city hall building, the new hotel/condo tower going up and the retainer wall of the old rec centre, plus all the new pathways and roads that crisscross the site. Some powerful emanations of…well, it's in the poem, yeah. Those white cameras perched on top the walls and roof of City Hall and the library. At night, the moon, when she's up—
Like that.
PJ: Oh, and congratulations on your poet laureateship! Would you describe the position, and how it came about (in Surrey and your own experience)?
RSS: Thank you for your kind words. (and again, I'm so curious to learn more about your own experience as P.L. for Queens…I see the New Yorker interviewed you about that. Whoa.)
Okay, so, my position: here's the official blurb, I'm including it because I love it: "Passionate about connecting people through poetry"…
I'm part creative writing instructor (I offer free, 45 minute writing consultations in any genre, once a month, at libraries and community centres around Surrey); I'm part literary and literacy 'ambassador': I attend events, help take poetry and the making of it, into schools and at site specific cultural activities such as the Surrey Children's festival, Surrey Art Gallery, etc.
As part of taking on the "laureate-ship," I was asked to come up with a legacy program, something that will hopefully be in place/go on after my term ends (it's a two year term with a possibility of a third year extension). The legacy project: working with libraries, poets, writers from the community to tell Surrey Stories. This past year (2016), we created three site specific writing workshops with youth and seniors: one in September in Cloverdale, at the library; one in October,  at PICS, the Progressive Intercultural Community Services organizations for seniors, primarily S.Asian; and a third workshop, in November,  at Historic Stewart Farm: I helped lead the workshops using writing prompts such as, "I remember when…" for the seniors and "my best day/my worst day in Surrey" for the youth…we wrote and shared and collated what we created and are now working that material into a book form. Very lovely.
I write the occasional poem in that grand tradition of laureates and although always daunting, the long poem seems to love it. For instance, this past fall, for the 5th anniversary of the opening of the Surrey City Centre library I wrote a poem for the event, which is part of the long poem and the character, a boy-child-resistance fighter, Diego, also named M-13, also nick-named Thuja (latin: cedar).  He's rescued by a group of renegade librarians.  In writing the poem, I asked to see the records and statistics the library keeps on number of visits, number of library cards, etc.,  and as a "docu-poet," I love all that data and weave it into the sci-fi long poem's story. Fun.
PJ: I was curious to ask you how the Desi and other communities in Surrey respond to your laureateship. Because I have to tell you, Renee, that my own people, the Filipinos in NYC, were nowhere to be seen or reached by the Queens Borough President's office PR when I was appointed laureate.
RSS: Interesting...okay, hopefully I'm reading the term, "desi" in the same way you might: that of a South Asian diasporic series of "communities"...I've been lucky, I think, in that, for some kind of magical reason, a wide cross-section of people(s) in Surrey have been intrigued, open, curious, willing. That being said, as (e)nglish is my first, my only language, (although long to displace its primacy, and I guess, my long poem writing engages a lot with dis/placement, particularly of syntax, etc.), my main points of contact with "desi" in Surrey and in my practice in general, is often through shared literary and arts connections, that is pre-existing relationships that lead to others. So about that Surrey open/ness: for example, this past Remembrance Day, at the large well-attended "official" Surrey gathering at the War Memorial, a Punjabi/English scholar and curator and I were invited to do a mixed media talk as part of the commemoration events at the Surrey Museum, and it was the director of the Museum who sought us both out and helped connect us: I read poem fragments from the speaker's presentation, which she co-performed in Punjabi. So beautiful!  And as an example of relationship-based practice moments: this last week, at UBC, for the launch of the new South Asian Canadian Histories Association (SACHA), I was invited to read one of my children of air india poems for the event, along with other artists and writers, some of whom performed in both Punjabi and in English, a very diverse audience, etc. Loved it so much and CBC Radio did a great piece on their "On the Coast" show about it…
That's what I try and bring to schools, community groups, events: that we are makers, when we take up the making of poetry. So, we try and build community. For example, in December, on a day and evening when it snowed here like crazy, I celebrated my first-year anniversary as poet laureate, at Surrey City Library, inviting all those with whom I'd done writing consultations. So many people showed up despite the snow! We drank chai, ate samosas and xmas cookies, and shared our work. I loved that so much. After, a few of us walked to the Brew pub at the Surrey City Centre mall. Really snowing by then. And a writer who'd attended, who farms the community garden plot in Newton, sent me a photo from his phone: giant snow deer, all LED lit, snow covered lights, blue tinged, the lit up letters behind the deer, "Central City"…yeah. Like that.
PJ: Where is Christopher Doyle when you need him to capture such an image?
RSS: This new position came about through the hard work and vision of a group of Surrey arts organizations, including, Surrey Libraries,  Kwantlen Polytec University, Simon Fraser University, local poets and writers, Surrey Arts Council, Surrey Art Gallery, and of course, the City of Surrey: I admire their determination and that sense of open/ness, helping to make poetry happen in the city.
PJ: Sounds like Surrey chose the perfect poet to inaugurate its laureate position! The place is clearly experiencing a new period of development, transforming itself into a center all its own--obviously culturally as much as economically, given your present role.
I have to admit, though: I never experienced Surrey as a Yes Place, which I discuss quite candidly in the following interview with poet Jill Magi. For me, the "Edge City" felt more like the "Outer Limits"--in the X-Files sense of the word. (Ironically, Mulder and Scully frequently visited Cloverdale and South Surrey in the early episodes of the show's first season.) I couldn't have foreseen it too as a place for poetry, certainly not in any official capacity. Among my fellow poets and writers, I remember Burnaby, Richmond, and maybe Port Coquitlam as being "viable" alternative cities for an artist to live, other than Vancouver, which was the center, of course. Surrey always elicited a smirk or a groan. Now these same critics seem to be moving out, some with young families, to South Surrey and White Rock, renting and buying homes. According to more than a few of them, Surrey is now a "hip place." When and how did this happen?
RSS: Well, I think that "The Smirk" still exists and is itself a kind of North Amercian/Euro-meme: that disdain, even if sometimes affectionate, and sometimes, of course, not friendly at all, that city centre/core-areas-metro-downtown regions exhibit toward "ex-burbs," "suburbs," "hinterlands": perhaps we might discern it in "red v blue," or any other splits, divisions, bifurcations, and so on, of the class/economic/race/gender geographies of cities and their surrounding areas. Fascinating.
As a poet, I don't have the requisite urban planning facts at hand as I write this, but the topic intrigues: I do think Surrey, for the reasons you've stated, has changed: particularly with the continuing wave-arrivals of immigrants, refugees, young families and lots of folks who can't afford to live in Vancouver proper.
As you know, between the ocean and the mountains lies "metro Vancouver," and we are dissected by The Fraser River, so  we've not much room to spread outward and must build up: witness the "condo craze" in Vancouver: I think people still crave and cleave to space, or, the idea of space, and green, and "a house of their own," which is not to negate the environmental drawbacks of such desires, just sayin'...and at least in my imagination, and based on my transit and travel experiences as I roam and visit Surrey, that imagined sense of welcome, of space, of many cultures mixing, creates a kind of urgency in Surrey. Everywhere I go: there's this sense of interesting arts and literary things happening, maker-projects in libraries, arts and crafts fairs, and then there's the quality of the arts infrastructure, and again, kudos to the City of Surrey and the various arts organizations with whom I work: there's commitment to funding quality architecture, programming, and bringing in talented artists: check out the Surrey Museum, Surrey Art Gallery and the libraries: lots of cool stuff happening.
PJ: Speaking of that "smirk": my alma mater, UBC, rejected my application to their MFA Program back in '99 after I proposed a screenplay thesis that specifically focused on Surrey and its Filipino immigrant community. And I was turned down by my professor with whom I worked on a screenwriting degree. I remember her handwritten note scribbled on the standard rejection letter: "You'll do better elsewhere." She was right, as it turns out.
Could we talk about your formative years in Surrey/New West? Specifically, when did you start writing poetry, and who were your early inspirations? I imagine living in New West, which is a stone's throw from the Fraser River, must have some influence in terms of your notion of, well...I'll let you take it from here.
RSS: I love that phrase, "formative years": they seem to take the long view with me. Heh. I've always had this chronicle-compulsion, just didn't realize for a long time, that my addiction to writing things down was part of a writing practice, was what defined me as a writer: images, sounds, rhythms, always these were in-coming to me and I took them, language-bits: held, rubbed, stored, taken-out again. My father reading me Mother Goose Nursery rhymes, me, a copy-cat, inventing my own. Scribbling.
So, early inspirations: fairy-tales, nursery rhymes, TV adverts, street signage, dictionaries, the sound of my parents' speaking/arguing in English-Gujarati (my mother's mother tongue); the sound of how Other People spoke.
New West when I grew up there, was a well-settled place in the sense of its relation to the colonial history of the province, The Royal City, and as the daughter of a United Church Minister, I settled into place, if that makes sense. My first book, children of air india, un/authorized exhibits and interjections (Nightwood Editions, 2013), explores this idea a fair bit…
And yes, always, the river: I can't get away from it. Every time I cross The Fraser into/out of Surrey, I have to look up, look at those grey waters, effluent-filled, that deep undertow current: I grew up hearing stories about the grasp of that current, how she'd take you in…
PJ: I must say that the view of the Fraser aboard the Skytrain going to/leaving Columbia station is unsurpassed for me in terms of urban metro transit-taking in North America. But in your poem, she is "serpentine," able to "take you in," like you offer here, but as "hunger" personified, if not a person herself, gendered, with a "name," "dress," "hair," eager for people to "say her name aloud" as she rattles and roars. As if the Fraser were a mythological creature. Good to know a poet in B.C. who reverses the search for urban narrative gold here. Whereas most poets would seem inclined to hit Vancouver or the cities closer to it for material, you continue to find your muse with zero irony in the opposite direction.
RSS: Yep.
PJ: Have you been composing your poem aboard transit (primarily/incidentally)?
RSS: very often, yes: it's a journey poem, in that way of so many epic poems; like, er, Dante's Commedia is a journey poem. Gasp. Yeah, me and Dante. (Gentle laugh.) I love that embodiment, that in writing an epically long poem (I'm aiming for one thousand pages for a whole host of reasons); one starts on a journey on so many levels, including following in the footsteps of the "Great Ones" and they become as companions, as Robin Blaser speaks about in his life-long poem (collected works), The Holy Forest. Love it so much. Also, the reality of being laureate and taking transit and so that thing that often happens to writers on trains, planes, automobiles (laughter), but for me, never in cars, always on transit: buses, trains, planes: stuff comes up then.
Does the where affect the what of your long poem here? Oh yes. Thecanadproject, as a life-long poem chronicle, seems obsessed, I'd say, with "place, language, identity" and within it, there's this epic, volume two of the project, THOT-J-BAP, those segments of which you encountered in Tripwire. So that's kinda thrilling, the way the practice connects to place, the way that writing long, writing epic, necessitates journey, inside the mind, outside, the body on a train. Like that.
PJ: Would you say that your journey poem is in dialogue with other poetic long works?
Still we do keep our voices soft
Swing our hips and run, seek escape
Winter kept us safe, spring a torture then
Summer, damnation, cruel bright light
Plaza a rebound of stone, revelations
This passage and several others remind me of "The Waste Land."
RSS: Hell Yeah! As mentioned: those Great Companions: Blaser, Dante; also, most definitely, Milton, Beckett, and Joyce, Finnegan's Wake; and then there's DuPlessis, Wordsworth, Sharon Thesen, Pound, William Carlos Williams, Resnikoff, Zukofsky, Stephen Collis, bp Nichol, and yes, T.S. Eliot. Also, I've a tendency to read authors as "long-poem writers" and then be "in communion with them," so the late Peter Culley's three volumes, which I see as a "Hammertown" long-poem -trilogy (the name of the first book.). Now, before he passed, Peter and I discussed this and he didn't necessarily think these were part of some greater longer thing. But I still do. And I miss him so very much. Also, M.Nourbese Philip's Zong: I saw her perform it in Vancouver in 2010 (I think it was), and then she sat with me and spoke to me about it. Transformative moment.
Also, Lisa Robertson. Also, Michael Turner's entire oeuvre! And so it goes. I'm always collecting Great Companions. And, as I write THOT-J-BAP, I'm including in it non-fiction scholarly works, such as the work of Rebecca Schneider (Performing Remains: art and war in times of theatrical reenactment): I'm obsessed with her notions of gesture. As well, the art and artistic practice of Niamh McCann: I've not yet been able to see a show of hers "live" but follow bits and pieces on the internet, thanks to Irish artists with whom I collaborated when they made an opera based on children of air india (air india [redacted]), which in turn has led me to studying the practices of "makers" such as print-makers, weavers,  potters. The language of making and of bees, (I'm collaborating with the bee scientist, Dr. Mark Winston, who's given me access to all these scientific papers and a few of those pieces are in the THOT-J-BAP excerpt you encountered. So all of it, embedded into THOT-J-BAP, which in a way, brings us back to Dante and to Milton: that urge to be encyclopedic: that's another of my formative "first texts" I just realized! Reading, touching, the tissue thin pages of my father's Encyclopedia Britannica.
And OMG: so lovely that you'd relate to "The Waste Land." Ah. You see, for THOT-J-BAP, which I've been writing since 2008, took its initial motivation as a response poem to Eliot's Four Quartets, where every morning for a month, in 2008, I wrote response fragments to lines selected at random, closed eyes, with pin, sort of thing, to the stanza in each of the quartets.
And through that process, in April, 2008, I set out on a journey that continues to this day. In part, that's because I had to set it aside, with terror and delight, when I realize how big it was going to be, for at that time I was also working on volume one of thecanadaproject, which became after five years, children of air india, un/authorized exhibits and interjections, (Nightwood Editions, 2013), which sort of put me on the Canadian literary map, if you will.
Writing the two together, that is, at the same time? I would be destroyed, I understood that. So, thank the Muse(s), I knew to set THOT-J-BAP aside in order to complete children…
PJ: This seems like a fitting place to end our interview. Where are you at with THOT-J-BAP?
RSS: Ah, THOT-J-BAP: charmed that you'd ask, my friend. I'm currently working on two sequences: a sonnet sequence embedded in one of the main narrative(s) and a blank verse sequence set in the City of Ahmedabad. The work consumes me, and I delight in imagining the far future even as if terrifies.
PJ: And what's next for your laureateship?
RSS: In this, the beginning of year two of my term, I'm delighted to be working with a group of student musicians, composers, and poets at the North Surrey school of L.A. Matheson, in collaboration with my friends and colleagues from Turning Point Ensemble (they produced an opera based on my first book, children of air india, that premiered November 2015 at the Fei and Milton Wong Theatre with an Irish composer, director and visual artist, and three Canadian opera singers!). As well, I'm working with community outreach librarians from Surrey Libraries on poetry for the Surrey PreTrial Centre as well as the ongoing work of consultations for writers and teen writing workshops. A key laureate project, my legacy project, will be the May 2017 launch of an anthology: Surrey Stories Connect: teens and seniors write Surrey based on three inter-cultural, multi-generational writing workshops I did in Cloverdale, Strawberry Hill and at Historic Stewart Farm in the fall of 2016. The workshops generated wonderful prose and poetry and we're making a book. So lovely.
Paolo Javier was born in the Philippines and grew up in Las Piñas, Metro Manila; Katonah, New York; Cairo, Egypt; and Vancouver, British Columbia. He earned his BFA from the University of British Columbia, working as a freelance journalist and running an experimental theater company before returning to New York...