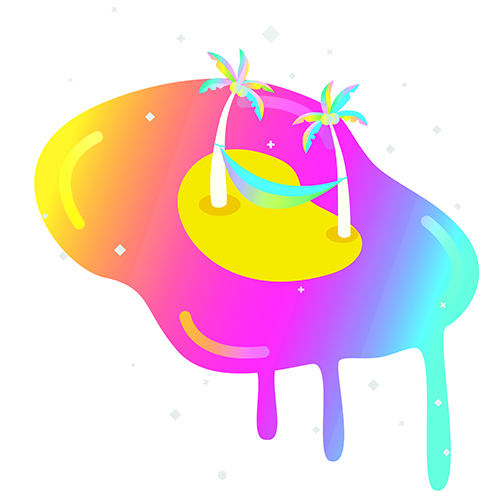 Poetry magazine's March cover is by Shawna X, an artist, creative director, and designer who also teaches mobile design at Parsons School of Design at the New School. I went a little nuts for her branding and product design, not to mention her scintillating Instagram, but especially for her murals, prints, and first solo exhibition Netscape, about digital addiction. I didn't know what to expect when I questioned her about our unseasonably warm cover, Poached Paradise, and was heartened to find its inspiration simply came from some eggs. She says:
Poached Paradise was honestly an impulsive composition from eating some amazing poached eggs on a sunny afternoon. I wanted to convey that there is a paradise in everything we do if we just sit and really consider the moment, all the while understanding that the moment is fleeting. Paradise is attainable but it doesn't—and shouldn't—last forever. I want to always strike this sense of balance of both "positive" and "negative" sentiments in my work. I do see a lot of people tend to align with sentiments such as "no bad days," which to me is a very naive way of thinking. In my work I want to express the necessity of both, and that is how it says different things for anyone who reacts to it.
Dare I say, like poetry?