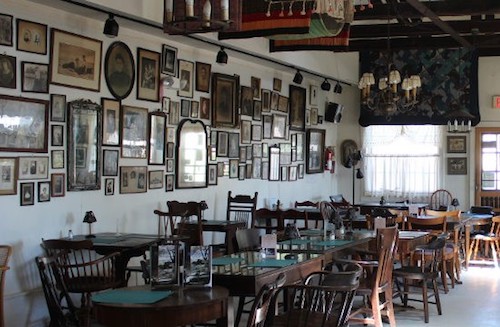 It was a favorite of feminist authors Audre Lorde and Adrienne Rich. This year, Connecticut vegetarian restaurant Bloodroot celebrates its 40th anniversary. To mark the special occasion, co-owners Ms. Selma Miriam and Ms. Noel Furie are planning a series of extravagant dinners from March to mid-April, in collaboration with vegetarian chefs throughout the region. "This year, Ms. Furie and Ms. Miriam want to celebrate not only their own work, but also the work of those who have grown all around them," Rao explains. More from the New York Times:
BRIDGEPORT, Conn. — Four decades is a long time for any restaurant or bookstore to endure, and Bloodroot, which is both, is filled with history: vintage photographs, old movie posters and handwritten notes from fans, including the writers Audre Lorde and Adrienne Rich.

But the feminist enterprise — housed in a converted machine shop by the water, with gnarled pear trees and epazote growing wild out back — is no museum.

As Bloodroot celebrates its 40th anniversary this month, new fiction and zines pepper the shelves, and the vegetarian menu is alive and shifting, driven by its owners' love for food and their joyful experimentation in the kitchen.

Business partners and friends, Selma Miriam, 82, and Noel Furie, 72, find inspiration from a network of bloggers and chefs, and in a vast cookbook collection — the pages of their favorites rough with ancient, crystallized splatters. [...]

Ms. Furie and Ms. Miriam met in 1972. They were both, as Ms. Furie put it, "dissatisfied housewives." And at a series of chapter meetings held by the National Organization for Women, they discovered they were not alone in their dissatisfaction.

"You have to act on what you know," Ms. Miriam said.

One thing they knew was that they loved to cook. They began by charging $8 for a weekly buffet for women. They cooked lavish and flavorful vegetarian food — asparagus and buttery sauce Maltaise, thali platters crammed with many kinds of dals and vegetables. For dessert they made warm poppy seed strudel, or, when there was something to celebrate, Julia Child's absurdly rich Queen of Sheba cake.

With help from Ms. Miriam's parents, they secured a mortgage to buy the space that would become Bloodroot, for $80,000. They had looked in nearby towns and in commercial strip malls, but were won over by the old machine shop, which also had room for a garden.
Read more about feminist literature's delicious history at NYT.