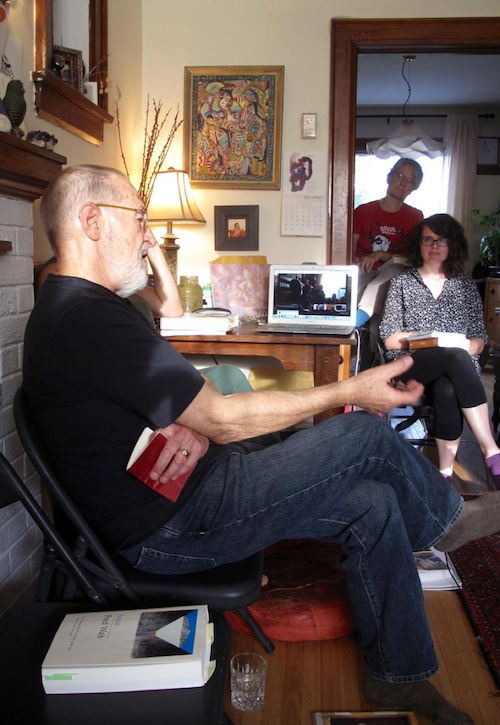 The next couple of posts will be devoted to the work of former Parliamantery Poet Laureate of Canada Fred Wah, who lives in the unceded Coastal Salish territories, otherwise known as Vancouver, B.C. Fred's poetry was the Earth I fled to in the mid-90s, a frenetic period of discovery and unlearning for my young poet self. I met Fred through Jim Wong-Chu, founder of the Asian Canadian Writers Workshop, who plied me with his books, including Loki Is Buried At Smoky Creek (Talon Books, 1980). Fred's example continues to guide my praxis today.
Talon Books recently published the paperback edition of Scree, last year's long-overdue collection of Fred's early books, which became the focus of a new workshop developed and taught in Toronto by the brilliant poet and teacher Hoa Nguyen. Currently based in the 6ix with the poet Dale Smith and their young family, Hoa conducted her latest workshop in their lovely home with Fred himself in attendance. Hoa is another idol of mine whose writing prompts still inspire lessons for my own workshops (and poems). In 2016, Wave Books published Violet Energy Ingots, her latest book of poetry, which I urge you to inhabit asap.
***
PAOLO: The first poetry reading I ever gave was in Vancouver in the mid-'90s, at an event sponsored by the Asian Canadian Writers Workshop, where Fred Wah was its headliner. Jim Wong Chu, the founder of ACWW, introduced us after the show, but I hadn't yet read a single poem by Fred. Then Jim passed on some of his books, including Waiting for Saskatchewan and Music At the Heart of Thinking, which proved a crucial set of readings for me as a poet who was fumbling his way out of the conventional lyric poem and towards an experimental poetics that included readings about nationalism, class, and racial identity. At the time, I was an undergraduate student at the University of British Columbia, a campus that had a phenomenal Modernist and Postmodernist English curriculum, but little, if any at all, courses in ethnic or Asian Canadian studies. So Fred's work back then was a total revelation, and to this day continues to influence how I engage with poetry.
When did you first discover his work, and how was your recent workshop on Scree?
HOA: I learned of Wah's work through my studies on Black Mountain and through the chapbook associated with the Curriculum of the Soul series. Fred Wah's Earth demonstrated the possibilities of an ecopoetics extending from place-based investigations that included the personal, public history, and cosmological (which is an extension of an Olsonic proposal).
I met Wah some years later at the Olson Centennial in Vancouver where I took part in a panel considering Olson's proposition of a Curriculum of the Soul. I talked about teaching Olson in my private workshops--and how Olson's ideas about poems and their making were part of the format I developed for them.
Fred Wah and I met at the Talon Book table and it was like this: "Wah meet Hoa" (i.e.: the syllables of our names shared the same "sigh" syllable).
PAOLO: Yeah, Fred wrote a whole book about "breathin his name with a sigh."
HOA: Exactly. We were standing in front of the Talon Books table and I had picked out his book Breathin' My Name With a Sigh. I was waiting for him to finish talking to his friend. I had been wanting to meet him the entire time (we were two of a handful of people of color taking part in the conference). We laughed about the "sigh" introduction and I told Fred that I was buying the last copy of his "name" book.
And the bookseller told us that not only was it the last one on the table, but that it was the very last book in their holdings of the run! And we both thought it was auspicious.
PAOLO: What was that discussion between you like? Charles Olson is obviously a formative poet for Fred and the Tish group.
HOA: It was a quick, but meaningful meeting with Olson as the opening occasion. The discussion would come later--but not until after I moved from Austin to Toronto.
I arrived in Toronto in 2011 and Wah was then the Parliamentary Poet Laureate of Canada. In the fall of 2012, he had been invited by Jay Millar of the Toronto New School of Writing to conduct a poetry workshop and to give a reading. Millar invited me to be a second reader with Wah and also offered that I could attend his poetry workshop. Which was a dream.
I guess it was in his workshop that we first connected, talking about ideas of projective verse and negative capability and the possibility of the hybrid and our engagement with same. Not to mention our shared personal history as people of mixed Asian descent raised in white North American contexts. And it was through correspondence—and later in my private workshop that we connected more deeply.
But questions that I came away with from my engagement with Wah viz Olson continue to expand for me. Questions such as: How can we present the word as itself and not as ideas of what we experience or can see? How can we remain as an object among objects while also remaining in our uncertainties and doubts without some kind of resolution to same? How can approach the world relationally?
PAOLO: Man, you got to take a workshop with Fred Wah? I'm all ears.
HOA: It was a small, brilliant group of poets—we regarded the nature of the "occasional" poem. I recall conversations on Olson regarding projective verse and composition by field, on negative capability, and the role of content to form.
Fred had been asked to write a poem on the occasion of Queen Elizabeth's Diamond Jubilee. He talked about how a poem can also be a response to destructive expressions of power, for, as he says, "All creativity is political." His poem reveals his linguist training and interest in the slippage between words. Pronouns and position—as he writes in the poem:  "Let's not forget – between – the words the traces"
And I think the slippage also addresses his "ambivalence around racial hybridity, colonialism and the monarchy." The conversation in the workshop was, I think, an extension of his evocation of place as occasion in a "spiritual and spatial locality."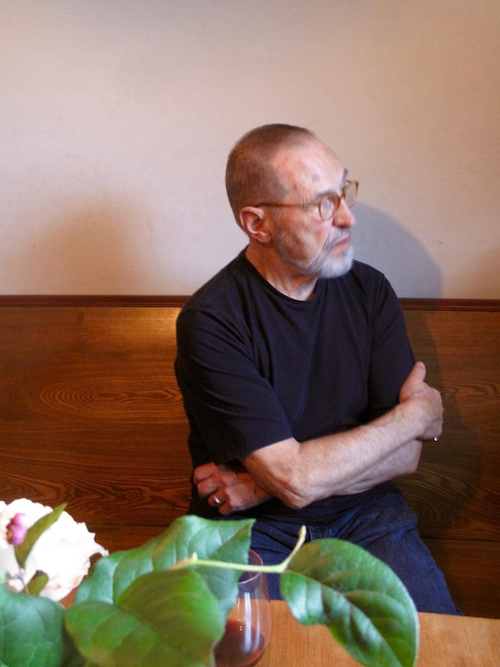 PAOLO: There's lots to unpack here, but let's start with your actual workshop based on Fred's book. What was its format, and which aspects of Scree did you focus on?
HOA: For the Wah workshop, we read all of Scree, aloud, together, across 12 weeks. This is my established format: I select and guide the workshop through a single, large volume. We read it aloud and write through it. (I describe my approach more completely in an essay I wrote in prep for for the Bagley Wright Lecture Series where I talk about the workshops, poetry, and living rooms.)
In the Wah workshop, 34 poets (in cyberspace and in Toronto) engaged with Scree, his entire early work. We read the poems one time and some sections were repeated. That is, we read aloud from some sections inside the book more than once (Tree, I think, Pictograms from the Interior of B.C., and Rooftops).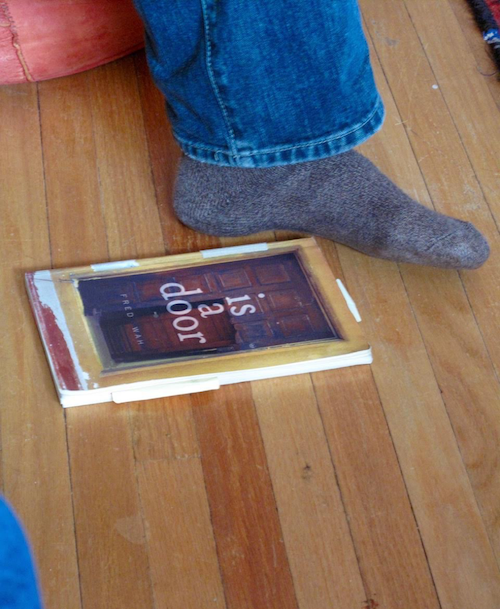 As we read through the volume, I introduced the ideas of writing as:
An investigative activity
By composition by syllable, breath, and musical phrase
Using position as a place of negotiation
How the outer or outward world meets up with the self or inner worlds
Transcreations and transmorgrifcations
The brilliant poet and astrology genius Paula Eisenstein, participant in the Scree workshop, noted that Wah and I are "next door neighbour Aquarians" (born under that sign) and that we share the Aquarius's see-the-big-picture characteristic, our natural innovation, and a tendency to "push to a larger degree of the circumspect." Paula goes on to add that both of our Uranus's (the ruling planet of Aquarius) are in earth signs, informing me that:
Fred's is in Taurus and yours is in Virgo. So there's a connection there of wanting to take these abstract outer-space type large-cycle conceptions, pull them out of the sky, and put them into the ground. So many of the prompts you gave us in the Wah class seemed like variations on a theme that went something like: bury that Aquarian stick of dynamite in the ground, watch it explode, but instead of writing of the resultant big dumb pile of rubble, write about gleaning the thing put in the ground... [that it] wasn't what you thought, didn't explode anything, did something else, something opening to a new something inner and in-formed...
Something in this brings to mind an ongoing consideration of mine—a consideration of poems as perceptual expressions of the known, as "piecemeal and fragmentary," recalling part of an essay in Wah's Faking It, an essay called "Cat's Cradle" where he writes:
I want to be free to use the crumbs and scraps for the crumbness and scrapness in them, for nothing else. Time is etymologically, according to Heraclitus, "a child playing with dice." If this is true, that is, if this is true but the cat's cradle (and mine), that string is a yoke to the spinal marrow, to the breath, to the body and its threaded thought. I want to be there in the heat of their trans-crossing, why not, through the residue of me
That the point of poems is not the "dumb pile of rubble," but it's the gleanings and in the "trans-crossing."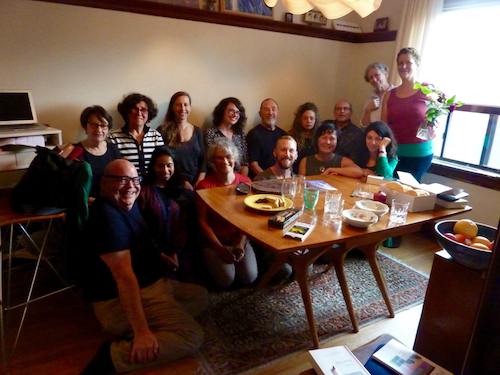 So that the idea of language and experience or construction of reality (time) is a kind of chance operation (out of Heraclitus). That language is a collection of "crumbs" and he's yoking language to being-ness, a being-ness that includes the body and "threaded thought."
I see his construction of language as having a correspondence to Olson in his poetics of constructing the reality of the poem, through language, so that it becomes a kind of "mappemunde"—one that contains the being of the writer in a similar cumulative way—in the way of mosaics. Wah writes:
There are forms there which reveal to me shapes of myself; pieces and names which provide aspects of an identity; tree, ocean or whatever signals as both participant and reflection. It all becomes picture, movement, body, texture and idea.
Tessarae, those mosaic tiles each differently colored and together create a pattern, might be a way to visualize this accretion, language and perception as "piecemeal and fragmentary" and yet forming a whole: a scene. And now that I think of it, the word "scree" ("a slope covered with small loose stones") is physical expression of pattern and accretion.
But in his poems it feels more activated or active than that. I think of his work as a poetry of charged particles that while placed (secured) they also constellate and collect to form matter. It's atomized.
PAOLO: Yeah!, Earth, originally published under the mimeo series Curriculum of the Soul, blew my mind when I encountered it in Scree, and it's one of my favorites in the collection. I'd like to conclude our interview with a consideration of this poem, if I may. Formally, it showcases the limits that Fred's writing consistently pushes throughout his other early books. I think about the following section
Eth means why any one returns
every one all over the place they are in
entwined into the confluence of the two rivers
into the edges of a genetic inscription
and our homes and loves now night
spreads out up the valleys
into the many-forgotten messages and arrangements
carried there the character sticks
hunger
homing in on line four's "the edges of a genetic inscription," which later "atomizes" into Fred's early exploration of racial hybridity and the hyphen in 1981's Breathin My Name With A Sigh. Did your workshop discuss/generate work relating to/within this space?
HOA: Naturally. In Grasp the Sparrow's Tail (included in Scree, first collected inside of his book Waiting for Saskatchewan) his works find the form of the utaniki, a hybrid form of prose journal, a poetic journal that is dense with prose. But that are also forms of collage, or as he calls them "collage haibun" in the later poems inside of Waiting for Saskatchewan.
I see them as an articulation of a "poetics of process as opposed to the poetics of knowledge." And inside of the seeking to look for "the simple 'of' connection." This statement particularly struck me as it seems to be an ongoing concern for people of a racialized diaspora especially: how can we consider the connections of "of"—our belonging in terms of lineage, place, time? How do we find out. And in.
Paolo Javier was born in the Philippines and grew up in Las Piñas, Metro Manila; Katonah, New York; Cairo, Egypt; and Vancouver, British Columbia. He earned his BFA from the University of British Columbia, working as a freelance journalist and running an experimental theater company before returning to New York...