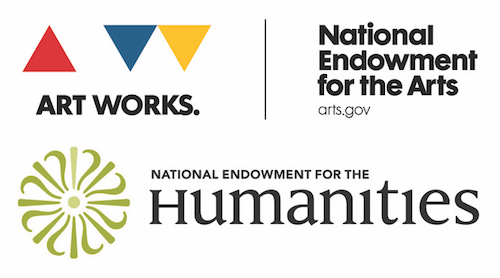 President Trump's first federal budget plan proposes eliminating the National Endowment for the Arts (NEA) and the National Endowment for the Humanities (NEH). For the past fifty years, the NEA and NEH have served as vital resources for American artists, educators, and communities. NEA Chairman Jane Chu and NEH Chairman William D. Adams delivered statements to staff and supporters today, following Trump's initial presentation.
In a message posted on the NEA's website, Chairman Jane Chu writes about her disappointment in Trump's gesture, noting that the NEA's funds benefit individuals across the United States. But she also outlines the rules and regulations governing her agency's response to the proposed cuts and acknowledges that the NEA will cooperate with the Office of Management and Budget to provide necessary data:
We are disappointed because we see our funding actively making a difference with individuals of all ages in thousands of communities, large, small, urban and rural, and in every Congressional District in the nation. We understand that the President's budget request is a first step in a very long budget process; as part of that process we are working with the Office of Management and Budget (OMB) to prepare information they have requested. At this time, the NEA continues to operate as usual and will do so until a new budget is enacted by Congress." She rightly notes that, as a federal agency, the NEA cannot "engage in advocacy, either directly or indirectly. We will, however, continue our practice of educating about the NEA's vital role in serving our nation's communities.
NEH Chairman William D. Adams shares a similar sentiment in his response published this morning, emphasizing the diverse geographies of NEH grant recipients and the grants' impacts on local communities and national discourse:
We are greatly saddened to learn of this proposal for elimination, as NEH has made significant contributions to the public good over its 50-year history. [...] Since its creation in 1965, NEH has established a significant record of achievement through its grant-making programs. Over these five decades, NEH has awarded more than $5.3 billion for humanities projects through more than 63,000 grants. That public investment has led to the creation of books, films, museum exhibits, and exciting discoveries.

These grants have reached into every part of the country and provided humanities programs and experiences that benefit all of our citizens. Residents in Whitesburg, Kentucky are preserving the photographs and films of their local Appalachian region through Appalshop cultural center. Veterans returning from war in Iraq and Afghanistan connect with classic texts and the public through Aquila Theatre. Students, teachers and historians have access to the papers of Founding Father George Washington. Through these projects and thousands of others, the National Endowment for the Humanities has inspired and supported what is best in America.
The Academy of American Poets responded to the president's proposed cuts with a comprehensive list of poets who have received NEA Literature Fellowships. The coast-to-coast grouping identifies literary luminaries, whose verse flourished with the help of these funds: Brandon Brown, Hayden Carruth, Sharon Olds, Nikki Giovanni, Muriel Rukeyser, Louise Bogan, Joy Harjo. They also have more information on the NEA and NEH and solid steps you, dear citizen, can take to support these vital arts organizations, here.
New York Times writer Sopan Deb briefed readers on Trump's proposed budget, noting that this is the first time that an American president has "called for ending the endowments," with so strong a chance for success:
Yet never before have Republicans, who have proposed eliminating the endowments in the past, been so well-positioned to close the agencies, given their control of both houses of Congress and the White House, and now the president's fiscal plan. Reagan administration officials wanted to slash the endowments at one point, for instance, but they faced a Democratic majority in the House (as well as Reagan friends from Hollywood who favored the endowments).
Trump's 2018 federal budget plan takes effect on October 1. To review the NEA and NEH's founding legislation, read a recent article by CLMP Executive Director Jeffrey Lependorf at Literary Hub.
As a founding member of the Poetry Coalition, a twenty-two member advocacy group that serves "to promote the value poets bring to our culture and the important contribution poetry makes in the lives of people of all ages and backgrounds," we'll keep you posted.