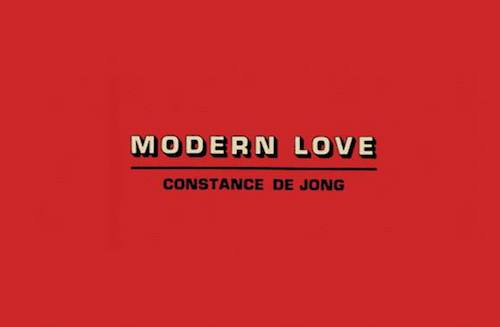 "Written between 1975-1977 from the heart of New York City's art world, Constance DeJong's Modern Love is a forgotten classic of narrative prose innovation," writes Chris Kraus. If you don't know this work, you soon shall (or should soon shall), for its 30th anniversary of publication brings with it a performance by Constance DeJong at The Kitchen (where it originally launched on a double bill with Kathy Acker); and today, a history of the text "told" by DeJong herself is up at the Ugly Duckling Presse blog. The highly anticipated republication of Modern Love is a co-production between Ugly Duckling Presse and Primary Information. Yes, please, more of the making:
I distributed this serial publication of Modern Love, one volume at a time, through the USPS to a 500 person mailing list. Mimi Johnson at ArtServices allowed me to send the serial installments from her office, using her business bulk mailing stamp, money saving. P.O. required bulk mailings to arrive in boxes, the envelopes in order by zip code. I didn't mind the schlepping. I liked seeing the production all the way through.

A couple "conceptual" elements: I called the original serial "The Complete Works of Constance Dejong Book One," "Book Two," etc. thinking I would continue that way forever, each new text/project becoming a numbered book in a series. Book One has blurbs on the first page — appropriations of blurbs published for other writers.

I began performing the material as the serial progressed. Early on, these performances included pre-recorded material—music and the voice of David Warrilow (Mabou Mines Theatre). The first performance of Modern Love at The Kitchen: a double bill with Kathy Acker. I discovered while rehearsing that I wasn't looking at the pages of text—that I could deliver the text from memory, an epiphany about performing vs. reading.

Around that time, I went to Paris, because all American writers get published there! Bumped into Mimi Johnson. She invites me to a party at Dorothea Tanning's (Mimi's aunt). Mimi had given her a copy of "The Complete Works I-V." The day after the party, Dorothea invites me over to her Rue de Lille apartment/studio… "You're smart, I have some money," she says, and suggests we do some publishing. So we start "Standard Editions" with Modern Love in a red cover and Dorothea's fiction, Abyss, in a cover of an un-nameable color that Dorothea chose, a pale orange gone paler over time.
Read it all here. Constance DeJong's launch party for the reissue of Modern Love is at The Kitchen in New York City on Tuesday, April 4, 7:00 p.m.