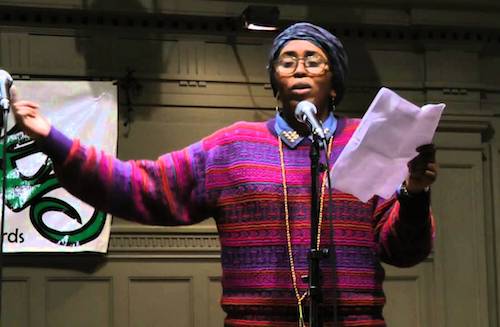 For National Poetry Month, Seattle public radio station KUOW interviews slam poet Hamda Yusuf on its program RadioActive Youth Media. In fact, as RadioActive's Iman Mohamed reveals through their discussion, Somalia is a nation where the arts are a big part of everyday life. To contextualize their conversation, Mohamed explains, "When Hamda Yusuf was growing up in West Seattle, her mom used to recite original poems for her children in the car. 'I remember my dad telling me Somalia is the nation of poets and I always knew this to be true... because I know nobody else's mom is writing them poems,' Yusuf said. Let's pick up with Mohamed's Q&A with Yusuf there:
Somalia is the "nation of poets"?

If you're not Somali that might surprise you. If you search for Somalia on the internet, you will quickly learn about civil war and bombings, and only rarely about how poetry and art make up a huge part of Somali culture.

Yusuf performs as a slam poet and also writes poetry meant to be read by others. I met her a couple of years ago when I was starting my freshman year at the University of Washington and she was a junior. I always admired her. At UW, a lot of Somali girls pursue science related majors, but Yusuf didn't, and neither do I.

I invited her to speak about her poetry and how she battles stereotypes while staying true to herself.

On her audience:

"I write for people who reject the so-called necessity for defining yourself and for having to define others around you. I write for Somali girls who are annoyed. I write for Somali girls who are tired. I write for Somali girls who have ambition. I write for anyone and everyone who can connect to a piece."

If she had to choose a genre to describe her poetry?

"I would call it 'awkward diaspora daughter poetry.' Or 'awkward longings for home.' I'll write another piece and be like, wow, just another piece about not fitting in here and wanting to go home."

In high school, she often wrote poems in response to microagressions.

"Those poems were often letters to people that I would never send. That's not necessarily who I am anymore. If something racist happens now, I'll write a poem about it, but also I'm going to call you a racist because it was racist."