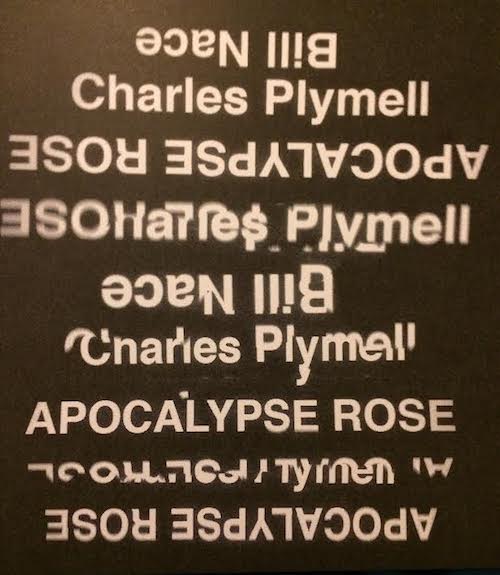 While we were blogging away last month, Julien Poirier was in conversation with Charles Plymell at the City Lights blog, Abandon All Despair Ye Who Enter Here. Plymell was a key figure in the San Francisco poetry scene in the 1960s, and close friends with Allen Ginsberg and Neal Cassidy, among others. Since 1974, he's published Cherry Valley Editions with his wife Pam. And most recently, Open Mouth Records released a recording of Plymell's "Apocalypse Rose" ("one of the great poems of the 1960s") with guitar by Bill Nace. The interview covers a good deal of ground, but we'll take a peek into the "Apocalypse Rose" section:
JP: Your poem "Apocalypse Rose" seems to me to be an almost magical achievement, a time machine in stanzas transporting the reader back to the moment of contact between the needle and the 45 in a diner jukebox, with its "futuristic mirage blossoms" and "dimensions of accelerated fortune tellers." I find the the physical immediacy here almost overwhelmingly beautiful—probably why I've re-read the poem so many times. At seven pages, it is a fairly long piece capped off with an exquisite sonnet. I would never want you to paraphrase the stories or conditions illuminated, and set down by you more than fifty years ago . . . but would it be possible to describe something about your day-to-day life then, the things that were happening around you when this poem tapped you on the shoulder?

CP: "Apocalypse Rose" was first published in City Lights Journal #3, then by Dave Haselwood in a chapbook and later in Germany, France, etc. It was mainly written when I was living in a hotel in the Tenderloin. My sister, Betty and her old man, Frank, winos; he the offspring of Black madam and Irish sheriff of Deadwood, South Dakota, also lived there. Betty died on streets of S.F., her hangout was Indian bars in the Mission. She looked more Indian than me and passed for blood, she is mentioned in the poem. Allen, Peter Orlovsky and his brother Julius and I drove up to Joan Baez's ranch in Carmel in Orlovsky's Ford. "Tonight I ride..."

in the

beautiful mountains

in a ragged chartreuse Ford,

under the moon with heaven close

to earth of winding road and sounds of

cymbals and chants and songs like

Wildflower and Moon Over Alabama . . . .

Julius is mentioned in poem [as "Julio"]. Of course I fell in love with Joan Baez, but she married someone from Canada who didn't even have to burn his draft card. I got pissed and asked her to move her Jaguar so Orlvosky could take me back to the bus station to get back to the Tenderloin and Market St. where I walked with Justin Heine from Wichita who lived with Glenn Todd who'd just published Book of Friends about my party that the McClures, Whalen, Ginsberg, Ferlinghetti, Leary et al. came to in 1963, where the "Beats met the Hippies," and about life at the Gough St. flat after me and Neal and Allen split the scene when Neal came running into the front room—"Turn on the TV, Charley, the President has been shot!" We had Thanksgiving dinner there, and Allen wrote his "Alone" poem that mentions me, Glenn, Neal, Justin, Maggie and the rest who lived and visited.
Go ahead and read on here!