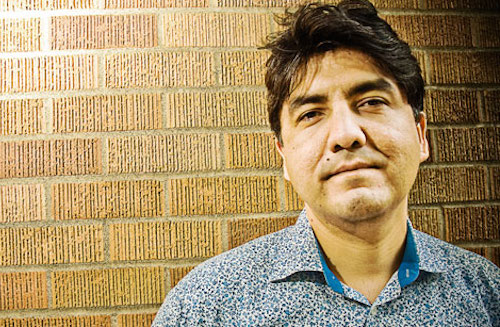 Although Sherman Alexie's no stranger to discerning readers of contemporary lit, even the most seasoned, well-educated fans will find new reasons to celebrate the activist artist's rise to stardom in James Yeh's latest NYT article. For example, did you know that a 1992 NEA grant enabled Alexie to quit his secretarial work, in order to write The Lone Ranger and Tonto Fistfight in Heaven? Alexie: "I could define my parents as baffled by not necessarily my success, but that anyone would be interested in reservation Indians...I remember I showed my dad some of the first poems I ever wrote, and he said, 'Well, these are good for me, but who else is going to want to read this?'" Let's start there:
Success has not been without the occasional dust-up. As an editor of the "Best American Poetry" collection in 2015, Mr. Alexie's selection of a poem written by a white poet under a Chinese-sounding pseudonym ignited a firestorm in the literary world.

"The right thing to do, the thing that would've gotten me celebrated, was not to publish and in fact to write about it, to chastise him," he said. "And then I would've been the hero of the brown poets, instead of the controversial figure. What kind of idiot chooses not to be the hero? This idiot."

But the overwhelming takeaway from Mr. Alexie's memoir is triumph, that of one writer's ability to overcome hardscrabble roots, medical bad luck and generations of systemic racism — all through an uncommon command of language and metaphor.

"Onstage, sometimes, I will talk about my success in comedic terms, also honest terms," he said, comparing his occasional boasts to those of a rapper. "It's arrogance as a political weapon. I got here despite all the barriers you put up against me."

Mr. Alexie continued: "When you come from such a highly traditional culture, when you canonize the past so much, it can prevent you from becoming new. I think that's the biggest dilemma in Native literature."
Read more of the story at NYT, then be sure to read Alexie's memoir.