I wanted to go on an immense journey, to travel night and day into the unknown until, forgetting my old self, I came into possession of a new self, one I might have missed on my previous travels.
—From "When I Turned a Hundred," by Mark Strand
Whenever I read these lines from "When I Turned a Hundred," the closing prose poem that appears in Mark Strand's last collection Almost Invisible, I often think the journey Mark was talking about, the forgotten self and reclamation of a new self, was somehow a private nod or acknowledgment of his return to making visual art during the final years of his life. And by returning, I mean returning to making art in a serious way.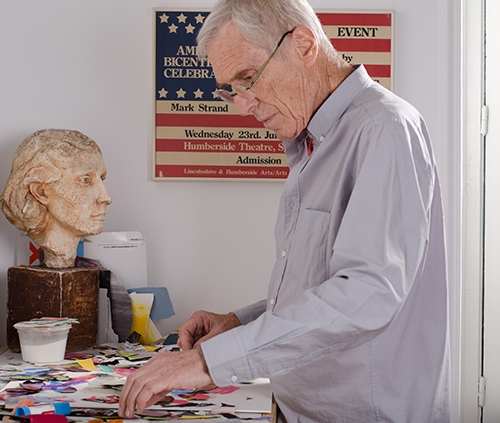 I was privileged to collaborate with Mark when organizing his first exhibition of his new collages that he was creating while living between New York and Madrid in 2011 and 2012. The exhibition took place at James Cohan Gallery Shanghai, which I had established as founding director in 2007 and was the first gallery from New York to come to mainland China to show Western contemporary artists. Subsequent exhibitions took place in New York at Lori Bookstein's gallery in 2013 and 2014.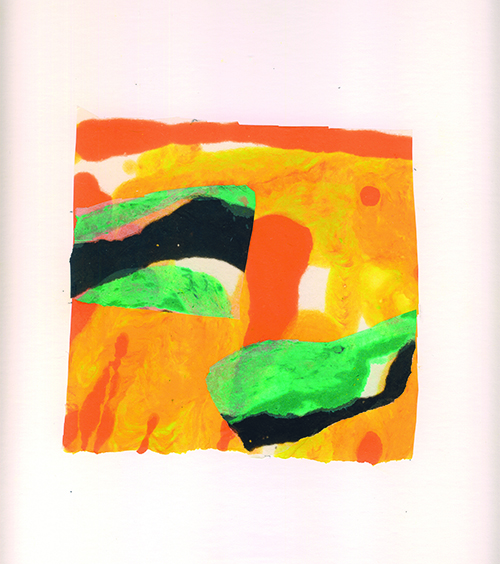 Strand's work as a visual artist, however, dates back to his student days at Yale in the 1950s where he studied with Josef Albers, the renowned Bauhaus artist and color theorist, and also Bernard Chaet. Some of Mark's earliest works appear in Chaet's The Art of Drawing and also in Albers's seminal and influential book The Interaction of Color.  Mark and I became close during the planning of his debut show in Shanghai. Though we were eight thousand miles apart we would have weekly Skype calls, and he was always eager and excited to show me the latest batch of collages he was working on. He was always generous and enormously helpful with my own poems I had been writing in Shanghai for the past decade. We had known each other casually in the late 1990s in New York when he occasionally worked at the printmaking atelier of Harlan & Weaver, who are master intaglio printers and publishers of print editions and portfolios by artists such as Louise Bourgeois, Brice Marden, Francesco Clemente, and Kiki Smith, among other distinguished visual artists.  Many who knew Mark also knew he had first studied to become a painter and visual artist before turning to poetry and becoming one of our most cherished and influential American poets. The world of art and art history, however, was never far from his mind. Unlike other writers or poets, or celebrity musicians who have, from time to time, made or exhibited their visual art, Mark Strand was never a mere dabbler.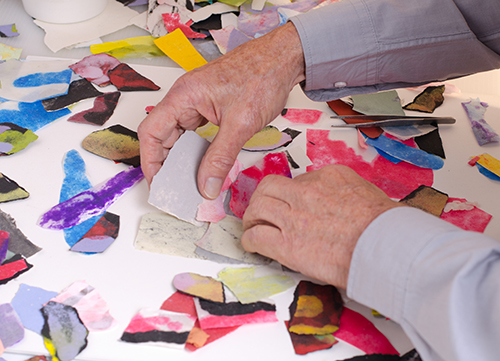 Chicagoans—and for all others who wish to make the journey—will now have a rare and wonderful opportunity to see an exhibition at the Neubauer Collegium for Culture and Society at the University of Chicago (where Strand was also a former professor) of 19 collages Strand created while living between Madrid and New York, which he began in 2011 and continued to make—steadily, almost obsessively—up until the time of his death in 2014.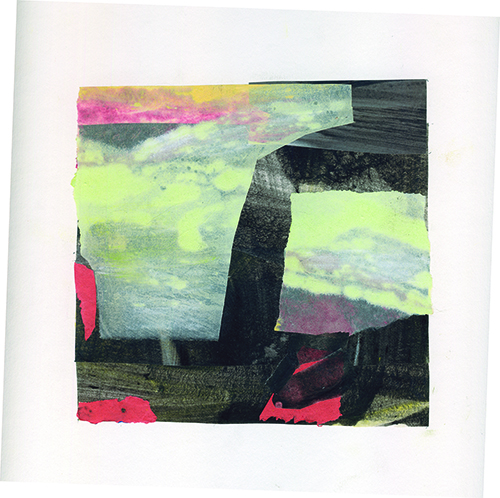 Strand started making his series of abstract collages by using handmade and hand-colored papers which he would make himself while working closely with Sue Gosin, a master papermaker at Dieu Donné studios in New York. The paper is a blend of 100% linen rag pulp and Abaca pulp (derived from a plant fiber commonly found in the Philippines from the banana family) that Strand used as a base or medium, creating a kind of 'pulp paint,' using pigments and mixing colors that he then added to the paper or pulp mixture.  During each session in the studio Strand created a fresh batch of ten to fifteen colors. While working with Gosin they made sheets of paper that Strand then used while still wet as his 'canvas' or surface for painting with the colored pulp. The colored liquid pulp was sometimes applied with a brush or directly by hand, or sometimes from small squirt bottles, which is why the finished collages have a feeling of immediate vitality, as Gosin has stated, combining an exquisite balance of dynamic color and contemplative lyricism. When the paper sheets have dried, Strand could then tear or cut the paper in which to create the collages that were then pasted to larger sheets of matte board with broad borders, leaving ample white space around each composition. While modest in scale, each collage commands our attention. Usually no larger than 8 x 8 inches, we are drawn into them immediately like intimate windows through which we experience a fusion of color, shape, surface, and layers of transparency or substratum. Seemingly spontaneous, even casual, each work coalesces as a precise and singular composition.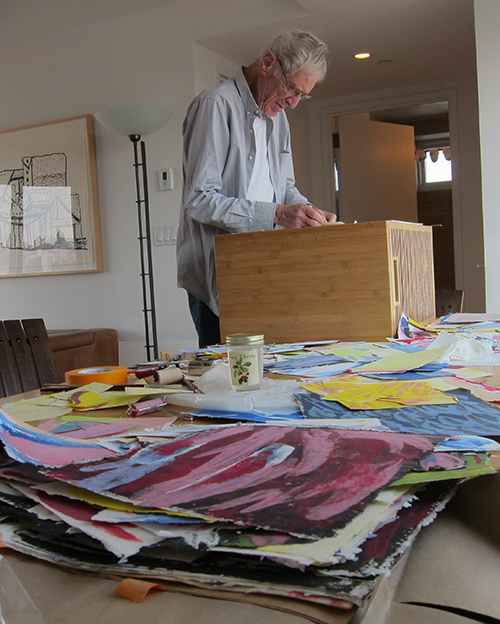 There is a terrain or visual lineage that certainly extends a dialogue with artists Mark admired, particularly the Abstract Expressionists, such as de Kooning, Clifford Still, early Guston, and Paul Klee among them. Francine Prose in an essay about Strand's collages put it beautifully when she wrote, "The paradox and marvel of these works is that they are immensely sophisticated and at the same time have the power to remind us of our own earliest encounters and experiences with color and form." Of course, this also sounds as if she could be speaking about poetry. She also notes how these works reach back into art history. Mark was somewhat reticent to acknowledge any relationship whatsoever between the making of his collages and his own poetry. He took such pleasure in making the paper, the cutting and tearing and pasting. For him it was another way of thinking non verbally or "an escape from making meaning," he said, "one in which language does not intrude." In Rachel Arons's excellent interview in the New Yorker in 2013, Mark did state how accident played a major role in both his collage-making and poetry. "I try to combine surprise and inevitability to make something unique, but one can't do this rationally. The unexpected, the unanticipated must be the determining factor."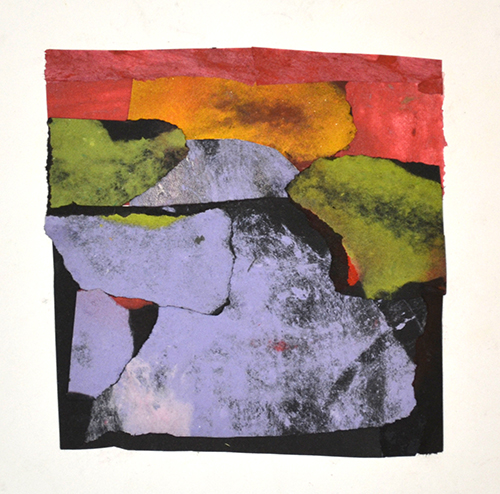 In a marvelously sly and humorous interview with a fictitious "Dr. Melissa Birdwell" that Mark wrote, composing both the questions as well as the responses, and which I published as a brochure to accompany his exhibition in Shanghai, "the questions tell us more than the answers but are the answers," as Prose also noted. Here is an excerpt:
MB: Your recent collages indicated that you learned something about color from Albers, although it is hard to say just what. Perhaps it was more a case of his sensitizing you to the possibilities of color rather than your color performing in ways that his does. That is, his work demonstrates the relative instability of color, how it can be made to appear chromatically different than it actually is. Color change or what he called "optical mixture" is enacted again and again in his Homage to the Square prints and paintings. Greens become grays, reds become brown, squares lose their rigidity and become, as their edges soften, the source of expected radiance. The wonderful thing about Albers is that he shows how color, even against a fixed and frontal geometric format is able to assert with sustained energy a poetic identity.

MS: I agree.
It is this kind of razor-sharp analysis or explication of Albers and, by extension, other artists he had written about over the course of his career, most notably his remarkable collection on the work of Edward Hopper, where he focuses less on the disquieting narratives in Hopper's paintings, but rather points us toward the actual nuts-and-bolts of the formal concerns or elements in how Hopper's paintings operate—the raking parallelograms of light, the juxtapositions of textures and shifting geometry—things that could certainly be said or applied to Strand's own abstract compositions.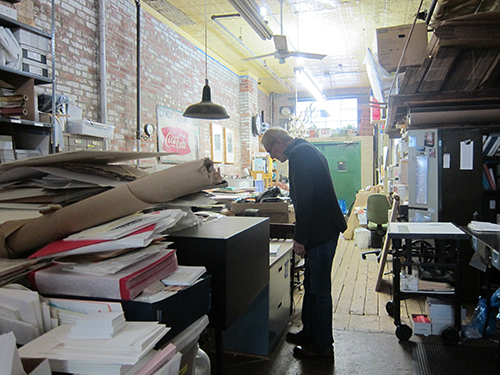 And while Mark didn't much care to acknowledge any connection between the collages and his poems, as Prose also points out, "It is clear that they are made by the same person—elegant, seemingly effortless, employing an economy of means in which to create something astonishingly beautiful and intimate."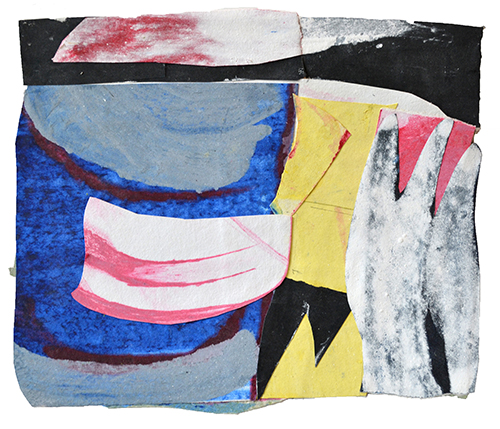 [Editor's note: the exhibition Mark Strand: Collages, curated by Jacob Proctor, is on view May 24–June 30, 2017 at the Neubauer Collegium for Culture and Society at the University of Chicago. Artwork courtesy of the estate of Mark Strand; photos of Strand working courtesy of Alex Sedano and Maricruz Bilbao.]