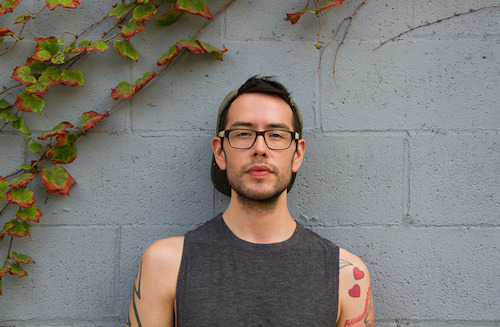 Poet and podcaster Tommy Pico has had a very busy year, as Tobias Carroll rightly notes in the preface to his interview with Pico at Vol. 1 Brooklyn. Now, the author of IRL and Nature Poem, and the co-host of podcast Food 4 Thought, joins Carroll to discuss all that he's been up to. "We talked via email this week about the connections between his two books, the creation of the podcast, and much more," Carroll explains. From there:
Your books Nature Poem and IRL were released in relatively close proximity, and excerpts of both have shown up at various journals over the last few years. Were you working on both simultaneously? Did you find that each influenced the other to some extent?

Each book kind of sprang from the preceding one. I would hit a beat that I knew I'd have to return to later but didn't think was in the scope of the poem I was working on. For example in IRL there's the line (paraphrasing) "I hate nature bc every poem is like poplars, and bunch grasses, and peonies and shit!" And in Nature Poem it says something like, "I used to read a lot of perfect poems, now I read a lot of garbage/ by A.R. Ammons." My third book Junk (coming out May 2018 from Tin House) is kind of my answer to Garbage. So while the books weren't written at the same time, they did generate the idea for the next one. And yes, when I get time I have a fourth one planned!

Throughout Nature Poem, there's a lot of discussion of what a nature poem is and is not, and whether or not this book falls into that category. Was that a question that first led to the writing of this book?

Because I'm a Native person, there's this stereotype that we're reverent of nature or whatever. I wanted to mess with that, and be like camping is dumb and fuck lakes and grass sucks. Throughout my numerous repudiations, it becomes evident that it's not "nature" I really have a problem with (I mean you will not catch me in the woods for nothing). It's racism, colonialism, homophobia, misogyny, etc. So the "nature poem" that the book ends up becoming is naturally just me.

Both of your books have been book-length poems. What draws you to the long poem as a medium?

Before submitting myself to long form work, I just always felt super unsatisfied with anything I wrote. I always felt like I left too early. Writing long poems is annoying because it makes you stay your ass in the chair and keep going. It's kind of like the poetic equivalent of "yes, and?" Yet for however frustrating they are, when I'm done I feel like—you know what? I said what I had to say.
Continue at Vol. 1 Brooklyn.