Book Pick
Calling the Doves, El canto de las palomas
Juan Felipe Herrera
(Children's Book Press, 1995)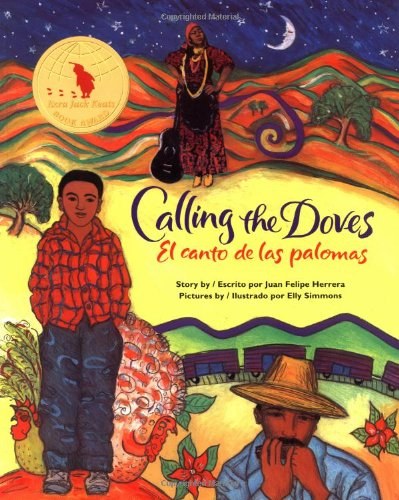 How often do city dwellers think about the lives of the people who plant, cultivate, and harvest food? Even if my own background were not agricultural, I would love Herrera's autobiographical verses about growing up in a family of migrant farmworkers. "In their bright colors, campesinos dotted / the land like tropical birds." ("Con su ropa brillante, los campesinos le daban color / al campo como aves tropicales.") On the road, following crops, meals were eaten out in the open. "The sky was my blue spoon, / the wavy clay of the land was my plate." ("El cielo era mi cuchara azul / y el barro tierno de la tierra era mi plato.") During lunch breaks, Herrera's father whistled bird calls, and "Sometimes my mother would surprise us at dinner / by reciting poetry." ("De vez en cuando mi madre nos sorprendía en la cena / recitando poesía.") "Rhyming words would pour out of her mouth / and for a moment the world would stop spinning." ("De sus labios brotaban palabras melodiosas / y por un momento el mundo entero dejaba de girar.") This classic book portrays the lives of California farm laborers and introduces children to the traditional importance of poetry in the daily lives of Latin Americans and US Latinos.
Book Pick
Voices in the Air: Poems for Listeners
Naomi Shihab Nye
(Greenwillow, 2018)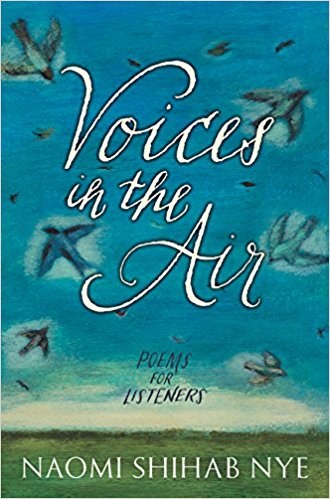 A new book by Naomi Shihab Nye is cause for celebration at any time of year, and this seems especially suited to summer, when young people have traditionally enjoyed free time. Poem titles range from the harsh reality of "Bully" and "Anti-Inaugural" to "Bamboo Mind" and "Peace Pilgrim's Pocket." Many poems are tributes to other poets, introducing young readers to Maya Angelou, Lucille Clifton, and Langston Hughes.

A poem called "Moment of Relief" begins with the line "News loves to be bad," then continues by speaking of Malala and dreams. Another poem, "Small Basket of Happiness," conveys images of all the joy ever experienced, still available in the quiet air, "if only. / You would slow down a minute." Perhaps the most simultaneously terrifying, yet hopeful poem in the entire book is "To Babies": "So many details now disappeared ... / tiny toads in deserts, fireflies." These tragic images of loss are followed by the hopeful conclusion, "We dream you will have so much to admire." Voices in the Air is an exceptional collection, one that adults, children, and teens can enjoy together.
Book Pick
Haiti My Country: Poems by Haitian Schoolchildren
Illustrated by Rogé
(Fifth House, 2014)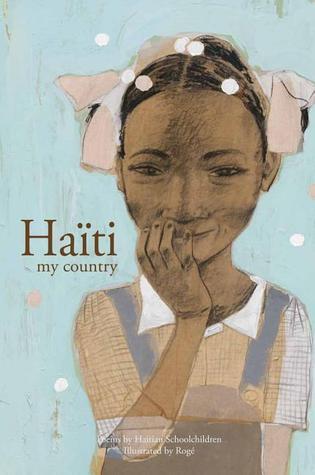 Caribbean Heritage Month celebrates dozens of cultures unified by geography rather than language. One of the most inspiring children's poetry books about the islands was written by children. At the end of the introduction, Dany Laferrière says, "In Haiti, poets grow as fast as the trees."
Some of the poems focus on the contrast between reality and wishes, such as "I Dream," by Jean-Pierre Paul Durand, who writes, "I dream / Of millions of flying birds / Around a tiny island without shelter, without shade." Others are lyrical odes. Marié-Andrèle Charlot observes that mangos "taste of honey and delight." One of the most powerful poems is a three-line lament by Annie Hum: "Magnificent country becomes / Broken land / All smiles are lost." Even when the topic is deforestation, as in a poem by Jeanne Dadley Zamor, the overall effect is hopeful: "Haitian trees / Always dancing / For the wind that caresses them / is a source of survival for us."
Book Pick
A Suitcase of Seaweed and Other Poems
By Janet S. Wong
CreateSpace Independent Publishing Platform, 2008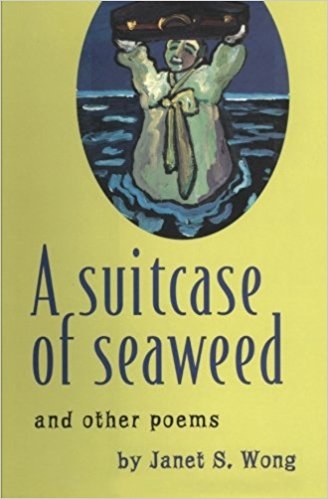 May is Asian-Pacific American Heritage Month, a chance to celebrate dozens of widely varying cultures. One of the most intriguing children's collections of autobiographical verses is Janet Wong's A Suitcase of Seaweed and Other Poems. Through three sections of the book—Korean, Chinese, and American—Wong portrays all three aspects of her multicultural family. "Love at First Sight" tells how her parents met, and "Hospitality" shows how guests are expected to remove their shoes. In the title poem, "A Suitcase of Seaweed," Wong's grandmother arrives with smelly seaweed and squid in "this old treasure/ chest of hers".
In "When I Grow Up," the hopeful child says, "I want to be an artist, Grandpa, write and dance, paint and sing," gently challenging a tradition that expects her to think only of being able to buy "good food." The final poem tenderly portrays Wong's family as a quilt
of odd remnants
patched together
in a strange pattern,
...
but made to keep
its warmth
even in bitter
cold.
Book Pick
Martí's Song for Freedom/Martí y sus versos por la libertad
By Emma Otheguy
Lee & Low Books Incorporated, 2017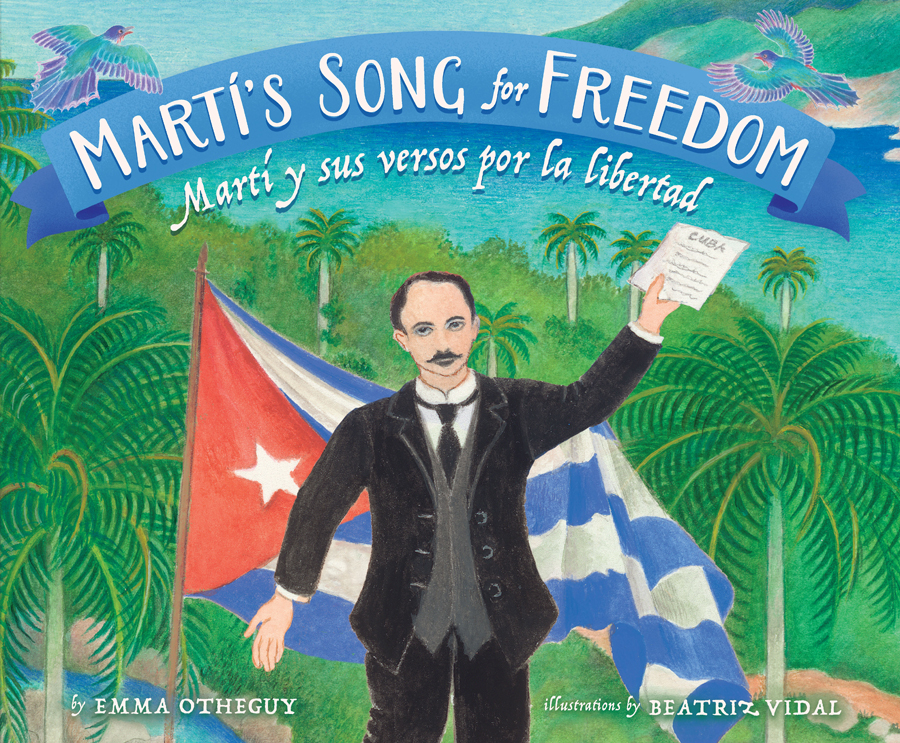 During National Poetry Month, I love to read biographies of poets. One of my new favorites is the bilingual children's picture book, Martí's Song for Freedom/Martí y sus versos por la libertad, by Emma Otheguy, with illustrations by Beatriz Vidal. This book is unique because it blends Otheguy's verses about Cuba's poet and liberator with excerpts of his own poetry. One of my favorite passages shows how Martí traveled after being exiled from Cuba. "Wherever he went, José was inspired / to find people who also believed / in equality and liberty." (En todas partes, José encontraba/gente que lo inspiraba, porque como él, / creía en la igualdad y la libertad." This stanza by Otheguy is followed by Martí's own rhymes: "Yo vengo de todas partes, / y hacia todas partes voy: / Arte soy entre las artes,/En los montes, monte soy." (I come from every place, / And I'm on the road to everywhere:/I am art amid the arts, / And in the mountain chain, a link." This is a book that will make Cuban-Americans weep, smile, and sigh, while making other Americans long to know more about Cuba.
Book Pick
#NotYourPrincess: Voices of Native American Women
Edited by Charleyboy and Leatherdale
Annick Press, 2017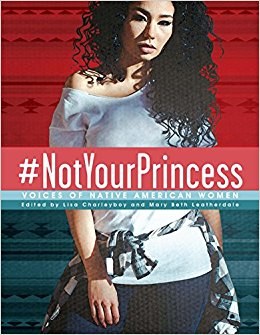 For Women's History Month, it might seem logical to choose a book about long ago, but the true logic is in recognizing that history is happening right now. A new teen anthology titled #NotYourPrincess: Voices of Native American Women, provides us with hope for the future, as seen through both present and past. The first stanza of an exquisite poem called "Tear" by Linda Hogan (Chickasaw), begins with, "I remember the women. / Tonight they walk / out from the shadows." In the second stanza, the poet turns inward: "They walk inside me." Hogan continues with a revelation that history is both ancient and contemporary: "I am the tear between them / and both sides live." In "The Things We Taught Our Daughters," Helen Knott (Dane Zaa/Cree) gives advice to the past: "mothers should have said / my girl, you are worth a thousand horses." In "Dear Past Self," Isabella Fillspipe (Oglala Lakota) urges "If you ever need a hero / Become one." #NotYourPrincess is simultaneously bold and sensitive, universal and personal—the kind of book that can save a teenager's life.
Margarita's February Pick
Book Pick
Schomburg: The Man Who Built a Library
By Carole Boston Weatherford
Candlewick Press, 2017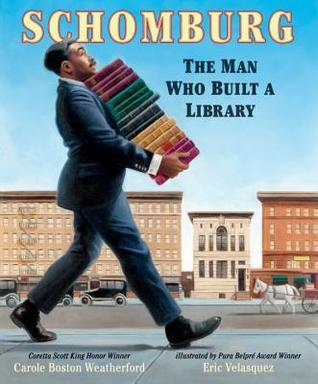 February is African-American Heritage Month, a time when so many different aspects of culture can be celebrated that it's hard to choose just one. There is a new biography in verse that encompasses many aspects of African American history, as well as a fascinating link to Afro-Latinos. Schomburg: The Man Who Built a Library, by Carole Boston Weatherford, shows how one dedicated scholar was able to accumulate an unmatched collection of valuable texts and artworks.
In a poem called "Fifth Grade," the lifelong perseverance of a young Puerto Rican named Arturo Schomburg is already glowing: "After that teacher dismissed his people's past, / Did the twinkle leave Arturo's eyes / like a candle blown out in the dark? / No, the twinkle never left. It grew into a spark." Later, in "Doctor," "the historical figures he unearthed still spoke to him. / Tell our stories, proclaim our glories."
In a poem titled "Island," "Arturo was a bridge between great minds in Havana and Harlem." This richly detailed book is suitable for young readers right up through high school and college. Even adults will long to learn more about the historian and collector who arranged books "by size and color, like a bouquet."
Book Pick
Words with Wings
By Nikki Grimes
Boyds Mills Press, 2013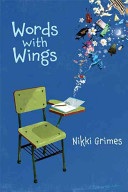 January is Creativity Month, and I can't think of a better middle grade verse novel about creativity than Nikki Grimes's Words With Wings. Highlighting the value of daydreams, memories, and the five senses, these linked poems can show children the joy of letting their thoughts soar. "The word fly / had set me free, / and I wondered, / Are there other words / that can carry me away?" Many of the poems in this book are actually poetry writing prompts that can be used in a classroom. With titles like "Stilts," "Waterfall," and "Firefly," the narrator demonstrates how it feels to be inspired by a winged word. "Say 'comet,' / and I am weightless, / playing ping-pong / with small planets, / dodging asteroids, / and skipping through space / in slow motion." One of my favorite passages comes near the end of the book, when a teacher says, "Okay, class, workbooks shut. / It's daydream time."
Margarita's December Pick
Book Pick
This is Just to Say: Poems of Apology and Forgiveness
By Joyce Sidman
Houghton Mifflin Harcourt, 2007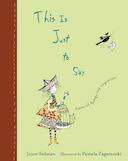 December invites us to consider the common ground that all religious traditions share, such as empathy, which leads to compassion and mercy. One of the most unique children's books about peacemaking is Joyce Sidman's This is Just to Say, Poems of Apology and Forgiveness. Poems in the voices of people who are apologizing for various offenses are followed by verses in the voices of those who are trying to forgive them. Some of the children's mistakes seem small, such as stealing brownies or losing a spelling bee, but others are more emotional: keeping a hamster caged, euthanizing a beloved dog, insulting a teacher. "Words can help or hurt, the choice is ours." Most of the response poems show forgiveness, even when anger persists. "I am wading into the river of forgiveness... / will I ever make it across?" This book is so versatile that it could be used to teach peacemaking skills or as readers' theater.
Margarita's November Pick
Book Pick
Sing, Poetry From the Indigenous Américas
Edited by Allison Adele Hedge Coke
University of Arizona Press, 2011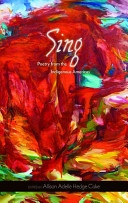 November is Native American Heritage Month. I wish I could recommend a multilingual anthology of verses for children by poets from many nations, but until such a book gets published, adults can choose suitable poems for children and teens from Sing, Poetry From the Indigenous Américas. "Bow-Riders" is a poem about protecting a dolphin habitat, by Roberta Cordero, a Chumash, Yaqui mestiza. "Land Song" by Paula Nelson is a powerful bilingual verse in Cherokee and English: "I am this land / I want you to see / that I am human / And you are just like me." Some of the verses from South America are trilingual, such as "A Poem to My Llama" by Odilón Ramos Boza, in Quechua, Spanish, and English. Other poems that young readers will enjoy include "Eagle Song" by Joy Harjo (Muscogee); "Prints" by Joseph Bruchac (Abenaki); "First Language" by Linda Hogan (Chickasaw); "The Loss of Our Language" by Juanita Pahdopony (Comanche); and an excerpt of "Spiral Lands" by Simon Ortíz (Acoma Pueblo). One of my favorite poems from this stunning anthology is "Stories Are Alive Beings" by Tiffany Midge (Lakota): "Someone beautiful told me / Stories are alive beings, / little animals who drink from the creek / of my spirit."
Book Pick
A Time to Dance
By Padma Venkatraman
Speak/Penguin, 2015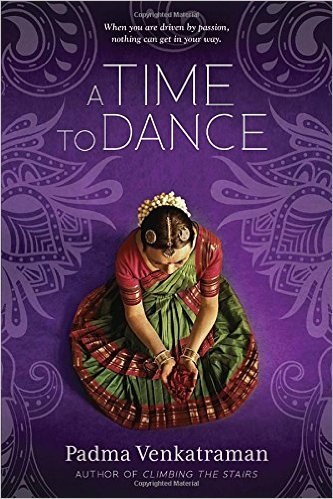 I can't imagine a more inspiring young adult verse novel for Disability Employment Awareness Month. In this book, Padma Venkatraman writes,
No body perfect.
No two children the same size or shape.
But every dancing child a manifestation
of Shiva in human form.
Venkatraman uses rhythmic free verse to show a spiritual struggle as well as a physical one. After an accident, a girl who loves to dance suffers an amputation, and she gradually recovers her motivation to adapt to a prosthetic leg and to continue studying Bharatanatyam dance. The book's sophisticated style glows from the page, as do the sights and sounds of India. In a starred review, VOYA magazine summarized the book's power: "Told in verse, this story is magnificently strong as Veda's determination dances off the page and into the reader's heart." Interwoven with a love story, this is one of my favorite YA verse novels, with language so beautiful that hope becomes a tangible aspect of anguish.
Margarita's September Pick
Book Pick
Somos como las nubes/We Are Like the Clouds
By Jorge Argueta
Groundwood Books, 2016

Hispanic/Latino Heritage Month deserves powerful bilingual books, especially in 2017, when Latinos have become the target of renewed racism and xenophobia. Argueta is a Pipil Nahua Indian from El Salvador, who came to the US as a refugee. He understands the plight of unaccompanied children fleeing danger. Beginning with the shapes of drifting clouds, readers see daily life in Central American villages, with dangerous gangs portrayed through metaphors about painted people and snakes, followed by the long, desperate journey, softened by singing to scare away exhaustion and turn fear into a song. "Aquí en el desierto / somos una gran familia de estrellas. Here in the desert / we are a huge family of stars." Facing the border patrol is frightening, but thoughts of traffickers and minutemen are even worse. "Somos como las nubes. / Somos como el viento. We are like the clouds. We are like the wind."
Book Pick
Poems to Dream Together / Poemas para soñar juntos
By Francisco X. Alarcón
Lee & Low Books (2005)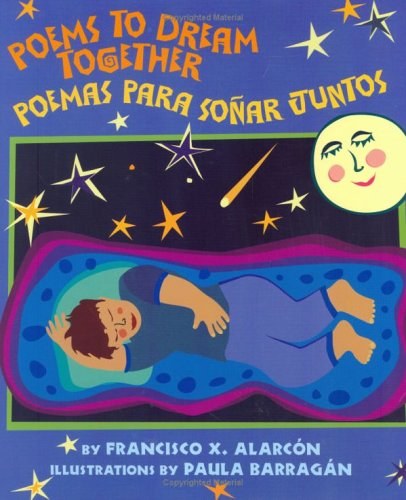 This bilingual picture book carries a message of peace, and it can be read on various levels: either as sweet, fun poems about dreams and daydreams when reading out loud to a very young child, or as gems of wisdom for an older child, teenager, or adult. Some of the poems are brief flashes of wonder: "soñar despierto/otra forma/ de pensar (daydreaming/another way/of brainstorming)." Others are social commentaries, such as the poem about pesadillas/nightmares that exclude others, and one about diversity, called "Iguales/The Same." The poem "Para soñar el future/Dreaming Up the Future" invites young readers to imagine themselves in 20 years, as scientists, artists, poets, parents. My favorite verse in this perceptive collection is "Soñando juntos/Dreaming Together":
Un sueño
lo soñamos
solos

la realidad
la soñamos
juntos
A dream
we dream
alone

reality
we dream
together