Alfresco writing, following landscape painting, is the art of simply Going-out-to-see, bearing the possibility of raising a poem or paragraph within the day. Its essential pleasure and tireless charge derive from its roots in elemental curiosity and, in the end, the word affinity.
More than once our Sunday drives out from the town of  Flicker onto the plains or into the Sandhills would end up being a daylong low-speed drive of two hundred miles, so seductive was the landscape, so instructive, given the simplest of Givens: the earth, as literal past; the sky/space a sort of implied future; and the Going-out-to-see a present, all informed by the principle that each Day-in-Place is one of a kind, negotiable One Day and One Day Only.

And to scratch a geopolitical line or two on the given sky above the hills or mountains as in the old Chinese paintings with calligraphy on the clouds: poetry as ingredient of   landscape, catalyst and protean accompaniment.
I remember standing in the poetry sections of Ann Arbor bookstores as a college boy — Bob Marshall's, Slater's, Centicore — taken in the abstract by the lines on the pages, the lines in formation, stanzaic or otherwise, remember holding the books at arm's length, nearly beyond the focal point, to heighten that sense of orchestrated ink, of somehow avian arrangement seen as insinuative choreography: a scape with motion and skyline, with breath and skein of cranes or sea ducks.
•

Arkansas River, Kansas 1995.
A small dog, a huge dog, dead by the road, drifted with snow. To move among these bluffs and buttes on a daily basis is both an honor and a gist.
Facing any landscape demands bearings, finding a footing, and then a bearing. Which way is up, for example.
"Landscape" as full context, situation: time, space, chemistry, gases, vectors, and winds — surroundings. Landscape writing as a fundamental noticing.

You notice the fleet of yellow school buses parked beyond a river or the white rocks on the rise where they emerge from the earth at the top of the hill, and then one day go up there and make them known things, find a footing and a bearing and mark the details of that intersection and name it when you are through — "The Arikaree at Cope" or "The Wildcat Hills from Route 88" or "Upper Lodgepole Creek, What's Left of   It."
The presence of a witness, like those tiny, almost overlookable faces in the lower corners of  Nootka artists' serigraphs, a cartoonish wide-eyed face in profile looking on, commonly referred to as "the witness."
Points mentioned, or painted, once poeticized, are never quite the same. The torque of  language (the verbal encounter) on landscape is roughly the equivalent of  brushwork in Chinese painting.
Carl Sauer's "to comprehend land and life in terms of each other." And the percentage of sky in Constable's paintings, and Joseph Cornell making photos of days.

Several days after the storm, all the snow has melted save the identical, 
elongate, triangular white tailings that extend a foot and a half on the upwind side of each and every yucca plant across miles of prairie, a sheepish sunlight on it —
One pretty forenoon instance of Rilke's law: "Landscape is   . . .   
devoid of chance, and every falling leaf fulfills, as it falls, one of the greatest laws of the universe."
•

Grand River near Mahto, South Dakota 1997.
Looking for September    . . .   Wyoming was wretched last month. A day and a half of passing through tandoori August heat and endless uproar of dust and earthmovers and logjams of road construction and a two-pronged horde of disengaged tourists bound for either Yellowstone or the biker rally in Sturgis, South Dakota — redeemed on occasion by the nonplussed, diminutive thirteen-year-old driving an enormous, scaly-roofed, brick red Lincoln Continental, watching him in the rearview roar heedlessly up behind me, then swerve around and roar on. He carried an even smaller passenger beside him — newlyweds, perhaps   . . .   I love the grimy, old, fluted-deco concrete overpasses battered and gouged on the lower edges by who-knows-what abrupt encounter, straight-faced fossils of  long-lost curse and guffaw    . . .    The cottonwood groves along the South Platte hold at perhaps "one percent" yellow leafage, as aspen watchers would say. And there goes a solo biker of note: northeast-bound, long black braids streaming behind, a young Oglala man heading for Dakota or a high-flying road Valkyrie    . . .    The swallows are still here. They loop contentedly above the smallest of highway bridges. Frederick Delius, forced from his French home early in wwi, said from England that he missed most of all the hirondelles, and soon began sketching that eleven-minute roofless tidal pool elegiac anthem bordering on speechlessness, "Late Swallows." Teal reeling. Bluestem reddening. Milkweed mostly yellow. The vegetation shows the Pause, but not the Buckle . . .     
Each time I top the ridge and find the North Platte valley off 
below I stop, thinking to sketch it in my perfunctory way. But the visual chord is always far too complex for my abilities and the most 
I can do is gaze and hum along. That first view is the ongoing view, the benign geologic one you will tuck away, even after you have spent hours nearer the river, the simple satisfaction of standing in the presence of enormous complexity-in-progress, of a vast, offhandedly competent entity bearing both conception and execution in a tour de force of motion held, perpetual motion both captured and peremptorily dismissed. And the little poem against the sky above . . .
Darrell Gray's "Birds fly because they have more imagination" seems far more cogent now, thirty-five years later: imagination as a fundamental capacity to not only see, but reach, reach via connection and charged memory, almost a muscular capacity   . . .    Cattails venturing the first orange/ochre in the aggregate. On the uplands, prairie dogs are out in numbers, sitting high and sharp-eyed — looking for September.
•

North Fork, Republican River, Colorado 1996.
That description is conjuration — Lu Chi and Wallace Stevens cleared 
that table long ago. "Heaven and earth are trapped in visible form: / all things emerge / from within the writing brush."
But the function of landscape conjuration changes continually, and the simple Going-out can become a reclamation of the One Day Only and an affirmation/authentication of latitude/longitude, 
a bestowal of color and protein-level relations.
The poet looking comprises an intellectual sizing, weighing. And if the writing holds, it can function by its very nature as both a 
naming and a reclaiming, a corrective and a salvaging, within the 
occupying (preoccupying) culture.
Horses in loose gangs, hillsides netted, laced, fretted with dark pines, the foreground beach-bright sunlit ochre sand, the distance stark blue-black cloud and shelf shadow. Two shiny white gumbo-ruts of a snaking road lower left to upper right, would-be day to would-be night . . .
All day — artists and their surroundings: a mediation and a bartering. And, maybe, even, one of the ultimate human stakes: "Never mortify your landscape."
(Sursum corda.)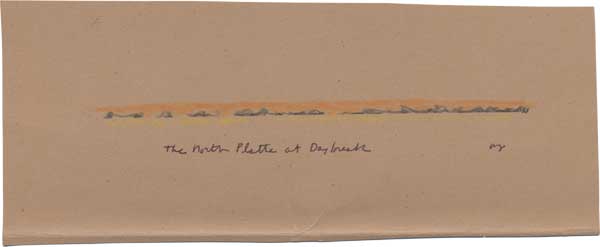 The North Platte at Daybreak, Nebraska 1999.
Merrill Gilfillan is the author of a dozen books of poetry, two collections of stories, and several books of essays. His river drawings were published in Distant Rivers (Prairie Rose Press, 2012).