One doesn't stay friends with somebody for forty years unless they have a lot of nice qualities, such as brilliance. Jane Freilicher, famous for her light-swept, 
vaporous paintings, is also the wittiest person I've ever known, but her wit is the casual, throwaway kind. It's a privilege to be able to "tickle the conversational ivories" with her, to use a phrase of hers.
                                                     — New York, December 21–28, 1992

 I met Jane Freilicher the day I arrived in New York in the summer of 1949, just after I graduated from college and decided to move here on the advice of my friend Kenneth Koch. He was away at the time but said I could stay in his apartment until he got back. I could pick up the key from Jane, who lived on the floor above his. Thus I found myself ringing the bell of a not very prepossessing-looking small loft building on Third Avenue near 16th Street. Jane came down to let me in and invited me up for coffee. I think that was the first time 
I saw her paintings, though it might have been slightly later. In any case, 
I wasn't terribly interested in contemporary painting then, and 
I have only a vague memory of some partly geometric, partly loose semi-abstract landscapes. I certainly wasn't aware that the year 1949 was going to be a momentous one, not just for me, but for American art, which had been slowly coming to a boil for several years thanks to the efforts of de Kooning, Kline, Pollock, Motherwell, and a handful of other revolutionary geniuses. It was in 1949 that LIFE magazine, unwillingly no doubt, tipped the balance in their favor with a splashy article about Pollock, topped with a half-sarcastic, half-serious headline: "Is he America's greatest living painter?" The color illustrations of Pollock's drip paintings invited the reader to conclude otherwise even as they tilted the argument toward him. I don't intend to trace the history of the next momentous few years; only to point out that Jane was both close to and distant from the ferment of those times. Like so many other painters of her generation, she had studied with Hans Hofmann, the celebrated artist-teacher who practiced his own kind of abstract expressionism but encouraged his students to branch out in other directions, such as figuration. This wasn't as unusual as it sounds — the so-called heroic period of abstract expressionism was by no means as monolithic as it seems in retrospect. To cite but one 
example, de Kooning always acknowledged the determining influence 
on him of the Le Nain brothers, meticulous seventeenth-century realist painters. Jane also followed her own path, with stops along the way to take in Bonnard, Balthus, Watteau, and even, unless I'm mistaken, Hofmann himself, in a little-known abstract period of hers in the early sixties. She continues today to elaborate a body of work that is devoid of formula and alive with awareness of consequences of art of the past, including much that seems at first glance foreign to her own way with paint. Her pictures always have an air of just coming into being, of tentativeness that is the lifeblood of art. There are always new and surprising full passages where you couldn't imagine another artist coming to the same decisions, which are invariably the right ones. Her subjects are often the same — still lifes or landscapes, sometimes viewed through a window — but the way of painting is constantly different, fresh, and surprising. Her work is rich in meanings that continue to resonate with us even after we have moved on and are thinking of something else. It is one reason why we value art and part of what makes her a great artist.
— John Ashbery's presentation to Jane Freilicher of the Gold Medal for Painting given by the American Academy of Arts and Letters, May 18, 2005.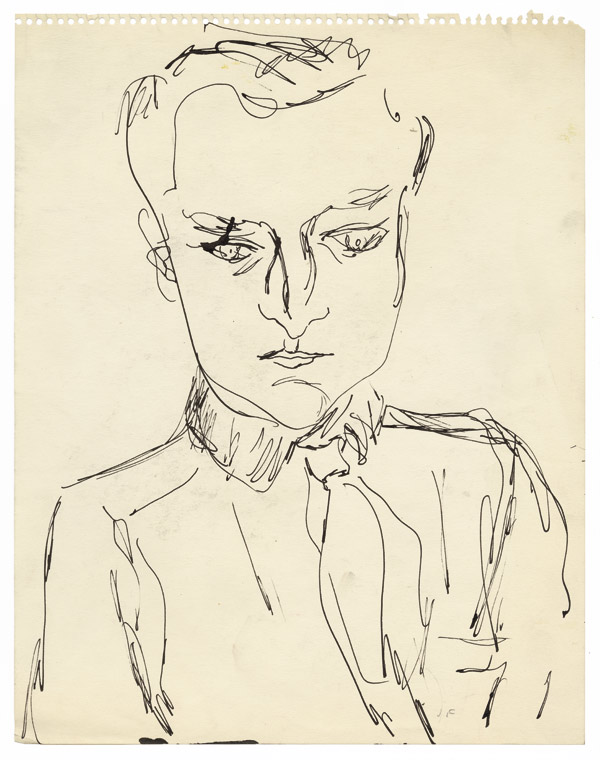 John Ashbery, c. 1954, pen and ink on paper, 13¾ × 10⅞ inches. Private collection, courtesy the Flow Chart Foundation and Tibor de Nagy Gallery, New York. All artwork by Jane Freilicher unless noted otherwise.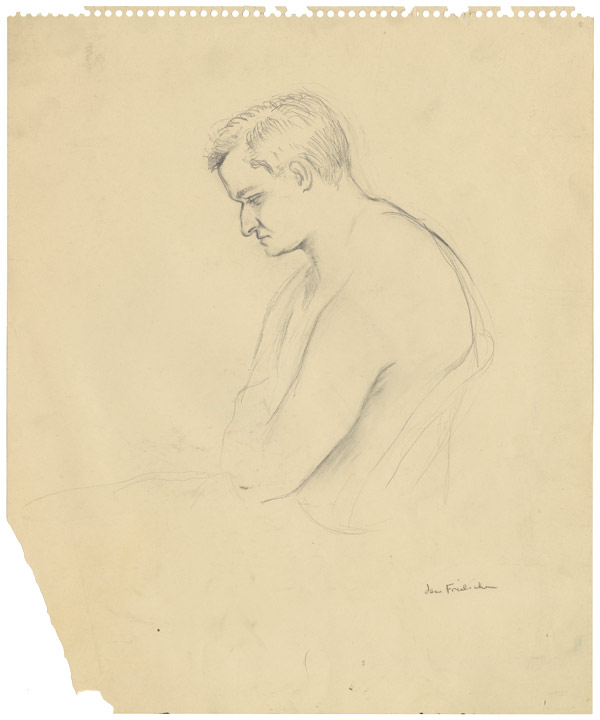 John Ashbery, c. 1954, graphite on paper, 16¾ × 13⅞ inches. Private collection, courtesy the Flow Chart Foundation and Tibor de Nagy Gallery, New York.
This article is part of a larger portfolio, Jane Freilicher: Painter Among Poets. The second essay in this section is "Explicit As a Star" by Jenni Quilter.
John Ashbery was recognized as one of the greatest 20th-century American poets. He won nearly every major American award for poetry, including the Pulitzer Prize, the National Book Award, the Yale Younger Poets Prize, the Bollingen Prize, the Ruth Lilly Poetry Prize, the Griffin International Award, and a MacArthur "Genius"...