Placa/Rollcall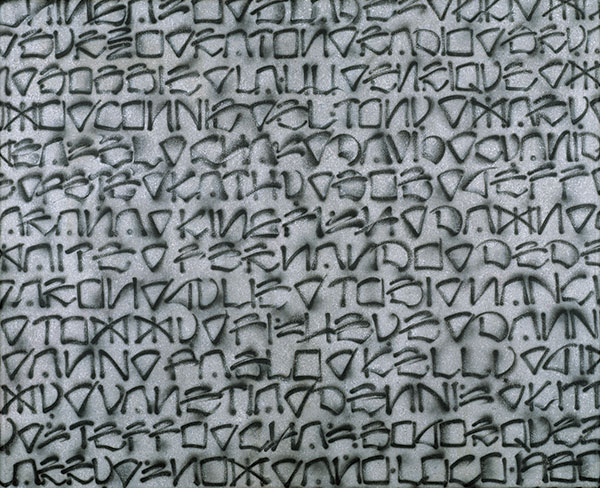 Placa/Rollcall, 1980, by Charles "Chaz" Bojórquez
If the city was a body, graffiti would tell us where it hurts.

— Charles "Chaz" Bojórquez
And this block would shout, "Nos diste un
chingaso
, cabrón. Mira esta cara rota, these baton-cracked ribs, this black and blue street dizzy con gente:
blades, kiki, larry, snow, enrique, connie, 
elton, king, david, kelly, jeff, ratón, chaz
, los de aquí, los de abajo. This roll call won't be silenced, not by glock, not by chokehold. This is our temple of runes, our tomb — its glyphic curve and flow, calligraphic code writ acrylic. This, our relic, our scroll unrolled in catacombs, our flecks of subtext still buzzing después de que vayamos con La Pelona. ¡
qué lucha, loco
! Ven, baile con nosotros to the aerosol's maraca y hiss, al punk en español's furious sweat. Hang your head out the window y dale un grito tan lleno de duende that it cracks the pavement, summons our dead to dinner. Turn the tonal kaleidoscope. Then pause, catch your breath, so you don't miss the illegible moment where all the mystery lives. There, de-cypher
that
!"
You can read the rest of the PINTURA : PALABRA portfolio in the March 2016 issue of Poetry. All images in this portfolio are courtesy of and with permission from the Smithsonian American Art Museum. Placa/Rollcall by Charles "Chaz" Bojórquez, gift of the artist.
Source: Poetry (March 2016)