Decoy Gang War Victim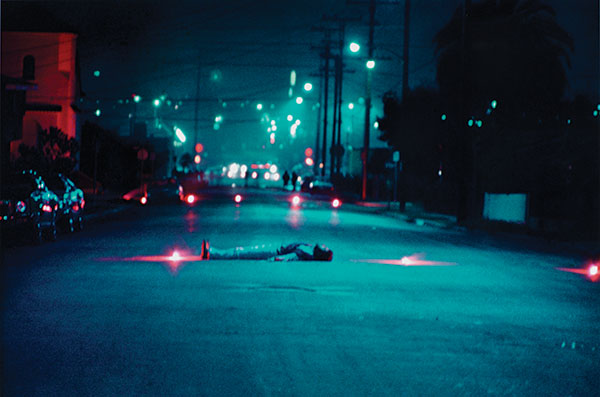 Decoy Gang War Victim, 1974, by Asco (photographer: Harry Gamboa, Jr.)

Just a tick ago, the actor was a Roman candle

shot to the sky, smudged by rain's helter-

skelter. His motivation was: he's a stooge

on L.A.'s sodden turnpike, so we have "to make" art. Got

to rezone and react. The world the bare wall to

his bullet. Got to rile up the populace, to fortify

the arsenal. Once in a while, repopulate and penetrate,

paint a list of incitement onto the walls.

An elder told him that to overturn the city, one must

surrender body/belongings to the one explosive

spectacle of truth, making it ongoing. Pay attention.

To overturn the city, not just the scraps but fervor itself.

Not just the wan broadcast of indignation but

IRL incursions into the workhouses and

poorhouses to inflame the thousand points of  light.

A lean surge, departure pinks both ends of  him.

He's the nth layer folded into the stand's nerve.

You can read the rest of the PINTURA : PALABRA portfolio in the March 2016 issue of Poetry. All images in this portfolio are courtesy of and with permission from the Smithsonian American Art Museum. Decoy Gang War Victim by Asco (photographer: Harry Gamboa, Jr.), museum purchase through the Luisita L. and Franz H. Denghausen Endowment © 1974, Harry Gamboa, Jr.
Source: Poetry (March 2016)