John Freeman interviews Robert Hass about Time and Materials, winner of the National Book Award, and about his experiences as a writer, reader, and teacher of poetry.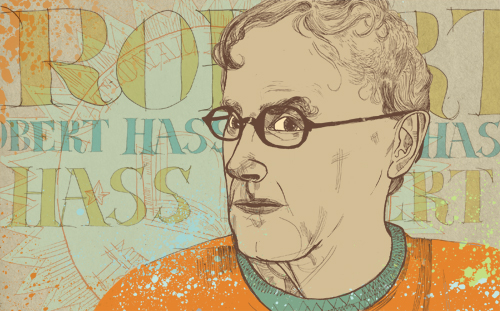 Illustration by Marianne Goldin.
ROBERT HASS
has spent so much time in recent years as a tireless front man for poetry—as U.S. poet laureate, as a teacher at the University of California at Berkeley, and as a columnist about the art form—one could forget he claimed this mantle by writing it as well. That should change now that
Time and Materials
, his first collection in ten years, has won the National Book Award for poetry. "When I got back from New York, my students had champagne for me," Hass said recently by phone from Berkeley, where he returned immediately after the awards to teach a class. Over the course of a half-hour phone conversation, he talked about influences, about the politics of meaning, and about the poems he learns from, year in and year out.
John Freeman: You have done quite a bit of translation over the years, especially Tomas Transtromer and Czeslaw Milosz. When you called this book Time and Materials, did you think of poetry like theirs as part of the materials?
Robert Hass: I think art is an echo chamber: you pull from experience and you pull from everything you know about the arts. Working on Milosz's poems for 20 years, sure, I was beginning to see things I was surprised to see in my poems. I think one of the ways influence works, you are kind of working for an area of feeling or thought and then a model flickers through your mind. It's like the writers whose work you know well help to give you a vocabulary to get what you're after. Milosz's technical range is enormous, and his ambition for poetry is enormous. All of that was inspiring.
I feel a tension in this book between the delicate beauty of the visible world and the ugliness of war. The poem you read at the National Book Awards, "I Am Your Waiter Tonight and My Name Is Dmitri," feels like it almost bridges that, though.
It's a poem that did try to do that—putting this book together took a lot of thought and figuring things out, there are very accessible poems, there are somewhat private poems, there are poems where I was experimenting with surreal narrative, I was trying to understand where I've been and put the book together. What I could say to myself is, Isn't everybody's life made up of affective states and ways of coping? It makes me think of Tolstoy's great thing about daily life. I always think of Anna Karenina's lover: when she dies, her lover has a toothache the next day; at a moment when there should be tragedy, there's something mundane. And so we try to wake up with the knowledge that there are several hundred thousand Iraqis dead, and you walk around with that knowledge; there are old parents to take care of, things to do.
Is using so many different forms your way of demonstrating those ways of coping?
When I am working I write a lot more that doesn't work very well, but I am always trying to figure out something new—there are so many poems in the world, so many people writing them, and writing them very ably, that you want to kind of make something happen that is a little new. And that's another thing—another formal driver. It's also a time in the art when the range of possibility, from chant to prose, is just enormous.
Poetry is, in many ways, more visible than ever, and there's more of it being published than ever. As a former poet laureate, that must make you feel pretty good.
Somebody said literacy, real literacy, as in reading literacy, is an indicator species, as a college professor can tell if a marsh is okay if there's a certain bird found inside it. There's a lot of access to poetry and a lot of people, and lots of people publishing them. One of the things I was trying to figure in this period is who is reading, and how many people. It's really only a question you can look at from 1850 on, since there wasn't public education and books were very expensive. This democratic ideal is a late 19th-century notion, but it still depends on a pretty small part of the population that reads very much. Some people only read for professional reasons, they exercise. On the other hand, I feel like I just have to keep pushing in my teaching and writing—to be an activist. In a country of 300 million people the maximum audience is maybe a million people, but that's pushing it—certain paperback books, novels sell that many copies. And I've just read that the kids at some high schools, only 6 percent are reading at grade level. I think literacy is something we really need to continue to work on. When I was a kid, I got three newspapers in my house—a local suburban newspaper and two dailies.
And you think that made you a reader, a poet?
Yes, there was Bill Hogan writing in the
San Francisco Chronicle
, and his favorite novelist was
Ernest Hemingway
, and he liked John O'Hara. He wrote every day on books! From the time I was ten years old, I could begin to glance at that book world and see that it worked. Newspapers are losing readers, and they have given up on this part of their publishing.
I suppose you can make a difference teaching, though, right?
I've taught a lot of people over the years—but, you know, I was talking to Zadie Smith about this when she was addressing the young writers at Iowa; she said,
"My great gift is as a reader. I think I'm a pretty talented writer, but I'm a
great
reader." I want to teach students to be writers, not so that they can read books, but because reading books opened and changed my life.
What poems do you teach?
Most years I teach the American poetry class, and so I probably teach "Song of Myself" every year—and I never get tired of that poem. I teach
Emily Dickinson's
poems every year, the modernist poets—
Eliot
,
Frost
,
Pound
—these years,
Gertrude Stein
,
Wallace Stevens
, and then after that I invent. Some years I'll teach
Sylvia Plath
, some years
Gary Snyder
, some years
Adrienne Rich
, some years
Robert Creeley
. They were the ones I discovered when I started reading—I was a perfect reader, I was like a sponge. I just soaked it up, and I find that's true of my students now. It's a gift I get to teach them.
Do they read your poems much?
(laughs) I have a friend who did once teach a course on himself, and I was talking to a mutual friend, and he said, "I bet he starts with his baby pictures." And this guy then came to my friend and said, "You know what, I have this great idea—I started my class with my baby pictures." I couldn't quite bring myself to do that.
What does it feel like to win this prize? As a reader you must look back and see the former winners: William Carlos Williams, Lucille Clifton, Anne Sexton.
At the time I thought, mostly with some rue, of my comrades in the art who were also nominated. It was a nice thing to happen to one. I thought about that, I thought about remembering to thank my wife, Brenda Hillman, whom I get to write in the company of, [and] my editor Dan Halpern.
You told a nice story about him helping you put together a collection by laying the poems out on the floor of his apartment. Did that happen with this book too?
The last couple I've pretty much shaped myself. He was very helpful with small things. I had a kind of definite idea—at one point I thought it would begin with a two-line poem, a three-line poem, as near as I could, but that was a little too crazy. And I also wanted to figure where to put the political pieces; I wanted to give them some space, and I didn't want them to be the whole point. On the whole, I'd say the reviews of it have completely ignored them. It is a little book that has a prose piece with an argument against aerial bombardment, so with a piece like that, the question of where to put it becomes important.
Frank Bidart
said
Robert Lowell
once said in a class that you can say anything in a poem, you just need to know where.
Do you ever worry that, given the size of poetry's audience, this type of poem—the political poem—really won't make any difference?
I don't think about this subject with any assurance, but written poetry has had a certain kind of impact when there was a very small literate class. When Wordsworth wrote poems, only 40 percent of English males could produce a signature, and of those who could, only between 10 and 15 percent were literate. And they all went to public schools. So in some sense they all knew who each other were, they came from interconnected families, and I think that was true in Latin American, Europe, China, Korea. And those who read it had power, so poetry could have an influence far out of proportion to the number of people who read it. Augustus was a patron of Ovid and Virgil, and he exiled Ovid when he thought his verse was scandalizing. Then there's the kind of—in the Arabic world—poetry as song. The songs passing as lyrics into the world, devotional lyrics, and influencing people, beginning with modern literacy, technical societies in which many, many more people can read, most of them—the arts they enjoy are oral arts, listening to music, and watching TV; you don't have to be able to read to experience things. So in that case, what I think about, always, is the slow power of the sensibility of poetry, avant-garde music, painting, to change over time. My shorthand goes like this—
Wordsworth
read a German philosopher who wrote about mountains,
Thoreau
read Wordsworth, Muir read Thoreau, Teddy Roosevelt read Muir, and so we got Yellowstone and Yosemite. It took 100 years—that's the cycle of things.
John Freeman is president of the National Book Critics Circle, which can be found online at bookcritics.org.