"The entryway to poetry is the beauty of its sound. This online archive of poetry recordings opens the wholeness of poetry to the world's ear." Former US poet laureate Donald Hall and the editors of poetryfoundation.org announce the launch of the Essential American Poets audio collection, developed in partnership with the Poetry Archive.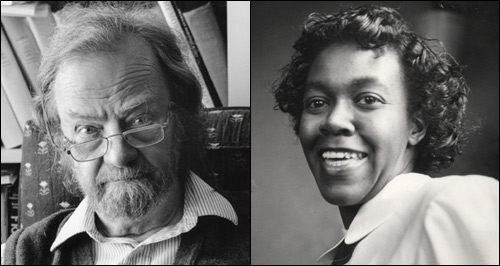 "You listening here,"
Donald Hall
wrote in "The Cup," "you reading these words as I write them, / I offer this cup to you: Though we drink / from this cup every day, we will never drink it dry."
During his tenure as U.S. poet laureate, Donald Hall chose to share his lifelong pleasure of hearing poetry read aloud with others. He selected more than 100 essential American poets for people to listen to. This week, we're
making available
the first set of these recordings on poetryfoundation.org and on
poetryarchive.org
as part of a collaboration between Donald Hall and the U.K. Poet Laureate, Andrew Motion.
In addition to including them in our online archive, the Poetry Foundation is issuing a new
biweekly podcast
of the recordings. The first "Essential American Poets" podcast features
Gwendolyn Brooks
reading her poems at the Library of Congress on January 19, 1961. The poems include "of De Witt Williams on his way to Lincoln Cemetery," "The Lovers of the Poor," "the mother," and "A Sunset of the City."
Hall says of the project, "The entryway to poetry is the beauty of its sound. This online archive of poetry recordings opens the wholeness of poetry to the world's ear."
Listen to Gwendolyn Brooks' Essential American Poets Podcast: