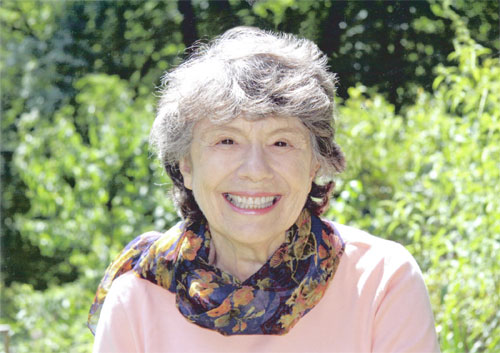 Mary Ann Hoberman. Photo by Lois Dreyer.


The best children's poets look at the subjects most parents are terrified of introducing to their little children—death, for instance—and invite them, gracefully, to dance. A rather Williamseque lyric on mortality, Mary Ann Hoberman's "Mayfly" couldn't be simpler, because eloquent simplicity is the key to writing poetry for children:

Think how fast a year flies by
A month flies by
A week flies by
Think how fast a day flies by
A Mayfly's life lasts but a day
A single day
To live and die
A single day
How fast it goes
The day
The Mayfly
Both of those.
A Mayfly flies a single day
The daylight dies and darkness grows
A single day
How fast it flies
A Mayfly's life
How fast it goes.

But of course the poem could be simpler—it could unfurl without all of those unpredictable rhymes, tumbling us along with inevitable momentum, like life's arrow itself, ending only when it ends, but launching us past those sudden, chilling moments of realization ("To live and die") and on to the next moment, the next brief day.

Hoberman, author of over 40 children's books and the 2008-10 Children's Poet Laureate, is a consummate channeler of children's sensibilities. She is clearly a writer who takes children's verse very seriously—as well she might. One could imagine, especially if one isn't a parent, that writing children's poetry would be easier by an order of magnitude than writing "adult" poetry; one could even presume that virtually any bare-boned rhyme or sweet turn of a single-syllable phrase would suffice for the average child reader. But this is famously untrue: children's poetry requires precision tools, a childlike ear, a capacity for spirited irreverence, and a scrupulous lack of pretension. What's more, its intended readers have only their inner metronomes and innate sense of the absurd to inform how they react to a poem, not a wealth of experience or literary-cultural know-how, and their native antennae cannot be easily bamboozled. Writing well for children can be as mysterious and difficult as learning to make falcon calls.

For grown-ups, children's poetry poses its own set of receptive and authorial issues. For instance, the empathic connection we're used to enjoying with a poet through his or her poem—the hearing of the poet's voice speaking directly to us, and our consideration of the poet's intentions and personality as mediated by the poem—is so subjugated to the image of the child reader receiving the work that our bond with the writer can often be nonexistent. When we naturally admire the poetry of Dr. Seuss or Shel Silverstein, we're not looking back, as it were, toward the poets and their self-expression, but forward, to the next lucky kid whose life may well be changed in the reading. In many ways, children's poets can hardly help being educators, and as adults part of our pleasure in their work is in imagining the poem-bewitched child, reveling in the bounce of language and the love of lyrical wisdom rather than deadening synapses with video games and TV.

Still, the grace and taste and wit of a good children's poem can provide a genuine frisson for those of us over 10, and Hoberman often hits the delicate balance in the plain-Jane-est of ways, often via coaxing internal rhymes. It is hard not to be taken with "Praying Mantis," the subject of which is "really not engaged in prayer." Instead, "That praying mantis that you see / Is really preying (with an e)," and thus, "With prey and preying both so endless / It tends to end up rather friendless." Or "X?," which bemoans the scarcity of X-words, and concludes "X-words do not get used a lot. / I knew one once / But I forgot."

The Llama Who Had No Pajama is a kind of best-of collection, stretching back five decades, of Hoberman's short lyrics, which are arguably the most difficult form when writing for a preteen readership. (Book-length stories are forgiven any burp or dullness in language, but 10-line poems require an almost chemical purity, or else fizzle like damp firecrackers.) Hoberman's fluency gently tangos around from overtly (and acutely observed) manifestations of kids' perspectives ("When I Need a Real Baby" thinks in perfect little juvenile bites: "When I need a real baby / And can't use my brother, / My dog is my baby / And I am his mother. . . .") to Seussian irreverences, as in "Whale":
A whale is stout about the middle,
He is stout about the ends,
& so is all his family,
& so are all his friends. . . .

She also sets off tsunamis of nonsense like "Permutations," at once a child's dose of linguistic chaos and a Dadaist dare for adults to read it aloud without getting head-shakingly lost. Here's the first of six reflective stanzas; not counting a tiny handful of articles and prepositions, the whole thick poem consists of eight words:
A flea flew by a bee. The bee
To flee the flea flew by a fly.
The fly flew high to flee the bee
Who flew to flee the flea who flew
To flee the fly who now flew by.

Born in 1930, Hoberman has remained a faithful New Englander her whole life, graduating from Smith College in 1951 and marrying artist-architect Norman Hoberman that same year. They set up shop in Greenwich and had four children; Mary Ann published her first picture book, All My Shoes Come in Twos (Little, Brown), in 1957, illustrated by Norman, as were her next three books. (All of their children thrive in creative professions; the second son, Chuck, grew up to be the artist-designer who invented the ubiquitous and confounding Hoberman Sphere sold in toy stores everywhere.) A half century later, Hoberman has also accumulated five grandkids and virtually every award given to picture-book literature, including a National Book Award, the National Council of Teachers of English Award for Excellence in Poetry for Children, a Society of School Librarians International Best Book award, a National Parenting Publications Awards gold medal, and numerous laurels from magazines such as Child and Parenting. Hoberman's career has in fact spanned an entire epoch in the maturation of children's publishing, from the Era of Seuss (The Cat in the Hat and How the Grinch Stole Christmas both appeared the same year as Hoberman's debut) through the eruptions of Maurice Sendak and William Steig, the applied roller-coaster of ideological approaches to preteen education that marked the '60s and '70s, and the last 25 years of accelerated public interest in, and escalating parental attention to, books meant for children.

It's a measure of Hoberman's writerly sensibility that her work has remained remarkably consistent in tone and craft, and her voice timelessly unfaddish; she knows that although the culture may change, children in the first half-dozen years of life don't really. She has never reneged on her role as an educator (Hoberman has taught continuously, on all levels), and her output has included scores of alphabet books, counting tales and sing-along tomes, and even a seminal and popular series of books of call-and-answer stories titled You Read to Me, I'll Read to You. Still, is it Hoberman or the children she imagines who are so obsessed with the clothes that kids outgrow and never see again? In the larger story format, Hoberman is relentlessly inventive and kind, never overstaying her welcome or overwording an idea. Whose Garden Is It? (2004) is prototypical, articulating a steamrolling squabble about the ownership of a garden, from the gardener to the bees to the weeds to the sun. (The seed makes a good case: "The others may help me, but all of them know / Without me to grow from, no garden would grow.")

But the short lyric is Hoberman's forte, and the punchy, effortless, game-playing, precisely scanned poems she wrote 35 years ago, such as "Alligator/Crocodile," don't age a whit:
The crocodile
Has a crooked smile.
The alligator's is straighter.

Or maybe it's the other way.
(With crocodiles it's hard to say.)

Perhaps the opposite is true.
(It's hard with alligators, too.)

But if I write what I just said,
The first way might be right instead.

And then again the second might
As easily be wrong or right.

Or right as wrong. Likewise the first.
In that case should they be reversed?

Whether she's writing about lonely pets or befuddled fauna or little kids still figuring out the world, Hoberman's poems are always fundamentally about the language, and about introducing its capacity for magic and puzzlement and emotional meaning to the world's youngest poetry readers.
Michael Atkinson is the author of six books, including Exile Cinema: Filmmakers at Work Beyond Hollywood (SUNY Press), and a debut volume of poetry, One Hundred Children Waiting for a Train (Word Works).