In my last post, I mentioned Carolyn Forché's parrot. This time, as you can see, I'm featuring another poet/pet combination.  Here's Ruth Lilly Prize winner and Poetry contributor David Ferry, having an intense tête-à-tête with an iguana. The photo was taken by the poet's son; David says: "I think Stephen sees that my characteristic poems have me and some other gazing at each other with mutual incomprehension." We'll be featuring a portfolio of David's poems in our summer double issue, but till then you can sample some of his work here. As Poetry editor Chris Wiman puts it:
David Ferry is probably best known as a translator—and his achievements in that regard are extraordinary—but I think in the end it will be his poems that last. In a time when most poetry relies on intense surface energy, Ferry's effects are muted and subterranean—but then, in their cumulative effect, seismic. For 50 years he has practiced poetry as if it truly matters to our lives and to our souls—and now his poems have that rare power to wake us up to both.
Speaking of winners, I also mentioned in my last post that we were up for our second National Magazine Award for 2011, and I'm delighted to say that we got it! Just a few weeks ago, we received the award for Best Podcast; this time around it was for "General Excellence, Print" in the category of "Literary, Political and Professional Magazines." We shared distinguished company with fellow finalists Lapham's Quarterly, The Paris Review, The Sun, and Virginia Quarterly Review.  The award was presented in New York at a shingig hosted by Katie Couric and featuring keynote speaker Tom Wolfe.  A Poetry contributor who lives in the city wrote in to say: "A friend of mine was at the awards, at the table next to Poetry's, and totally delighted in your unstudied and unbridled delight."  I think that means we were so excited we acted like out-of-towners - which, in fact, we were!  Truly, the award is a tribute to our contributors and readers, to whom we are extremely grateful.
More winners: Chicagoan and Poetry contributor Jacob Saenz is the fourth recipient of the Letras Latinas Residency Fellowship. And soon-to-be contributor Reginald Dwayne Betts has just been awarded a 2011–2012 Radcliffe Institute Fellowship.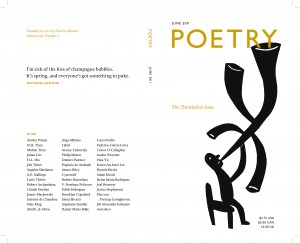 As I write this, the June issue is already on its way to subscribers, and I'm pleased to say that it's another installment of our popular "Translation Issue."  The cover art, seen above, is by musician and artist Jad Fair who is known for, among many other things, co-founding the alternative rock group Half Japanese. As a performer, he's collaborated with such musicians as (his website reminds us) Daniel Johnston, Teenage Fanclub, Moe Tucker (of the legendary Velvet Underground), Yo La Tengo, Steve Shelly and Thurston Moore (of Sonic Youth), John Zorn, Kramer, and others; and he's designed many an album cover. His cover goes perfectly with the work in the issue, and we're really proud that he's a part of it. For this new version of the translation issue we've tried to do things a bit differently. In the past, we've tried to think of work or languages that would be interesting and important to highlight - but this time we decided to ask  a number of poets - some of whom have never tried their hands at translation - to see what they could come up with on their own.
The result is fascinating and eclectic: Ange Mlnko translated the pre-Islamic poet Abid B. Al-Abras as well as the classical Arabic poet Labid; Bob Archambeau worked on a little-known Surrealist poet from Martinique named Lucie Thésée, who was associated with the Négritude movement and published in Aimé Césaire's journal Tropiques; the much-garlanded Atsuro Riley contributed versions of poems by Portuguese poet Eugénio de Andrade; Ruth Lilly Fellow Brooklyn Copeland translated poems by the legendary Edith Södergran, an important Swedish-speaking Finnish modernist; Harvard scholar Stephanie Sandler brings to life intriguing work by the late and much-loved Russian poet Elena Shvarts; Joel Brouwer gives us incredible work by the vitally important contemporary Cuban poet Reina María Rodriguez; Adam Kirsch revisits Bertolt Brecht; the Irish poet Conor O'Callaghan lets us have a new look at Lorca; Jill Alexander Essbaum has a wild poem by the remarkable writer and artist Baroness Elsa von Freytag-Loringhoven, who was infamous for her violent altercations with William Carlos Williams; there's a Runic/Anglo-Saxon poem re-imagined by Penelope Pelizzon - and much, more more.
*
June is a special month for us because it's when we pick up our tents to move to Poetry's very first permanent home.  For nearly a hundred years, we've wandered the streets of Chicago.   You might like to know where we've been all that time; here's the list:
Before Summer, 1912 The Fine Arts Building
Summer 1912 to April 1922: 543 Cass Street
April 1922 to June 1953: 232 Erie Street
July 1953 to August 1954: 1020 Lake Shore Drive
September 1954 to December 1956: Newberry Library, Fifth Floor
January 1957 to May 1970: 1018 N. State Street
May 1970 to February 1979: 1228 N. Dearborn Parkway
February 1979 to May 1987: 601 S. Morgan Street
June 1987 to June 2003: Newberry Library, Annex 2A
July 2003 to December 2005: 1030 N. Clark Street
December 2005 to the present: 444 N. Michigan Avenue
When Harriet first opened up shop, there was barely heat in the winter - and folks had to go next door into a vacant lot to boil water for tea.  We've come a long way since then.  Stay tuned for info about our housewarming festivities. As we head into our new digs, work also proceeds on celebrations of the magazine's fast-approaching centennial. Among other things, Chris and I are assembling a collection of what we like to call one hundred poems from one hundred years, which will be published in an anthology some time next year. Here's a picture of Chris poring over some of the work we've been lucky enough to have in our pages.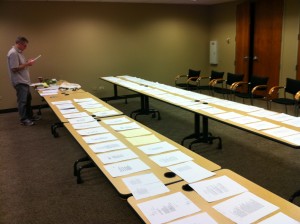 OK, back to work! More soon...
Don Share became the editor of Poetry in 2013. His books of poetry are Wishbone (2012), Squandermania (2007), and Union (2013, 2002). He is the co-editor of The Open Door: 100 Poems, 100 Years of Poetry Magazine (2012), and editor of Bunting's Persia (2012) and a critical edition of Basil Bunting's poems (2016). He...