Who: Mandy Kahn and other LA poets, Ali Heinwein
What: Kahnstallations: Mandy Kahn's Poetry Installations and Musical Collaborations
When: 31 May 2012, 8 PM
Where: The Last Bookstore and The Standard Downtown, Los Angeles
***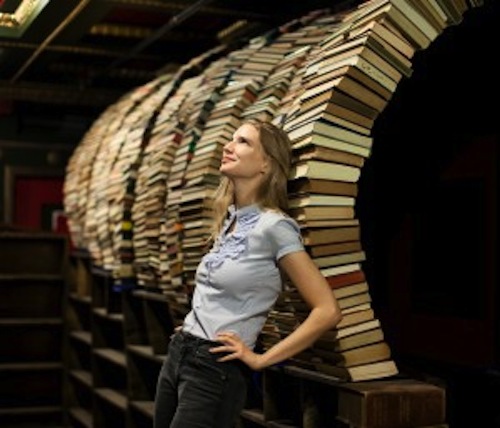 Mandy Kahn likes experiments. As Writer in Residence for the multidisciplinary monthly art happening The Series, Kahn has experimented and collaborated across many disciplines, including dance, theatre, and music, often using poems from her debut collection in progress This Is Where the Wind Begins. It was at The Standard in Downtown LA that she premiered the first of her own poetry installations, Poetry Installation with "Still," featuring her own reading and several other poets, and in true LA form, enthusiastically live-tweeted by audience member Jenna Elfman. She's been developing more ideas for poetry installations—an active syllable conservationist, she's now dubbed them "Kahnstallations." She says:
I've been thinking a lot about how to inject some energy into the poetry reading format. Slam poets have found a way to make their readings extremely appealing to wide audiences, as have the spoken word poets, and the avant poetry world seems to be doing lots of format experimentation, too. But I'd like to see mainstream poets find that same wider audience—that audience of fans who aren't writers themselves. So I'm experimenting. Tonight I'll be trying out four installations, and at the end of the night I'll pass out comment cards so audience members can let me know which installations worked best for them. And I'll keep writing new installations—keep honing—until I find a few that audiences seem to respond to.
Kahn's four installations at The Last Bookstore featured a generous range of Los Angeles area poets: Kate Durbin, Mathew Timmons, Dina Hardy, Ana Reyes, Noah Gershman, and Jeff Hoffman. Composer/Conductor Ali Heinwein and several members of his Traction Avenue Chamber Orchestra also performed a collaborative piece with Kahn, a score that Heinwein composed especially for the poem, "Why I Wake Up Slowly."
Here are Kahn's own descriptions of each installation, which she designed to be easily replicable. Each is followed by a recording from Kahn's event at The Last Bookstore, recorded by Peter Wolfgang.
INSTALLATION #1:TAG

Six of our seven poets spread out into the store and each starts reciting a single poem at normal speaking volume on loop—the audience moves around and listens to the poets they come across. The seventh poet is "it"—he tags one of the other poets and then finds a place to stand himself. This new poet becomes "it" and tags another poet before finding a new place to stand and switching to a new poem. So the poets themselves move one by one and when they move, they switch what they're reading. So the installation is always changing and moving around the store.
(Poets do not replace the poets they tag and take their place—they find a NEW place, so it's always shifting. And when you move, you switch poems.)
http://static.poetryfoundation.org/o/harriet/2012/07/02-Installation-1_-_Tag_.mp3|titles=02 Installation 1_ _Tag_
INSTALLATION #2: EVERYTHING STARTS THE WAY EVERYTHING ENDS
Contributing poets have created poems that are FOUR LINES LONG in which those FOUR LINES CAN BE RECITED IN ANY ORDER. Each line of these poems must match the beat/stress pattern of this line:

Everything starts the way everything ends.
Each poet pulls four audience members and gives each one of them a line to recite, then finds a place to set up his "poem orchestra" in the store. (Participants' lines are printed on a slip of paper.)

The poet arranges his participants—each a line of the poem—and conducts them. He can move them around and hear the lines in a different order. He can have participants repeat lines. He can play them like a zylophone. He can conduct his piece however he wants.
SIXTEEN AUDIENCE MEMBERS WILL BE IN THESE INSTALLATIONS and the rest will walk around the store watching them performed. POETS WILL CONDUCT THEIR OWN INSTALLATIONS.
http://static.poetryfoundation.org/o/harriet/2012/07/03-Installation-2_-_Everything-Starts-the-Way-Everything-Ends_.mp3|titles=03 Installation 2_ _Everything Starts the Way Everything Ends_
 INSTALLATION #3: IT'S FOR YOU
We take volunteers' phone numbers (everyone writes down their phone number on the way in).

Audience members spread out into the stacks and mill around the store. The poets—located on the stage—call audience members one at a time. The call goes like this:
Hi, this is Kate Durbin. Who's this?
It's Renata Russell.

Hi Renata. This poem is called _______. Are you ready?
Yes.
(Poet recites poem.)
When the poet is through, he/she asks Renata one question. This question might relate to the poem's meaning but might not. (Each poet has chosen a poem for this installation and written a question.)

Then the poet calls another audience member.
http://static.poetryfoundation.org/o/harriet/2012/07/04-Installation-3_-_Its-for-You_.mp3|titles=04 Installation 3_ _It's for You_
INSTALLATION #4: POETRY INSTALLATION WITH "STILL"

Each poet has a stack of ten poems. The stack has been shuffled. Each poet reads once per round. Each round has one of six rules:
read the first line of a poem,
read the first two lines of a poem,
read the first three lines of a poem,
read the last line of a poem,
read the whole poem,
skip the poem and say the word "still."
There are nineteen rounds and then the cycle begins again, with a new poem falling on each round. At the end of the last round, the cycle begins again. This installation can run indefinitely. It ends when the first poet (that's going to be me) begins a new round by saying "still, still, still."
http://static.poetryfoundation.org/o/harriet/2012/07/05-Installation-4_-_Poetry-Installation-with-Still_.mp3|titles=05 Installation 4_ _Poetry Installation with Still_
The night ended with Kahn's collaboration with Composer Ali Heinwein, who conducted his Traction Avenue Chamber Orchestra live at The Last Bookstore.
http://static.poetryfoundation.org/o/harriet/2012/07/06-Why-I-Wake-Up-Slowly.mp3|titles=06 Why I Wake Up Slowly
Kahn's commitment to experimentation is, as she sees it, a commitment to expanding contemporary poetry's audience. "Poets deserve audiences of non-writers, of plain-old fans—and to get there, we might need to re-imagine the way we structure our events."
***
David Shook was the Translator in Residence of the Poetry Parnassus, which convened poets from all 204 Olympic nations in London in late June 2012. At the Parnassus he premiered Kilometer Zero, his illicitly-filmed movie about Guinean poet Marcelo Ensema Nsang. His new chapbook Crooked Books is available from Whitehorse & Slaughter.
(If you would like to pitch an "Open Door" feature concept, please email harriet@poetryfoundation.org with "Open Door" in the subject line.)
Poet, translator, and filmmaker David Shook was raised in Mexico City. He earned a BA at the University of Oklahoma and an MSt at Oxford University. In his debut collection, Our Obsidian Tongues (2013), Shook explores the violence and hunger of everyday life, steeping his poems in lush imagery and...