Who: Tishani Doshi and composer Max Ablitzer
What: Everything Begins Elsewhere, a collaborative performance of music and poetry
When: Tuesday, 26 June 2012, 7 PM
Where: Queen Elizabeth Hall, Southbank Centre, London
"Open Door" features audio, video, and online media to document dynamic interactions between poetry and its audience. "Open Door" showcases performance, scholarship, and engagement outside the usual boundaries of slams, workshops, and book publications.
***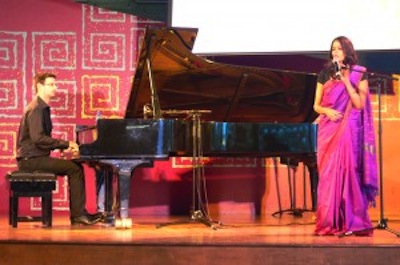 This year Gugan Narang and Vijay Kumar took the bronze in Men's 10m Air Rifle and the silver in Men's 25m Rapid Fire Pistol, respectively, India's only medals of the 2012 Olympics so far, despite some 1.2 billion potential athletes. At the Poetry Parnassus, India was represented by Tishani Doshi, the young Welsh-Gujarati poet, writer, and dancer whose debut collection Countries of the Body won the Forward Prize in 2006 and whose second book, Everything Begins Elsewhere, will be published on three continents, including a US edition from Copper Canyon Press in 2013.
The Parnassus was somewhat less competitive than the Olympics—with the exception of British translator Gwen MacKeith's gold-medal victory over American translator Chris Schaefer, a respectable silver medalist, in the English PEN Translation Slam of the Peruvian poet Victoria Guerrero's poem "Baile"—but that didn't stop Doshi and Ablitzer from delivering a medal-worthy performance in the foyer of the Queen Elizabeth Hall, which gradually swelled with curious passerby drawn to the haunting combination of piano and spoken poetry.
Listen to "Ice Lines," read by Tishani Doshi and accompanied on piano by Max Ablitzer
http://static.poetryfoundation.org/o/harriet/2012/08/Ice_lines.mp3|titles="Ice Lines"
Tishani Doshi read poems from Everything Begins Elsewhere, each introduced individually and then performed by Doshi, standing regally in a purple sari, and Ablitzer seated at his grand piano. I especially admired their performance of Doshi's sestina, "Memory of Wales," which took full advantage of the form's songlike, repetitive structure.
Like many of her audience members, we both wound up racewalking toward the Jubilee Gardens for the Rain of Poems, which took place immediately after Everything Begins Elsewhere. Since we had very little time to discuss her collaborative performance at the Parnassus itself, we continued our dialogue via email.
How did you meet Max Ablitzer? How did the idea for your collaboration come up?

We met on a train, actually. Last November I was invited to a cultural gathering called Forum d'Avignon, which brings together people from different disciplines to talk, perform, discuss—the theme was "investing in culture"—anyway, the forum hires out a TGV for its delegates going from Paris to Avignon, where the conference is held, and I just happened to sit by Max. We talked about our respective vocations in life—poetry and music. But it was only later, after Max had heard me read my poems, that he suggested a possible collaboration. I hadn't heard his music so had no idea what it was about. But then he sent one of my voice recordings that he'd scavenged off the net and put to his music. I was quite surprised with the result: the music, without taking anything away from the words, added layers and textures to the poems. It was quite moving to hear the words transformed into something else, and the quality of the music was so haunting and evocative, I really wanted to hear more… so we went from there.
Tell me about your collaborative process. How did it work?
Given that we both primarily work in little studios of our own in solitude the idea of collaborating with someone was actually quite exciting. We managed to do this despite the fact that Max lives on a boat outside Paris and I primarily live in a village by the sea in Tamil Nadu. Max is a very efficient person—he set up an online folder where we could dump voice and music recordings and we worked with that to start with, then we finally had Skype sessions where, with our dodgy internet connections, we managed to do run-throughs, and then I went to Paris and we had a few live rehearsals. So it was six months of dialogue and conversation leading up to the event.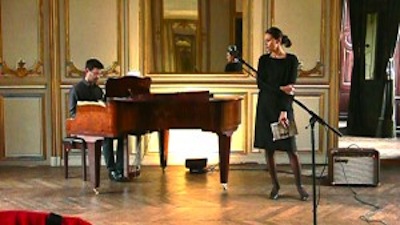 What was it like to premiere your project at the Parnassus? 
It felt like the perfect place to experiment with such a thing. We'd actually performed a shorter version of the show a few days before in a place outside Paris called Chateau de Millemont, which was the perfect setting. An old mansion, rain beating down, and an intimate gathering of friends. So we'd had one outing before Parnassus. The Parnassus itself, well it was such a great occasion—so many poets from all over the world, all the languages and stories. It was a real privilege to perform there. And afterwards, we trooped off with hundreds of others to see the Rain of Poems by Casagrande—it was a magical night.
As a dancer I assume you're accustomed to physically interacting with music. How is performing Everything Begins Elsewhere similar or different?

My work as a dancer began in 2001 and I worked exclusively with one choreographer (Chandralekha) on one piece (Sharira, which would also be her last work). And so for ten years I went very deeply into this one piece. Sharira is very slow, meditative, physically demanding, so I was really pushing my body all the time. We used to rehearse in silence, keeping time with our bodies, trying to internalize the rhythms, and the music only came later. I work with wonderful musicians—three brothers called the Gundecha Brothers (of the Dhrupad tradition), and after so many years of working together, there's a sense of shared breath and shared time. It's really quite a special collaboration because usually Indian dance is very directed by the rhythm and the music and it's set to a beat. This is different, a kind of flowing conversation that's always changing, and I guess in that way it's similar with Max because the words are not timed to music. It's always changing. The general framework of what music goes to which poem is set, but the timing of it, the breath of it, it's always shifting. Luckily, with Everything Begins I don't have to stand on my head—I do in Sharira—so it's a little less physically demanding.
Do you have plans to perform with Max again? 
We go back to the Forum this November in Avignon and we'll perform there. And there are a few other things in the pipeline.
Thanks, Tishani. I can't wait to see how this collaboration continues to develop. 
It's not too late to cheer India back on to the Olympic podium in London, with athletes competing in everything from Badminton to Boxing, hopefully with some of the gracefulness and collaborative spirit embodied by Tishani Doshi's Everything Begins Elsewhere.
***
David Shook was the Translator in Residence of the Poetry Parnassus, which convened poets from all 204 Olympic nations in London in late June 2012. At the Parnassus he premiered  Kilometer Zero, his illicitly-filmed movie about Guinean poet Marcelo Ensema Nsang. His new chapbook Crooked Books is available from Whitehorse & Slaughter.
(If you would like to pitch an "Open Door" feature concept, please email harriet@poetryfoundation.org with "Open Door" in the subject line.)
Poet, translator, and filmmaker David Shook was raised in Mexico City. He earned a BA at the University of Oklahoma and an MSt at Oxford University. In his debut collection, Our Obsidian Tongues (2013), Shook explores the violence and hunger of everyday life, steeping his poems in lush imagery and...