For the first fifty-seven years of Poetry's history, the table of contents served as the cover of every issue. In October of 1969, Virgil Burnett changed all that. Under his art direction, each new issue of Poetry had a distinctive illustration on its cover. Burnett served as the magazine's Art Director through the December 1973 issue, and his drawings appeared on the cover every so often thereafter. In honor of his passing earlier this year, here are a few of his detailed drawings: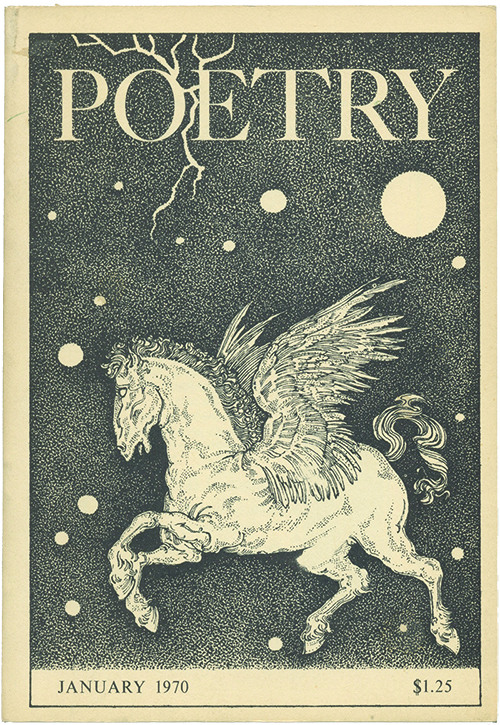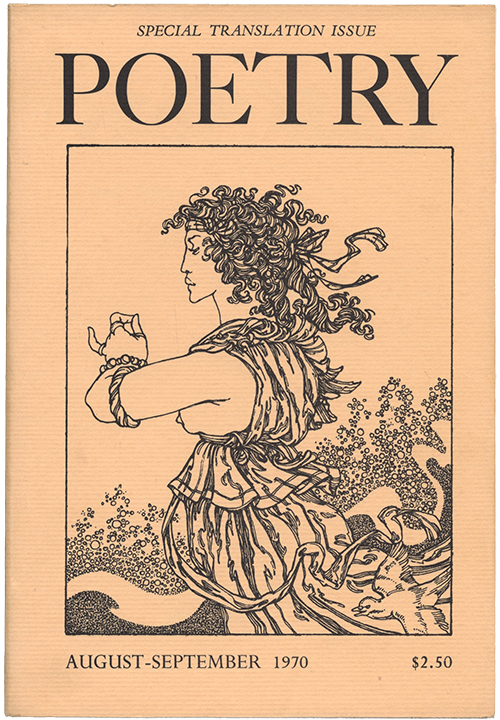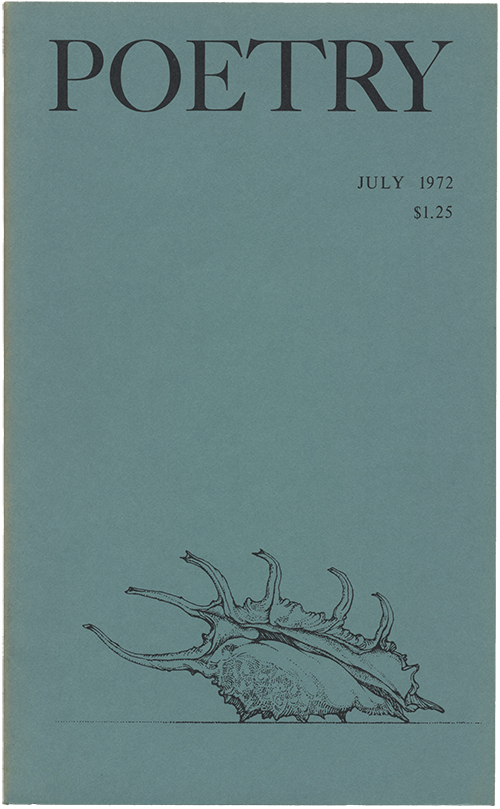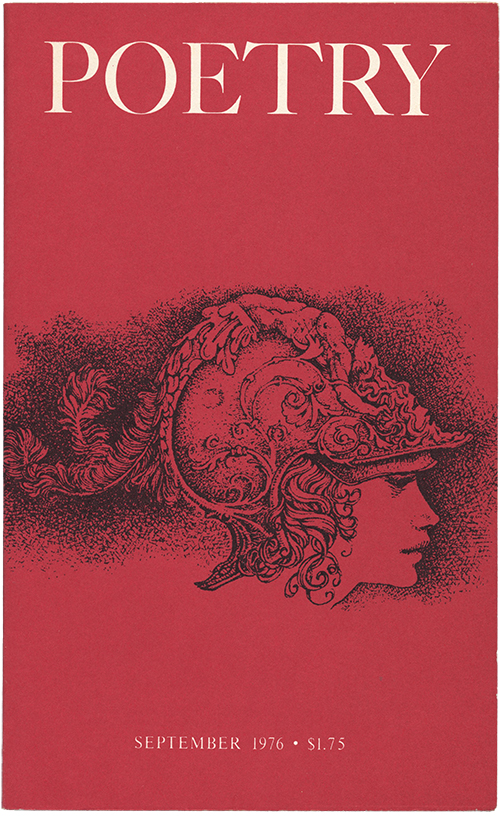 Starting in the 1980s, some of Poetry's cover artwork came from collaborations with various Chicago galleries, including Rhona Hoffman Gallery, Roger Ramsay Gallery, both specializing in contemporary art, and Worthington Gallery, Chicago, which focuses on German Expressionists. Below are some of our favorites: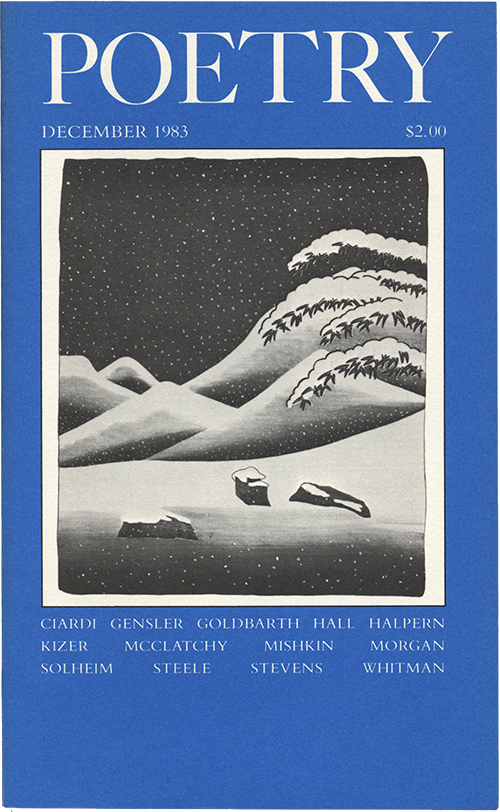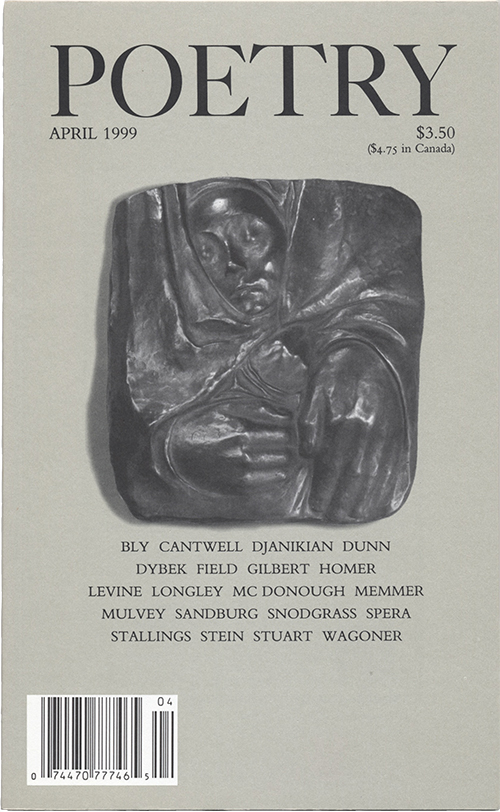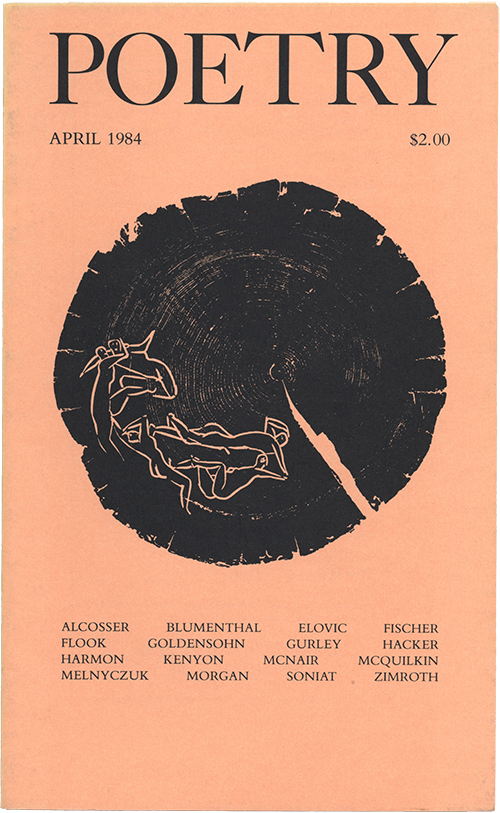 Beginning in August 1984, Poetry magazine began a partnership with the Art Institute of Chicago that allowed us to feature works from their collection on the front cover. Throughout the eighties and nineties, Poetry's covers featured prints and drawings by German Expressionists (Beckmann, Kirchner, Klee), American painters (Edward Hopper, John Marin, Jasper Johns), European modernists (Georges Braque, Picasso, Munch, Chagall, Van Gogh, Kandinsky), nineteenth century French painters (Gericault, Millet, Vuillard), Abstract and pop painters (Frank Stella, Jim Dine, Roy Lichtenstein), and a host of others. A few highlights: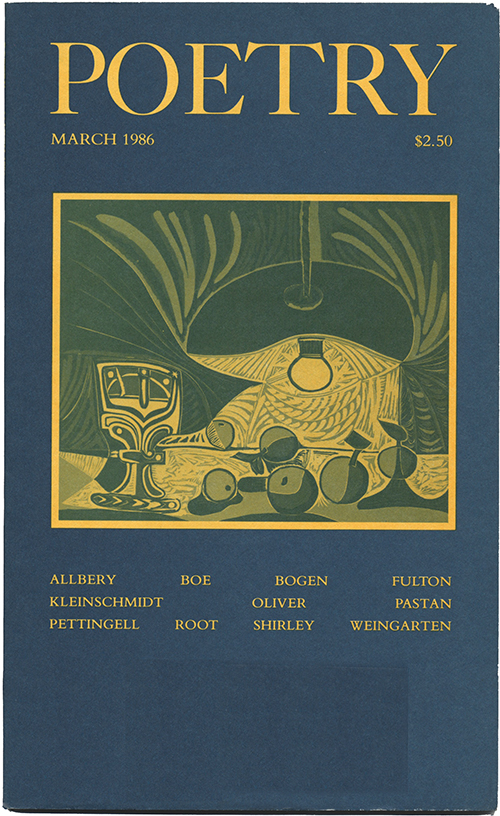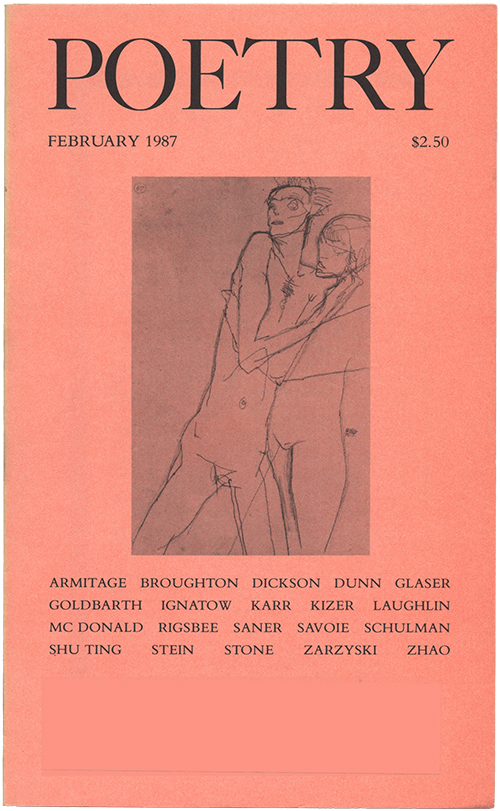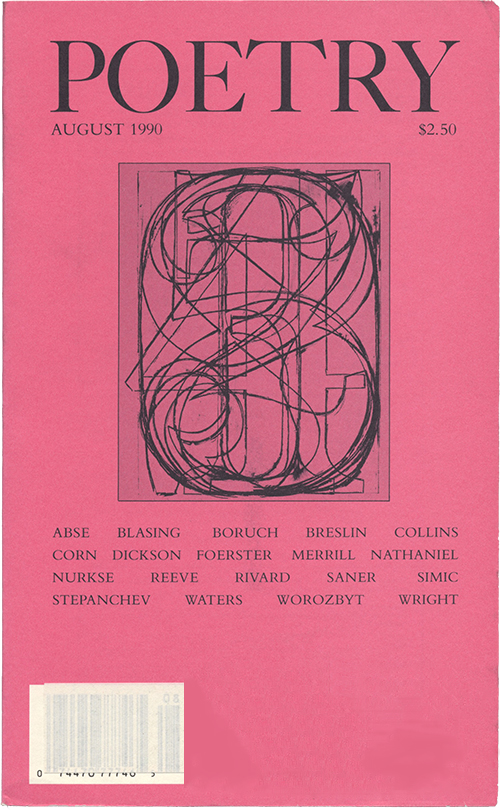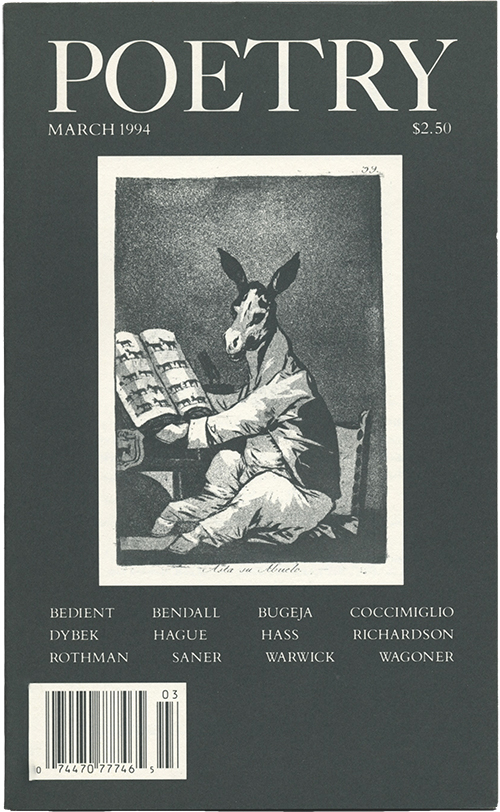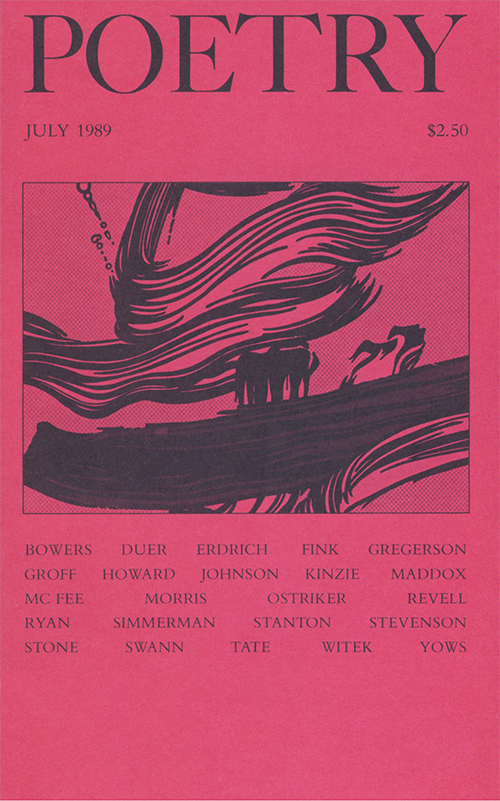 That final image on the July 1989 cover is "Brushstrokes," a silkscreen image by Roy Lichtenstein. In honor of the Roy Lichtenstein retrospective going on at the Art Institute this summer, the Poetry Foundation is home to Verse, Stripped: A Poetry Comics Exhibition featuring the above issue of Poetry, books by Joe Brainard and Kenneth Koch, and poetry comics by Matthea Harvey and Paul Tunis, among much more. (If you're not in Chicago, you can see a slideshow of the exhibition by clicking the image on the exhibition page.)
We have every issue of Poetry magazine available online, so go to the archive to see more covers from the collection of the Art Institute of Chicago or to revisit some of our more recent covers created under the fantastic art direction of Winterhouse Studio.
If you've made it this far, you'll enjoy the visual work we feature inside Poetry's covers, too. Last summer's July/August 2011 issue featured photography by Thomas Sayers Ellis. View the photos and then read the prose notebook that follows for Ellis's reflections on his poetry and photography: "Seeing is never done, no matter how framed it becomes or housed by stanza."
Last but certainly not least, don't miss Lawrence Ferlinghetti's paintings in our current issue. The portfolio spans the past six decades of Ferlinghetti's painting career and marks his first appearance in the magazine. He writes "I wanted to be a painter but from the age of ten onward these damn poems kept coming. Perhaps one of these days they will leave me alone and I can get back to painting".
We'll leave you with this great image of Ferlinghetti in his studio, which comes to us courtesy of Chris Felver, from his film "Ferlinghetti: A Rebirth of Wonder":