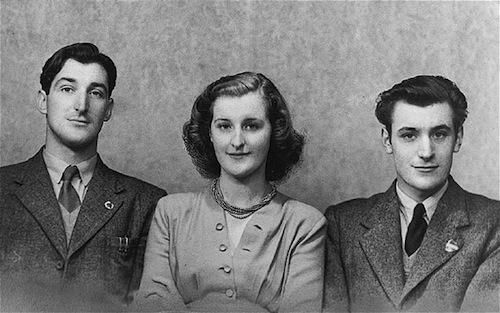 Gerald Hughes, the older brother of Ted Hughes, has written a memoir detailing their childhood in Yorkshire. From The Guardian:
Gerald was 10 years older than Ted – a gap large enough to accommodate Ted's hero worship for which Gerald waited ready-made, with his rat-shooting skills, his knowledge of trout and the weather and of how to tie knots. Gerald's account of their early relationship is moving both as a portrait of sibling love and as one of a rural innocence that no longer exists. They didn't have Facebook, but "a message tree" on which they pinned notes to friends.

Life in Hebden Bridge blooms from the page – a sepia-tinted world of tram rides, box Brownies, Royd's ices, and Sunday hats. "Whip and top were the rage", "Granny" owned a sweet shop, "Mam" was "selfless". The description is strewn with parenthetical wonders: "(Farmers always spoke loudly – from working in wide fields in windy weather)". Recollections are tiny blueprints for an emerging design: aged four, after burning himself, Ted exclaimed: "Fires can jump up and bite you." At six, he sighed: "What a dull old world it would be without wildlife."
Because he moved to Australia, Gerald never met Sylvia Plath, but he writes that he felt "close" to Sylvia, and often exchanged letters. Read the full story here.