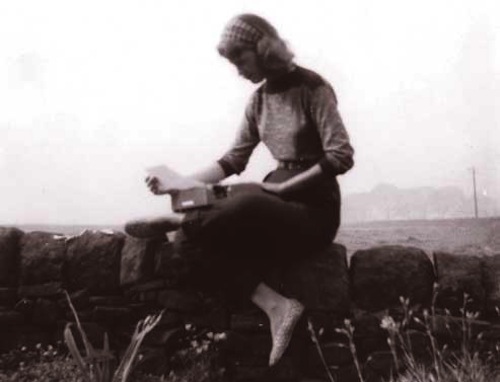 The holidays came and went, and in the flurry of eggnog and balls dropping, we missed this item over at This Recording. Emily Rosenberg writes about finding affinities rather than strife between Sylvia Plath and Anne Sexton, calling their relationship "an angry symbiosis." Rosenberg gives some biographical background on the relationship between the two poets:
[Plath and Sexton] met at a seminar in 1958, ten years after Alfred Sexton II, who called himself "Kayo," turned Anne's pen name from the forgettable Harvey into the Sexton that now accompanies almost any image of a witch in poetry. Anne and Sylvia had much more in common than they thought, from their unavoidable notice of death, to their desire to become poets, to their decision to talk about both over martinis after class at the Boston Ritz-Carlton.

The two always talked about the seminar and its professor, their confessional predecessor Robert Lowell, while downing at least "three martinis," as Anne remembers. Another student from the seminar, George Starbuck, would often join them for drinks. He could not distract from the bizarre talk spiking the usual yuppie conversation with an unfamiliar idea that could have been almost progressive. What made Anne and Sylvia stand out from their male classmates and professor was their unique, yet mutual, idea that death would make them even freer, even more insightful, than anything else they could find in life.

Anne and Sylvia's realization that they both had this faith in death increased their closeness and only made the line between male and female poets at the time bolder. Unlike the fondness and nostalgia for traditional, American values that became Robert's signature, Sylvia and Anne's view of what these values did to their independence is what almost completely separates them from other confessional poets. They could have been drawing each other into a friendly twofold bet every night at the Ritz, one that would allow them to write about death's true nature and eventually find it out for themselves. To George or to anyone else in the bar watching, they might have been witches. Even Anne and Sylvia may not have known they were casting irresistible spells on each other, wrapping themselves in natural, sometimes pagan ideas that did not yet have a place in the American life.
The piece is long and covers a lot of territory. Make the jump to see where it goes!